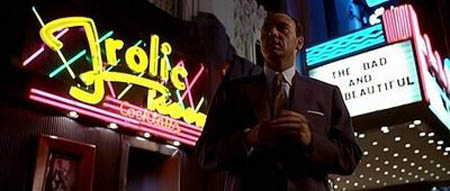 The Frolic Room, a bar aside the landmark Pantages Theater on Hollywood Boulevard is a location in murder-mysteries like LA Confidential and The Black Dahlia. This past April 5th reality emulated art when the bar became the scene of a grisly death. However, insiders say it is no mystery while police maintain it is not a murder.
Gerald Thomas Andersen, one of five brothers who grew up in a small Midwestern agricultural town arrived in Los Angeles some 20 years back, like so many others gifted with good looks and a modicum of talent, to find his way in showbiz. In April, at the age of 49, never having landed that big role, Mr. Andersen returned to his hometown of Faribault, Minnesota for his funeral. And if that sounds hard-boiled, consider the location of his demise, a 1930's era Hollywood gin mill where he worked the door and which remains an iconic backdrop for LA film noir.
There have been six homicides in Hollywood to date, but this is not one of them. It doesn't rate a colored dot on the Los Angeles Police Department's comprehensive crime map; it is simply a death investigation according to detectives, as police regard the possibility the doorman had passed out and impacted his head. But Carole Andersen, Mr. Andersen's mother, is convinced her son Jerry- as he was known- was killed in a boozy drug fueled rage by a bar patron, likely struck with a beer bottle to the back of his head.
"Doctors said to suffer that much damage he would have fallen from a height of three stories" explains Carole, a retired nurse who spoke with surgeons at Cedars-Sinai intensive care unit where her son was taken. Only after an anxious two day wait was she able to catch a flight out of Springfield, Missouri to reach the bedside where Jerry would lay in a coma for ten days. Carole then made the decision to end life support. "He would have been in a nursing home, asleep, the rest of his life. If he awoke, he'd remember nothing, no one. Jerry was a big reader, a very social person. That' wasn't an option"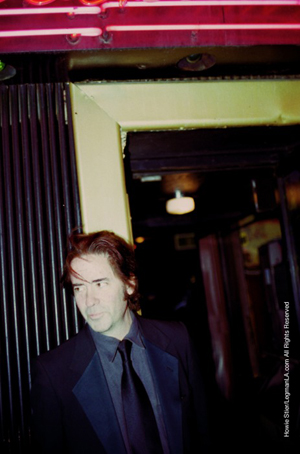 A Dapper Doorman: Jerry Andersen at the Frolic Room a week before his death
A history buff, Jerry would keenly discuss current affairs with the smoking crowd at his post on the starred pavement where he cut a shabby chic figure. Sporting vintage suits, he melded with the bars Art Deco façade. Tall, lean and soft spoken, he was not imposing as he carded bar-goers. But then this bar doesn't demand the lughead bouncer type. On any given day the clientele are far from menacing; seniors, tourists, phony punks in MC jackets, fans of the poet Charles Bukowski who was a regular and whose works are read at the bar each Monday evening.
So when a somewhat troublesome customer who had been drinking in the bar earlier that night returned for a night cap shortly before last call, its understandable that Jerry wasn't in a state of high alert.
The man got his drink then quibbled over paying. Either out of confidence, or a lapse in tactical thinking, Jerry turned his back as he walked the man out the bar. "Jerry was leading, the man followed" Carole learned from staffers at the Frolic. The next time anyone saw Andersen he was spread-eagled in the cramped vestibule, blood pouring out his ears.
Police have found no witnesses. The narrow entrance between the door and the bar is out of sight from the back, where the bartender was cleaning up when whatever happened went down. But the man who wouldn't pay for his drink is known to police. "They have his name, where he works, where he lives" says Carole. He remains "a person of interest" in cop jargon, an evidence may turn up that will lead to an arrest.
But just as the Frolic Room isn't really Kevin Spacey's crooked cop character's roost from LA Confidential, neither is it CSI: The Experience. In real life, forensic testing takes time, and investigators have time. Murder stays murder, always. LAPD Detective Kevin Becker of Hollywood Homicide Squad tells a reporter "we are waiting for some test reports, try again in August."
But with two months passing since Andersen's death, word has quietly spread among the close-knit community of nightlife workers along Hollywood Boulevard, and there is unease that a killer is walking free in Hollywood. At Kung Pao Kitty, a popular rock hangout three blocks from the Frolic, bartender Adam D'Zurilla is rattled. "We have enough to look out for. This guy could walk in here any moment? If I knew what he looked like, I wouldn't serve him." At Dillon's, a glitzy sports bar on the corner of Vine, the security staff now keeps their backs to the wall, and they're hiring more.
"Police told me 'we'll do everything we can to bring this guy in'" said Carole "and of course I hope they do." But she doesn't share the frustration felt by habitués of the Frolic Room,
"Right now, we're still in the grieving part." Since losing her son she has been heartened by the turnout of support, from both Jerry's Hollywood friends who held vigil at the Cedars-Sinai ICU, and the high school classmates in Minnesota who filled the pews at Faribault's Episcopal Cathedral for the funeral.
Carole made her second trip to LA this past week, this time to clear out Jerry's modest Studio City apartment. "The suits, his books are being donated. I'm only leaving with pictures, and memories."
Calling all HuffPost superfans!
Sign up for membership to become a founding member and help shape HuffPost's next chapter