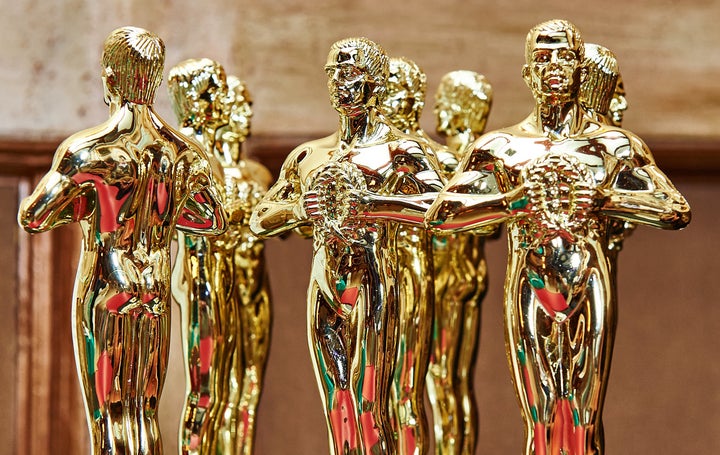 In March, Shonda Rhimes said that she hates the word "diversity" because it suggests something "rare." The woman celebrated for "diversifying" ABC's Thursday night lineup explained how there's nothing unusual about telling stories about women, people of color and queer people.
"I have a different word: normalizing," Rhimes said. "I'm normalizing TV." 
The entertainment industry, overwhelmingly white and male, is timidly embracing a long-overdue discussion on what we'll call normalization -- allowing directors, screenwriters, producers and actors to tell stories outside of one limiting perspective. This year's Oscar nominations kicked that conversation into a higher gear when the list once again excluded people of color. Now, Hollywood insiders are increasingly speaking out about the industry's normalization problem.
In advance of the Oscars, The Huffington Post is bringing you weekly recaps of that conversation:
1. The Academy of Motion Picture Arts and Sciences released a very monotone photo of the 2016 Oscar nominees.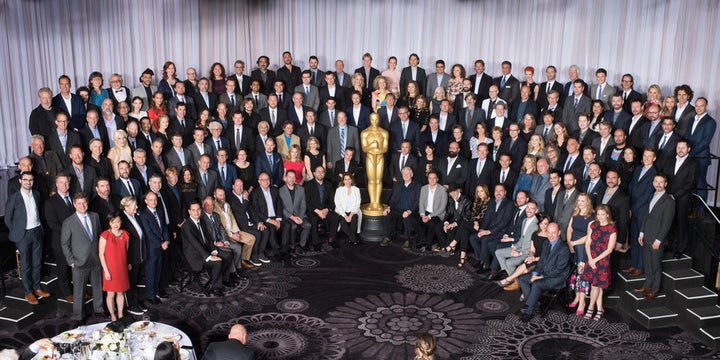 2. Meryl Streep raised some eyebrows in a conversation about African film when she declared, "We're all Africans."
"This jury is evidence that at least women are included and, in fact, dominate this jury, and that's an unusual situation in bodies of people who make decisions," Streep stated. Reporters questioned the jury three times about diversity, the Associated Press wrote, with an Egyptian journalist questioning Streep's ability to understand Arab and North African film. The actress admitted she wasn't too familiar with the region, but she has played characters from different cultures. 
"There is a core of humanity that travels right through every culture, and after all, we're all from Africa originally," Streep said. 
3. "Creed" director Ryan Coogler told Sylvester Stallone not to boycott the Oscars.
Stallone, who is up for a Best Supporting Actor award for his role in "Creed," told reporters at a luncheon this week how he considered sitting out the ceremony in support of his black director and co-stars.
"I said, 'If you want me to go, I'll go. If you don't, I won't,'" Stallone said. But the director wanted the cast to represent the film. Some believed Coogler and actor Michael B. Jordan were snubbed for Oscar nominations.
4. "Transparent" director Jill Soloway said, "Movies show how it feels to be a man, for the most part."
In an interview with New York magazine, Soloway said she wished film would tell a "billion" more stories about women. Directing is about giving orders based on desire, which "is shamed for women," she explained.
"Just women starting to talk about how it feels to be alive, and to tell their own stories, to me, that would revolutionize the world," Soloway said.
5. Steven Spielberg said actor Idris Elba and "Straight Outta Compton" should have been nominated for Oscars, but thinks we should stop pointing fingers at the Academy.
"It's people that hire, it's people at the main gate of studios and independents," the director and three-time Oscar winner told The Hollywood Reporter.
"It's the stories that are being told. It's who's writing diversity -- it starts on the page. And we all have to be more proactive in getting out there and just seeking talent." He also stated that he doesn't believe a majority-white Academy is "inherent[ly]" racist.
"If you're black, you should be able to pitch movie about a mafia family in Brooklyn." -- producer Marvin Peart, explaining why a black-led studio could free black producers from expectations to create particular types of movies, to MSNBC
"We're not retaining the idea that diversity is a strengthening thing, and it's something that has to happen to enrich this industry." -- actress Danai Gurira of "The Walking Dead," to Variety
"Gin, Cointreau, Cherry Heering Liqueur, grenadine, and pineapple and lime juices with a splash of angostura bitters." -- ingredients in The Boycott, a drink that will be served at Los Angeles' trendy Mama Shelter hotel during the Oscars
PHOTO GALLERY
It's A Family Business: Celebrities And Their Siblings
Calling all HuffPost superfans!
Sign up for membership to become a founding member and help shape HuffPost's next chapter