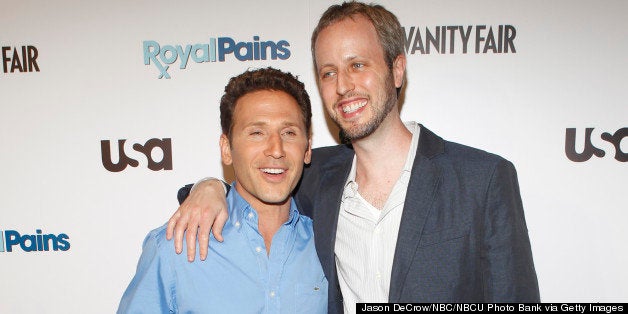 On the USA Network primetime show "Royal Pains," actor Mark Feuerstein plays Hank Lawson, a physician who treats well-heeled denizens of the Hamptons, the ritzy beach community on New York's Long Island. But three years ago, he was just a worried father of a very sick little girl.
Feuerstein's daughter Adelaide, now 3, was born with a congenital defect that put her in intensive care at Children's Hospital Los Angeles for almost three months, where she had two open-heart surgeries. The cost of her treatments came to more than $1 million. Feuerstein and his wife Dana Klein, a TV producer and writer who worked on "Friends," have the means to pay for such expensive care, but the ordeal gave them a new perspective on the plight of of the uninsured.
"The reality that there are families all over this country who are discovering heart defects and any other kind of disease or defect in their children and they won't be covered is so heartbreaking," Feuerstein said. "It was already just barely what we could handle with the condition."
That experience is one reason why Feuerstein and "Royal Pains" creator Andrew Lenchewski have signed on to a White House-backed campaign to promote President Barack Obama's health care reform law. The duo plans to create a series of lighthearted Web videos for Funny or Die and YouTube Comedy explaining Obamacare to young adults, who will be critical to making the law's health insurance reforms work.
"By bringing voices to this that are authentic and have stories to tell, hopefully people will understand that this isn't just a political issue," Lenchewski said. "We're not getting up on a pedestal and reading the bill points to them. We're telling stories, we're trying to stimulate conversation, we're trying to make people laugh and understand at the same time."
The administration is hoping that Hollywood's glitz and clout can go a long way toward getting young adults up to speed and enthusiastic about Obamacare, and it believes viral videos and the social media reach of these and other celebrities will bolster the administration's own education and enrollment efforts for the new health insurance exchanges, which will open in each state Oct. 1.
The challenge is real: Polling shows that the public is lukewarm at best about Obamacare and knows little about the law more than three years after its passage. Moreover, the success of the new health insurance marketplaces heavily depends on convincing young, healthy adults that getting coverage is a social responsibility and a good bargain. If those who end up buying health insurance on the exchanges are more often older or sicker people with high medical expenses, premiums will skyrocket.
The Congressional Budget Office projects 7 million people will buy private health insurance through the exchanges and the White House estimates that 2.7 million young adults, or an equivalent proportion, are needed to make the marketplaces work efficiently and keep prices down.
"Our job, now that I'm taking on this cause, is to figure out how you convey to all of those 'young invincibles' who think they're immortal that this is real," Feuerstein said.
The people behind "Royal Pains" haven't finalized their plans, but Lenchewski believes he has a message that can resonate with the 18- to 35-year-olds the White House covets, and that the Web is the right place to deliver it.
"The themes are really to make people aware for the law -- more specifically, why it's meaningful to them as young people, why it's becoming a right and not just a privilege through this law, how especially important young people are," Lenchewski said. "We don't want people to feel like they're being lectured to or proselytized to. We want to tell funny, engaging stories that can also help get these messages across."
Like Feuerstein, Lenchewski's views are shaped by personal experience. His father, a physician, died from pancreatic cancer in April. "I saw how difficult it was for him and I constantly thought about how difficult it must be for people who don't have coverage," he said. "That's what really energized me and motivated me to get involved."
Lenchewski and Feuerstein, who both campaigned for Obama in 2012, want to recruit other entertainers. Lenchewski plans to pitch the rest of the "Royal Pains" cast, he said. Feuerstein said he'll shop ideas around to other actors, including the other stars of the upcoming comedy film "Larry Gaye: Renegade Male Flight Attendant," including Rebecca Romijn, Stanley Tucci and Henry Winkler. "I am 100 percent going to ask everyone I can," Feuerstein said.
"I love being creative and I love the idea that I can speak to the demographic that's already watching 'Royal Pains,'" he said. The show averages 5.4 million viewers a week, 699,000 of whom are 18 to 34 years old, according to Lynn Weiss, a spokeswoman for the USA Network.

But don't expect to see Dr. Hank Lawson extolling the virtues of Obamacare in an upcoming episode, Lenchewski said. For one thing, the current season is almost over and the next one won't start until after the open enrollment period ends next March, he said.
More important, though, Lenchewski doesn't think the target audience for his health care reform message wants to be preached to by a TV show, even though he believes that audience is open to Web-based communications.
"With this generation, in this medium in particular, there's a higher tolerance for having messages contextualized within the storytelling, whether they be commercial marketing messages or social messages," Lenchewski said. "You can't just drop a line for Hank in the middle of scene where he says, 'Oh, you're not insured? Well, you better get insured come Oct. 1!' I think that's probably going to stink pretty badly and it'll backfire."
Sam Stein contributed reporting.
CORRECTION: An earlier version of this article incorrectly described Lynn Weiss as a spokeswoman for NBCUniversal when she is a spokeswoman for USA Network.
REAL LIFE. REAL NEWS. REAL VOICES.
Help us tell more of the stories that matter from voices that too often remain unheard.
BEFORE YOU GO
PHOTO GALLERY
Health Care Reform Efforts In U.S. History