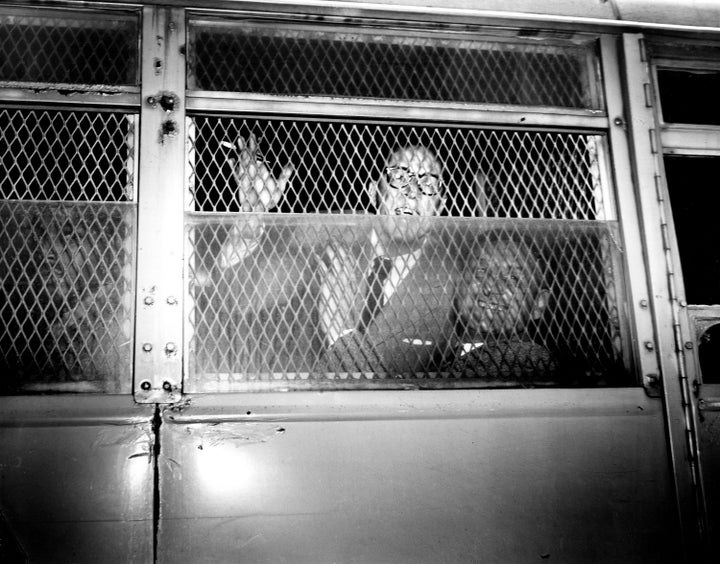 LOS ANGELES (AP) — The son of The Hollywood Reporter founder Billy Wilkerson is apologizing for his father's and the trade paper's role in the 1947 Hollywood Blacklist that destroyed the careers of writers, actors and directors accused of having communist ties.
In an article published Monday by The Hollywood Reporter, Willie Wilkerson, 61, calls the Blacklist era "Hollywood's Holocaust" and says, "On the eve of this dark 65th anniversary, I feel an apology is necessary."
He says his father supported the Blacklist to exact revenge against the Hollywood titans he felt denied him entry to their club when he wanted to establish a movie studio in the late 1920s. Billy Wilkerson founded The Hollywood Reporter in 1930, and after World War II, used the paper as a vehicle for a series of editorials attacking communist sympathizers and their influence in Hollywood.
"In his maniacal quest to annihilate the studio owners, he realized that the most effective retaliation was to destroy their talent," Willie Wilkerson writes. "In the wake of this emerging hysteria surrounding communism, the easiest way to crush the studio owners was to simply call their actors, writers and directors communists. Unfortunately, they would become the collateral damage of history. Apart from being charged with contempt, for refusing to name names, none of these individuals committed any crimes."
Studios dominated the industry and denied work to those named on the Blacklist. Some writers worked under pseudonyms. Many actors and their families moved overseas to look for work. The Hollywood Reporter named names and ceaselessly covered the issue. The publication also details its role in the Blacklist era for the first time in a lengthy article published Monday.
"Any man or woman who, under the guise of freedom of speech, or the cloak of the Bill of Rights, or under the pseudo protection of being a liberal, says things, causes things to be said, or who actually is involved with many of the conspiracies that have now infested this great land of ours, has no place among us, be he commie or what," Billy Wilkerson wrote on Nov. 5, 1947. "He or she should be rushed out of our business."
The first Hollywood Blacklist was published Nov. 25, 1947.
Willie Wilkerson says it's possible that his father would have apologized for "creating something that devastated so many careers" had he lived long enough. He died in 1962, two years after the Blacklist was broken.
His son writes: "On behalf of my family, and particularly my late father, I wish to convey my sincerest apologies and deepest regrets to those who were victimized by this unfortunate incident."
AP Entertainment Writer Sandy Cohen is on Twitter: www.twitter.com/APSandy .
Popular in the Community