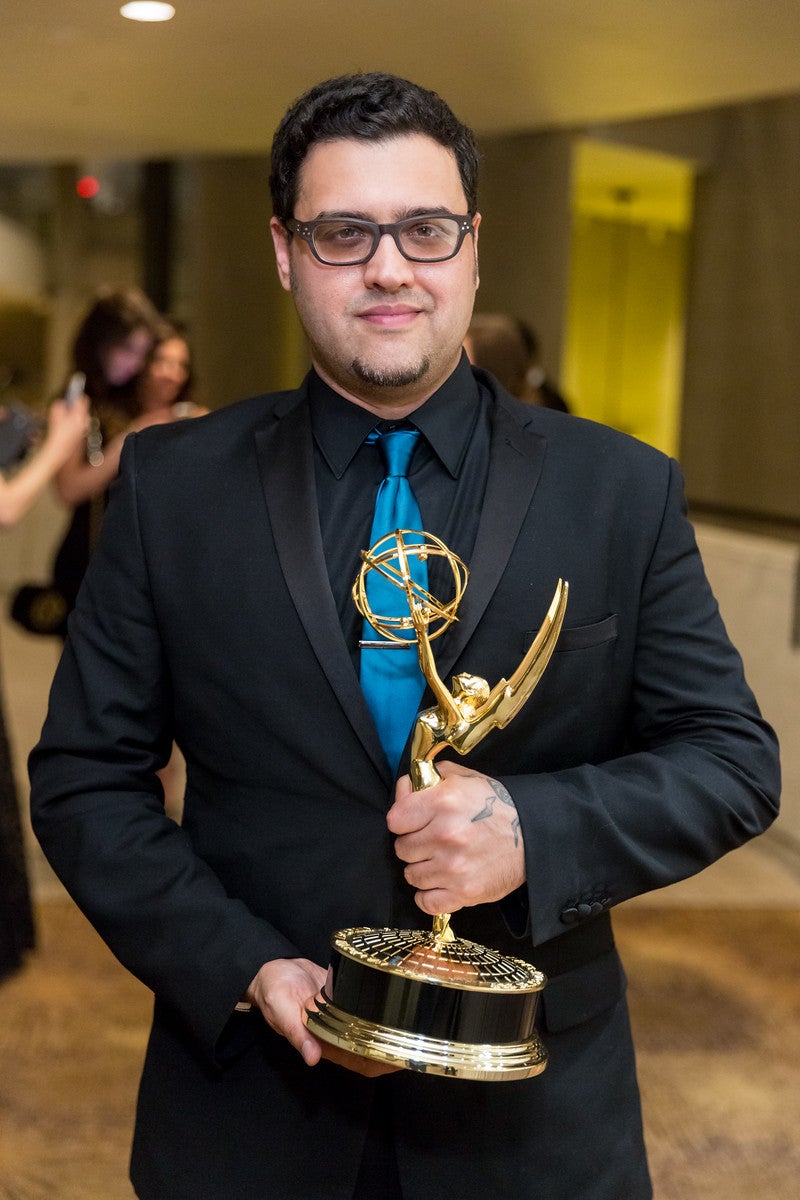 In an industry that spits people out, sends thousands fleeing out of Los Angeles every year and back to their hometowns, what Gregori has been able to achieve in five years is a huge accomplishment. In April 2016, Martin received his second Emmy® Award for "The Bay".
In 2015 and 2016, "The Bay" was recognized by the National Academy of Television Arts and Sciences (Daytime Emmy's®). Winning in 2015 for "Outstanding Daytime Drama Series-New Approaches," and winning again in 2016 for "Outstanding Daytime Digital Drama Series". In addition, Martin directed two of his stars from "The Bay" to Emmy® wins Mary Beth Evans "Outstanding Actress in a Digital Drama Series" and Kristos Andrews "Outstanding Actor in a Digital Drama Series".
Flashback five years ago to 2011 and most people in the entertainment industry were not familiar with the name Gregori J. Martin. However that all started to change with the release of the first few episodes of "The Bay" for which Martin was awarded the 2011 Indie Series Award for Outstanding Directing, he was also nominated again for his directing in 2016.
Now with the success of "The Bay" streaming on Amazon Prime (over 50 million subscribers), this multiple Emmy® Award-winning producer, director, founder, CEO, and president of LANY Entertainment is finally getting the notice he deserves.
Watching all 14 episodes of "The Bay" season one that were released September 6th on Amazon Prime it is hard to believe the series isn't a major network studio production. Within 15 minutes of starting the series it is very clear that creator, writer, producer, and director Gregori J. Martin is a man with vision, passion, and the talent to capture phenomenal acting in fast-paced contemporary drama.
The 14 episode season two (coming to Amazon Prime in November) of "The Bay" already aired half of the episodes on internet in early 2016. Averaging a very impressive 1.7 million viewers, rivaling network soaps "Y&R", "B&B", "DOOL" and "GH" in viewers. A recent survey showed 77% of "The Bay" viewers are in the targeted and coveted 18-49 demographic. If just 10% of Amazon Prime members watch "The Bay" that will bring the total number of per episode viewers close to 7 million. Viewership like that are numbers network executives get excited over.
Martin is currently in development of the third season of his multiple award-winning drama series "The Bay" slated to begin production in Los Angeles later this month and scheduled for a 2017 release.
In addition to season three of "The Bay", Martin is in development on a six-hour miniseries titled "The Disciples" that was sold to cable television, where he is serving as co-executive producer and head writer.
Next up we can see more of Martin's talent and vision in the highly anticipated debut of the situation comedy series "This Just In", slated to start airing in December 2016 on Pop TV. A series on which Martin is both a co-executive producer and director on with Associated Television International (ATI).
Calling all HuffPost superfans!
Sign up for membership to become a founding member and help shape HuffPost's next chapter
This post was published on the now-closed HuffPost Contributor platform. Contributors control their own work and posted freely to our site. If you need to flag this entry as abusive,
send us an email
.