There's no debating that when it comes to finding a job, appearance matters. In fact, studies have shown that well-groomed, "better-dressed" candidates have a significant leg up on their competition.
But being buried in medical bills -- and coming from modest means -- makes it hard to shop for new clothes to wear on a job interview. Christine Pechera, a young woman living in Los Angeles, and Angela Williams, a 40-year-old single mother of four living in Detroit, both faced life-threatening illnesses and survived. When they were finally deemed healthy enough to rejoin the workforce, however, all they had to wear were the old, ratty clothes they'd worn at the hospital. Neither of them had the financial means to shop for professional clothes to wear on their interviews.
Then, a twist of fate brought these ladies the surprise of a lifetime: $10,000 worth of designer clothes, courtesy of celebrity stylist Sam Russell and his Giving Closet.
When Russell presented them with dresses and shoes from Tory Burch and Adrianna Papell, he gave them much more than just a new wardrobe: he brought them confidence, hope, a way to feel beautiful again and a chance at financial independence.
Christine, who lives in Los Angeles, was more than deserving of this gift. She had become a champion for cancer related causes while still in the hospital herself, believing she only had weeks to live. She survived thanks to a last minute bone marrow donation, but, once she was released, had a hard time finding work among the other crisp, stylish, well-heeled interviewees.
"I didn't have the work experience that most people my age had accomplished. It looked like I'd have no way out of my situation, no matter how hard I tried," she said.
Enter fairy godfather Sam Russell, who has dressed everyone from Sophia Bush to Stevie Wonder.
"Something about Christine was so selfless. You talk to her, and you see that she's a good soul," said Russell. "We're always catering to actors and celebrities, throwing all this free stuff at them. Why can't we do that for every day women like her?"
After years of feeling like "damaged goods," Christine finally feels beautiful again.
"During treatment, I lost my hair, I became bloated, and then too skinny, I had dark circles under my eyes. I felt so unwanted and unattractive," she said. "This made me feel beautiful, like I was amongst the living. No hospital gowns and sweatpants anymore!"
In addition to the new wardrobe, Russell used his connections to help get Christine a paid internship with production company KO Paper Products, and she began working on the show Sleepy Hollow.
"I could step out of my house with a confidence I hadn't felt in years. It seems like such a small thing, but when you're just climbing out of a dark place in life, it means everything to feel joy and freedom again," she said.
That was one year ago. Today, she's still volunteering at cancer fundraisers and helping to spread awareness for bone marrow donor registration. Last week, at Cancer for College's yearly benefit event, she took her annual photo with Will Ferrell and moved him to tears when she spoke.
Last Friday was also a big day for Angela Williams, who Russell surprised in Detroit.
It's been a tough road for the divorced mother of four, who has undergone multiple surgeries for severe kidney obstruction and a heart murmur. Despite her own health problems, she insisted that her mother, whose chronic pain had become unbearable, move into the home she shared with her four children so she could help take care of her.
When Russell called the nonprofit Jackets for Jobs and asked them if they could suggest a deserving woman for him to gift, they pointed him right to Angela, and he jumped at the chance to surprise her.
"Despite her obstacles, her kids are all on the honor roll, in study groups and at home with mom doing homework," Russell said. "If you're single, broke, and have no man, with four kids in a challenged city like Detroit, managing to keep them all in line and off the streets is an amazing accomplishment."
After the extreme weight loss that resulted from multiple surgeries, all of her old clothes were huge, and any money coming in went right to her children. She never bought anything new for herself.
On March 6, she was told she was going to do a public service announcement for Jackets for Jobs, and while she did expect to be met with several cameras, she wasn't expecting the 50 dresses, 15 pairs of shoes, and five handbags that awaited her.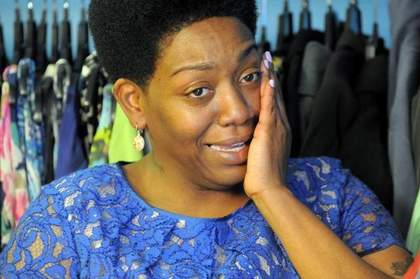 When she modeled the new outfits for her youngest daughter, eight-year-old Jade, her "little ladybug" said her mommy looked like a queen.
"You won the clothing lottery!" she squealed, putting on her mother's new heels as they took a lap around the room together.
Angela is currently pursing her dream of becoming a culinary chef, and The Professional Careers Academy has promised her a job once she graduates. Fortunately, she says, she's got presentable clothes to wear.
"If I didn't have to wear uniforms to class Monday through Friday, I would already be dressed up every day," she said. "When I can finally go back to work, I'll be ready for the world. Yes, I'll be ready for them."
Related
Popular in the Community