This weekend, Hollywood releases its latest entry into the annals of silver screen Arthurian legend with King Arthur: Legend of the Sword, directed by Guy Ritchie and starring Charlie Hunnam. Judging from the trailer, it looks to continue the tradition of action-packed, not-so-historically-or-mythologically accurate, bloody, gritty fantasy. Judging from the reviews…well, you can read them for yourself.
But what if you're looking for a quieter, or God forbid, female approach to the stories of Camelot? You won't find many offerings from Hollywood (aside from the dated 1994 Guinevere TV movie, the somewhat better 2001 miniseries adaptation of The Mists of Avalon, and 2006's passable Tristan + Isolde…it's been over 10 years, we're due for another). In fact, King Arthur: Legend of the Sword, appears to have written out Guinevere completely, replacing her with an enigmatic character known only as "The Mage." And the other female characters? Prostitutes. So much for women's empowerment.
We've already seen the reports that women are underrepresented in Hollywood, whether you are looking at directors, characters that aren't stereotypical female parts (especially for actresses over 30) or at the pay scale female actors. It is clear that Hollywood needs a strong dose of girl power. This is especially true when telling the stories of Arthurian legend. Luckily, these stories already abound in the publishing world. Once you've had your fill of testosterone at the movies, turn the page and dive into these books about the women of Camelot, all of which are ripe for adaptation.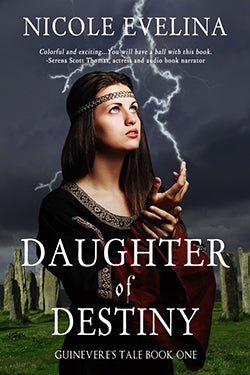 King Arthur's much maligned wife and lover of Lancelot
These are the first two books an award-winning trilogy that tells Guinevere's life story from her point of view. Daughter of Destiny introduces Guinevere as a young priestess/warrior who had a life and plans for love that in no way involved being queen. In fact, she doesn't even meet King Arthur until near the end of the first book. Echoes of her early life – including a rivalry with fellow priestess named Morgan and a former lover who will become one of Arthur's knights – become a thorn in her side once she marries King Arthur in Camelot's Queen, weaving a web of trouble that establishes she is much more than simply the unfaithful wife and mistress portrayed by popular culture.
See also books by: Rosalind Miles, Nancy McKenzie, Persia Wooley, Lavinia Collins, Sharan Newman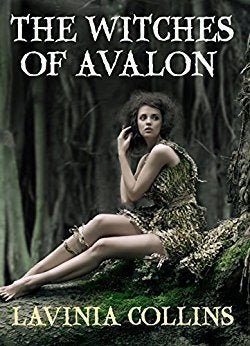 King Arthur's magic-wielding half sister
The first book of a trilogy that takes on the most demonized character in Arthurian legend. In this version, Morgan is raised by nuns to be a healer, but as she grows up, circumstances beyond her control force her to rely on herself – and on dark magic – to survive. Thus, she is as much a victim of her own circumstance as is Elphaba in Wicked. In casting the usually reviled character of Morgan as the heroine, the author calls readers to look upon her as a woman with her own feelings, struggles and motivation. Collins is known for her graphic romance, so this book will definitely appeal to readers of certain types of popular fiction.
See also books by: Faye Sampson, Alessa Ellefson and Marion Zimmer Bradley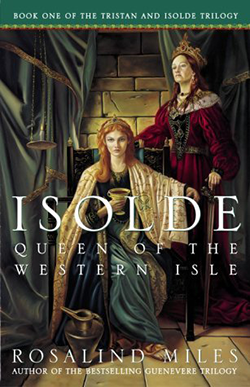 The star-crossed lover to Tristan, nephew of King Mark
The first book of a trilogy telling a magical version of the timeless tragedy. In this version, Isolde's mother, the queen of Ireland, takes a new lover every seven years. Her latest is bent on leading the country into war. Against this backdrop, Isolde is the peacekeeper, willing even to marry to prevent bloodshed. In a twist of fate, she drinks a love potion and falls in love with her intended's nephew, Tristan. From then on, tragedy dogs her heels, but there is a twist to the lovers' traditional tragic end.
See also books by: Diana Paxon, Nancy McKenzie, Anna Elliot, Rosemary Sutcliff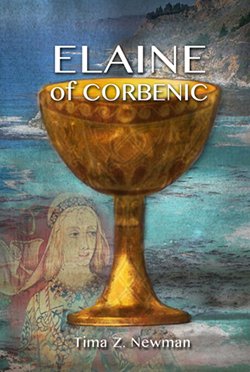 Either the Lady of Shallot, or a maiden of Corbenic, or sometimes both. Mother of Galahad, who finds the Holy Grail, and lover of Lancelot.
In this highly medievalized version of the classic tale, the isolated daughter of the Fisher King falls in love with Lancelot, King Arthur's greatest knight, and bears his son. The story may be traditional, but the language is lyrical and highly poetic, providing its own form of magic for the reader.
See also books by: Patricia McKillip and Lisa Ann Sandell
Nicole Evelina is a multi-award-winning historical fiction and romantic comedy writer. Her debut novel, DAUGHTER OF DESTINY, the first book of an Arthurian legend trilogy that tells Guinevere's life story from her point of view, was named Book of the Year by Chanticleer Reviews. Her most recent novel, MADAME PRESIDENTESS, a historical novel about Victoria Woodhull, America's first female Presidential candidate, was awarded the prestigious B.R.A.G Medallion and was the first place winner in the Women's US History category of the 2015 Chaucer Awards for Historical Fiction.
Related
Popular in the Community