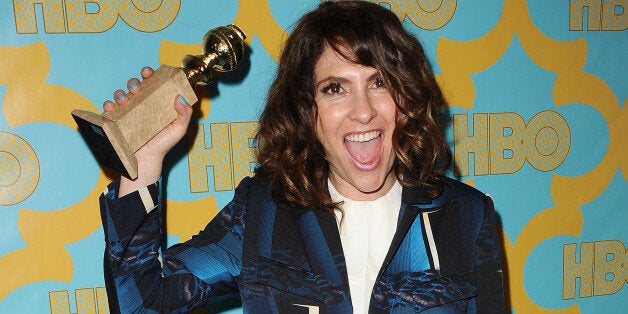 The 72nd annual Golden Globes aired on Sunday and showcased a Hollywood that seems to be gradually expanding the master narrative and portraying more diverse roles than ever. The two co-hosts were women (Tina Fey and Amy Poehler) and there was a bevy of women presenters and presenters of color.
Another major distinction for this year's award season is that two critically lauded shows in the line-up prominently feature transgender narratives, Transparent and Orange is the New Black. However, the winning of the former as the Best TV Series -- Musical or Comedy has left a bittersweet taste in the mouth of many a trans person.
No doubt Transparent has the best of intentions and exists as a fairly true-to-life narrative given that it's based on the creator's personal story of coping with her mother's transition. And I must say, I was thankful that both the series' creator, Jill Soloway, and the main character, Jeffrey Tambor, gave major shout-outs to the transgender community in their acceptance speeches.
However, Transparent falls flat because it features, yet again -- in a tried and true Hollywood custom -- a cisgender man playing a transgender woman. Not only that, but we're also seeing the trans narrative played out through a cisgender lens. It's akin to how I feel when I continue to see narratives of color translated through how white people see the state of race and race relations.
As a trans woman, I must admit that it continues to be disheartening to see certain portrayals of my community's experiences in the hands of cisgender people. When I see yet another cis man in a trans woman role, à la Jared Leto in Dallas Buyers Club, it continues to elucidate how society understands us. Or how -- in short -- they don't. The acceptance of the "man in a dress" trope continues to persist despite more awareness and representation than ever before.
It's unfortunate that Orange is the New Black didn't win in that category. In addition to being a multi-narrative TV show obliquely based on a real story, it more adequately represents the transgender experience by featuring trans actress and activist Laverne Cox. With this in mind, it exists as one of the best and most authentic portrayals of the trans woman experience to ever grace either the silver screen or the small screen. That authenticity matters. It should also be noted that Cox is the first black trans woman to ever star in a headlining show and the first trans person to be nominated for an Emmy in an acting role.
With actresses like Cox, Candis Cayne, Harmony Santana, Kingston Faraday and many unnamed others out there, the old excuse, "We just couldn't find any trans actors" is completely unsubstantiated. The problem is Hollywood has approached trans narratives like it has with many others by commandeering them from the marginalized group in question. The other main problem seems to be the lack of access for trans actors, again, akin to the lack access for queer actors and actors of color. You want to showcase our stories, but not with us in the roles. Luckily, in respect to the latter, it's become a bit antiquated to allow white actors to take on those roles -- that is unless they're portraying historical figures.
If you're cis, I guess you're wondering why accurate portrayals of trans stories are important. Well, as a child I was relegated to depictions of trans women as deceptive caricatures through shows like Jerry Springer. I was reduced to oversexualized images of trans women solely as sex worker criminals in shows like Law & Order. I was forced to see RuPaul, a drag queen, as a misattributed representation of my true identity. So forgive me if I, and many others, seem a bit exhausted.
The same mindset that marks trans people as unfit to share and depict their own stories comes from the same place as the invalidation that causes us to experience discrimination and self-loathing on so many other levels. Seeing your true self in media is important and can save lives. Since you all have grabbed on to Leelah Alcorn's story, perhaps put into perspective how seeing more role models would have changed her life. We're more than the caricatures you've created of us and if you want to use our stories, the least you can do is use our bodies.
Popular in the Community