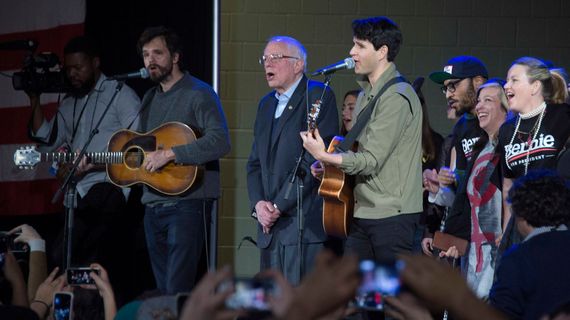 Photo: Jim Watson/ AFP/ Getty Images
This presidential election has been a crazy ride, for sure. Normally, we turn to the news or do our own research for information on the candidates. Or, we can just get our information from celebrities. This has definitely been the election with the most celebrity coverage and influence. Usually, celebrities try to stay mum on the topic as it can get controversial, but this is an election unlike the norm. It seems like every major celebrity has stated their endorsement, as well as physically campaigned for them. Whether we like it or not, celebrities have a huge influence on us. Previously, I wrote about the influence celebrities can have on issues of activism and being a global citizen. (See: Becoming a Global Citizen)
The indie rock band Vampire Weekend played a small performance at a Bernie Sanders rally in Washington Square Park in New York City that garnered almost 30,000 supporters. Lead singer of Vampire Weekend, Ezra Koenig has been a Bernie Sanders' supporter since he became a presidential candidate. In his Beats 1 radio show, "Time Crisis," he has often discussed why he likes Sanders and has discussions with other celebrities on their views of the presidential election/candidates. Many have implied that some of those 30,000 people in WSP might have just been Vampire Weekend fans trying to get a free concert. Regardless, they stood and waited for hours to ultimately see Sanders. Other celebrities that showed up in support of Sanders, include Rosario Dawson, Spike Lee, and Shailene Woodley.
In August of 2015, rapper Lil B gave an interview with MSNBC supporting Bernie Sanders. He spoke on the Black Lives Matter movement, gay rights, free education and higher minimum wage. Mark Ruffalo, Sarah Silverman, and Susan Sarandon are some of the actors that have also been very open about their support of Sanders. These celebrities also use their respective social medias to continue their message and support.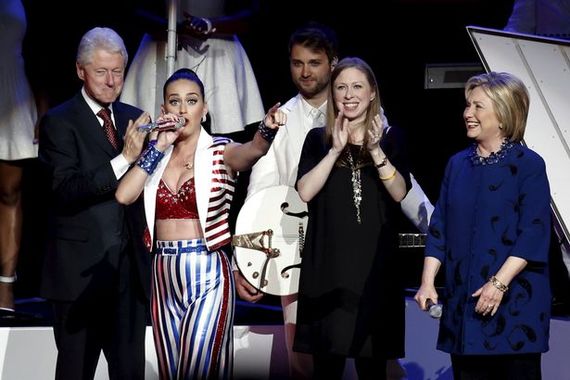 Hillary Clinton definitely has the most backing and most vocal celebrity supporters. Everyone from Kim Kardashian to Amy Schumer to Lena Dunham to Magic Johnson, and more, the list truly does go on. Similarly, Clinton hosted an #ImWithHer concert in Radio City Music Hall, featuring artists such as Katy Perry and Elton John. Unlike Sanders' free event, tickets for this show started at $125.00. This definitely gives a sense of what kind of person votes for Clinton as opposed to Bernie. Clinton has also tried the most when it comes to being cool with the millennials. She has made vines, gone on The Ellen DeGeneres Show to do the "whip and nae-nae," and guest starred on Comedy's Central Broad City, among other events to make her appeal to the younger demographic.
The only other candidate still running is the now-Republican Donald Trump. His fan base with celebrities is relatively short compared to the masses he brings to his rallies. Supporters include Tila Tequila (who, by the way, believes the world is flat), Ted Nugent, Wayne Brady, Aaron Carter and Stephen Baldwin. His celebrity supporters are by far the least influential out of the trio. Yet, Trump seems to have the most influence when it comes to airtime and the public. The presidential candidate makes headlines without the need of any sort of endorsement to help him out.
Having celebrity endorsements can both help and hurt the candidates. The same can be said about celebrities who endorse certain candidates. Azealia Banks received backlash when she came out supporting Donald Trump on her Twitter account. Fans can either agree with the celebrity and further continue the specific campaign or completely disassociate with them because of their beliefs. Ultimately, celebrities have the power to open up a conversation and spread the word through social media platforms. This allows for young people to be more involved in such a monumental event like the presidential election.
By: Jennifer Posada
Twitter: @jennifer__pc
Popular in the Community