Visitors to Los Angeles often miss the literally biggest stars because they're looking for names on the sidewalk along Hollywood Boulevard's Walk of Fame. Somehow, L.A.'s buildings, with their fantastic details, construction innovations, astonishing variety, and colorful pasts haven't put it on the map of architecture aficionados (though tours to celebrity homes are more popular than ever).
As Borislav Stanic, author of the best guidebook to the area's many overlooked features, Los Angeles Attractions, puts it, "Builders never hesitated to experiment, creating a staggering diversity that makes it unique among American cities."
It's like living inside a film studio that has hundreds of movies being shot at the same time about different eras (in early Hollywood, top set designers even dabbled in creating original homes for the stars). There are ornate movie palaces, homes that look like flying saucers or castles, a shopping mall that appears to be an Assyrian fortress, offices with Art Deco facades, and design styles from Queen Anne to Craftsman (not to mention mausoleums for luminaries grand enough to be habitats for the living).
Architectural historian and author Laura Massino of Architecture Tours L.A. www.ArchitectureToursLA.com (323/464-7868) is working hard to raise the city's profile by conducting intimate tours of the places that even residents often don't notice or fully appreciate. In a small van, she can get visitors excited who think they only have a casual interest in buildings by pointing out easily-overlooked details and telling stories about their history, from murders to movies. She offers quite a variety of options, from a focus on local architectural genius Frank Gehry's work to an overview of the glamorous past and thriving present of Downtown.
I chose Hollywood because I wanted to see what I was missing in my backyard. I've often written about the motion picture industry that started here in 1906 (the Hollywood Heritage Museum, the first film studio, where Cecil B. DeMille shot "The Squaw Man" in 1913, just reopened after restoration). Much of the Golden Age of the 1920s and 30s can still be seen if you know where to look. Massino's tours typically run 2-3 hours as she provides drive-by commentary and stops for photos, sometimes with a chance to go inside.
Fortunately, on the day I went, Frank Lloyd Wright's Hollyhock House was open. This was his first local commission 1919-21 and he set out to develop a style appropriate to the region which he called California Romanza, a musical term meaning "freedom to make one's own form." The gardens and home were designed with the dry, warm climate in mind, with a central court and each major interior space connected to the exterior by glass doors, a porch, colonnade, or some other feature.
We also saw Wright's Ennis House from the outside in the nearby hills, whose façade is reminiscent of a Mayan temple and which has a spectacular view of the city. He experimentally used 24 kinds of pre-cast concrete blocks.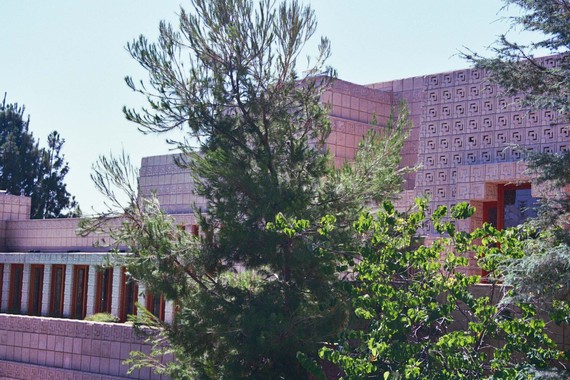 Down the road is Sowden House, the work of Wright's eldest son Lloyd, with its stunning entry (featured in the movie "The Aviator" as the home of Ava Gardner). A few doors away is the home of a movie producer from the first days of Hollywood that Massino described as "a piece of Wedgwood china," with a classic Greek stature of a half-nude woman in front.
The HOLLYWOOD sign is just above Beachwood Drive and shots of that preoccupy tourists in the street, who don't seem to notice the eclectic homes of one of L.A.'s most creative neighborhoods. The 50-foot-high letters were only meant to be there until the builders of an exclusive enclave sold out, but it became an enduring symbol. A few styles dominated originally, but now just about anything goes, as long as it blends well with the leafy, hilly environment. Near the bottom of Beachwood at 2028 is the charming Venita apartment building, which has a plaque noting that it was owned by Charlie Chaplin and Mack Sennett. The Scenic Apartments a few blocks up look like a French chateau, whose residents included Marilyn Monroe and Madonna.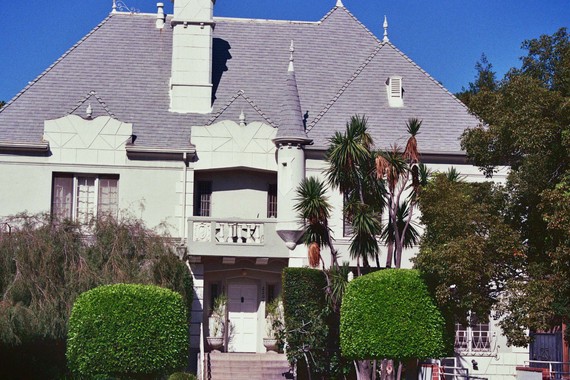 Winding through the hills, we saw other houses that looked like witches' dens in fairy tales, full-blown Victorian mansions, and modern minimalist boxes.
Back in the flatlands, we cruised the Hollywood Boulevard area. At Western is the beautifully restored Mayer building (as in Louis of Metro-Goldwyn-Mayer), constructed in 1928 with an Art Deco style that has scenes from classical history. It has often been featured in movies, including "Double Indemnity."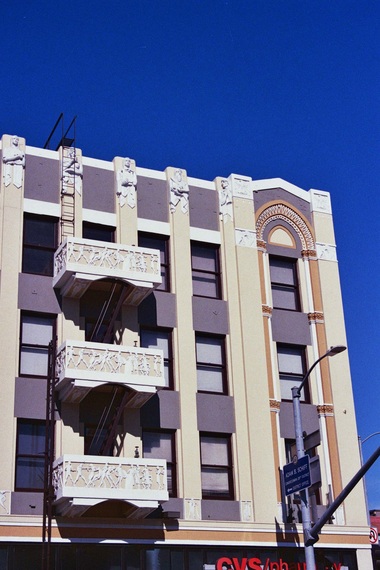 The Capitol Records tower is said to have been designed to look like a stack of records, but that was actually serendipitous, since the architect didn't know who the owner was going to be. There are a number of movie palaces--such as the Egyptian, El Capitan, and Pantages--which are jaw-dropping if you can peek inside the lobby or theaters.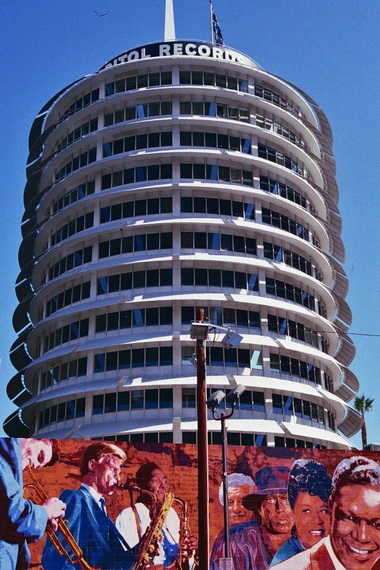 There was a lot more to our tour and we barely scratched the surface of outstanding historic and contemporary buildings (the most recent eye-candy façade is the just reopened Petersen Automotive Museum at Fairfax and Wilshire).
So come and enjoy our architecture, but please don't move here. That good weather you'll experience is really just one big special effect masterminded by Hollywood for the benefit of the industry. And remember, we have a lot of terrible earthquakes, though miraculously, they never seem to affect the really cool buildings.