 Hot off the heels of 1927's Metropolis, a masterpiece of German expressionist filmmaking, and one of the silent movie era's greatest achievements, Hollywood sought to cash in on a futuristic blockbuster of its own, with a curious twist. The result was the first science fiction talkie feature, 1930's Just Imagine, a pre-Busby Berkeley musical comedy blockbuster set in the distant world of 1980.
With rare and unusual exceptions (Rocky Horror Picture Show, Young Frankenstein), the science fiction musical comedy as a film genre, never really took off -- but if it ever truly does, Just Imagine can be credited as its forefather.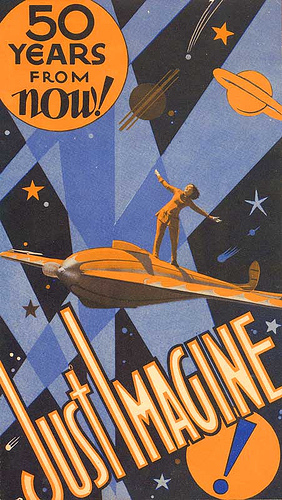 When I heard that Santa Monica, California's Aero Theatre with the American Cinematheque/Art Director's Guild was screening the first talkie science fiction film, Just Imagine, featuring a panel discussion led by production designer, John Muto (River's Edge, Species), I was intrigued. Though the print was shaky (the film has yet to be restored), it still delighted the packed house 82 years after its initial release.
Art director, Stephen Goosson (Gilda, It Happened One Night) was nominated for an Academy Award for Just Imagine, and rightfully so. In fact, the look of the film especially the dazzling futuristic Manhattan stand as the film's great legacy. Having been used and borrowed in many science fiction films over the years (notably the Buck Rogers serials of the 1950s) Just Imagine's cityscapes and stills are arguably more famous today, than the actual movie itself.
Just Imagine's futuristic vision of New York City: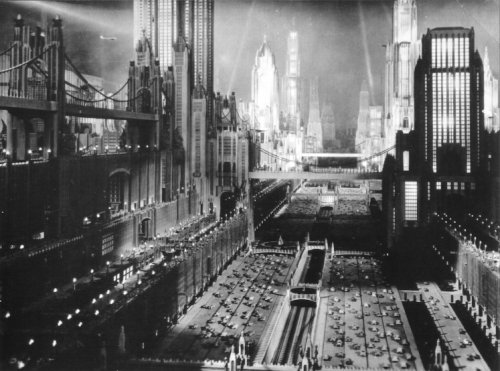 The art deco interiors are another highlight. Just Imagine's Mars palace interiors bears striking similarities to The Wizard of Oz's Emerald City, and may have been a prototype.
Art Director's Stephen Goosson's work (edited by Dennis Welch; produced by John Muto):
In Just Imagine's vision of 1980, a couple only needs to press a button to order a new infant, all food/beverages are consumed in pill form, the government arranges marriages, and names have been abolished in favor of numbers. One lead character is called MP3, an eerie (unintentional) irony considering this is a musical, and at the time Hollywood was trying to sell sound to the public. There are also early (the first?) screen examples of automatic sliding doors, Skype-style communication devices, air hand dryers, and cloning (all of Mars is populated with twins).
Joyzelle as The Queen of Mars in Just Imagine: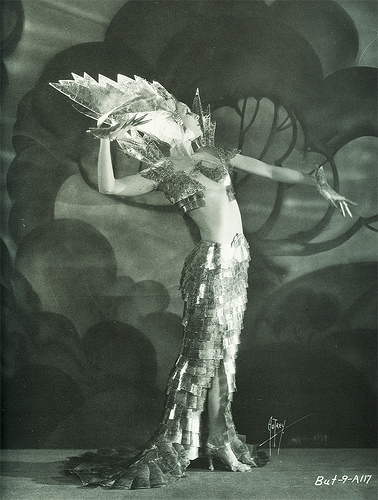 Though the science fiction is played fairly straight, there are certainly Mystery Science Theatre-esque moments of hilarity. In one scene, as our heroes walk on Mars for the first time, helmets are nowhere to be found (though one character has a porkpie hat). And apparently, 1980 is an entirely Caucasian world. Only once, for a flash, do we see what might be an Asian scientist. And having lived through the actual 1980, it's extremely amusing to watch the cast, firmly entrenched in the silent era style of acting, warble vaudevillian ballads like I Wish I Could Meet A Gal Like Grandma -- a far cry from the year's actual biggest hit, Blondie's Call Me, but it's all part of the delightful ride. Ultimately, with references to prohibition, and Henry Ford's anti-Semitism, this film says more about the world of 1930 than anything else.
Maureen O'Sullivan and Frank Albertson in Just Imagine: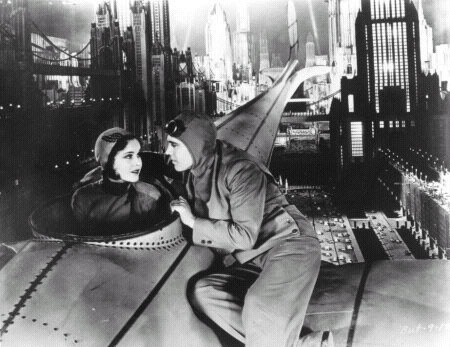 That being said, there are moments of surprisingly contemporary humor, and what could even be called one of the first LGBT screen characters, in Koko, the Queen of Mars' henchmen -- think Ed O'Neil in a Conan The Barbarian meets Fred Flintstone get up who likes to flirt with the male Earthmen.
The Aero Theatre's engaging post-Just Imagine discussion panel included USC professor/historian, Nicholas Cull, whose book, Projecting Tomorrow: Science Fiction and Popular Cinema, is due October 15.
Just Imagine's influence on cinema's greatest science fiction cityscapes (edited by Dennis Welch; produced by John Muto):
In 1930, the term 'Sci-fi' was still decades away from being coined, but fascination with the emerging genre was growing as evidenced by the popularity of books like A Princess of Mars (1912), and Buck Rogers (1928).
Starring a pre-Tarzan, Maureen O'Sullivan (often billed as "the first Irish movie star"), and Frank (It's A Wonderful Life, Psycho) Albertson, Just Imagine is a window of its own time, a quirky treasure that deserves restoration so generations to come can look back at how Herbert Hoover's America envisioned the future.
Please check http://www.americancinematheque.com/ for information about upcoming events.
Support HuffPost
The Stakes Have Never Been Higher
Related
Popular in the Community