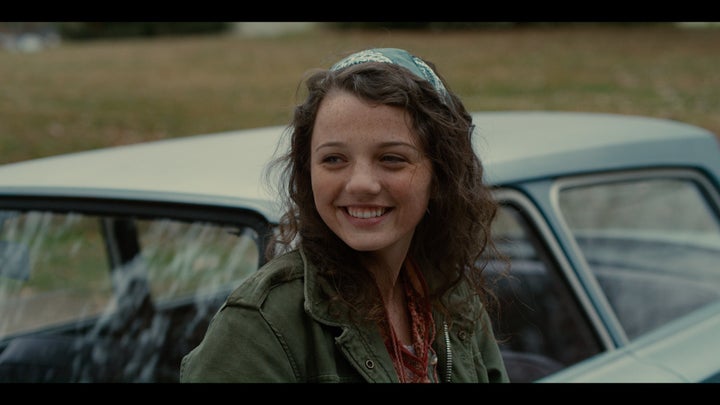 The only name that will be on anyone's lips for the next three months will be Stefania LaVie Owen- and that is because the quickly rising star is not only one of the most talented young actresses in Hollywood, but she also has three of the hottest projects on the market on her plate. Having already cut her teeth on shows like Running Wilde and The Carrie Diaries, the acclaimed it-girl has now moved on to top-tier, high caliber work- starting with the gripping coming of age film Coming Through The Rye.
Co-starring along with Alex Wolff, the movie offers a smorgasbord of the hottest young talents on the cusp of super-stardom in the business, using J.D. Salinger's famed novel's legacy as a vehicle to put their careers on the fast track at high speed. The film tells the story of two youths (Wolff and LaVie Owen) who set out on a road trip to find Salinger himself, only to find each other along the way. While Chris Cooper plays the iconic author and his talent is undeniably unparalleled, the film does exactly what it sets out to do for LaVie Owen and Wolff- solidifying their names as the most important actors to watch out for, and proving to the world that they are more than capable to act alongside Tinsel Town's greatest talents and take on serious material.
That mission now accomplished, LaVie Owen was quickly a shoe-in for the next stamp on her acting passport, traveling to even greater heights as she acts alongside greats such as Hugh Laurie and Diane Farr on Chance. In the Hulu series that premieres on October 19th, the subject matter is more serious than ever as the show deals with a neuropsychiatrist that gets involved with a patient, with the incredible Laurie playing the psychiatrist in question and LaVie Owen as his daughter.
Then, in December, the gifted star has perhaps her most exciting project yet as she will lead Katie Holmes' directorial debut All We Had, based on the book of the same name. Looking up to Holmes as a role model who treated her like a real daughter on set, LaVie Owen has nothing but great things to say about the empowering actress turned director who is inspiring her to also join the Women Behind The Lens movement and help create quality content for women. And with so much intelligence, talent, poise and even business-savvy, and now Katie Holmes as a role model, there's no doubt that LaVie Owen's career will be taking off like a rocket ship.
Taking the best break she could between her many different projects, the actress sat down to talk about all her different roles coming out this year, as well as what she would like to do in the future, and why she admires the amazing Katie Holmes. Read below for the interview.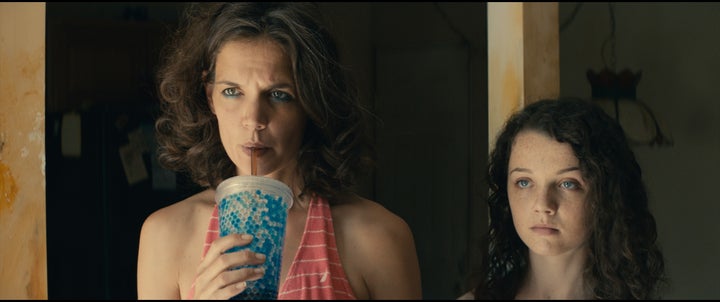 You have tons on the horizon and a busy year ahead for yourself. Let's start with "Coming Through The Rye," which opened this weekend. What is that about? Describe your character a bit?
Coming Through The Rye is a story about Jamie Schwartz, and he relates to Holden Caulfield in "Catcher In The Rye." And so, he writes the book into a play and he wants to get J.D. Salinger's permission to put the show on at his school. So, Jamie and his friend Deedee go on a road trip to find J.D. Salinger, and although their purpose might be to find the famous author, along the way they find each other. It's really a coming of age story about love and acceptance. I play Deedee, who is a very wise, spunky and confident character. She is very intrigued by Jamie right from the get go, and eventually she does get through to him and they wind end up falling in love but, overall, I just think she is a very cool character and I believe she's really a great role model for girls.
Were you a big fan of J.D. Salinger before entering that project?
I actually never heard of him, and I never read any of his books! So, right when I got the part of Deedee, I immediately read "Catcher in the Rye," and now it's one of my favorite books of all time. It's incredible.
Then you have "Chance" coming out on TV! Tell fans about your character there, and what that show will be about.
That's a little bit of a psychological thriller, and it's about a neuropsychiatrist who gets involved with one of his patients who suffers from dissociative identity disorder, and so he kind of becomes intrigued by this woman. Meanwhile, she's married to a bad cop, so the relationship kind of turns his life into chaos. That's the major focus. I play Chance's daughter, Chance is the psychiatrist, and he is played by the amazing Hugh Laurie.
Hugh Laurie is absolutely incredible, as is the fantastic Diane Farr, who plays your mother on the show. Talk about working with these two tremendously talented actors.
Working with Diane and Hugh is amazing. They were so welcoming and warm, and they made me feel comfortable on the set. I've just learned so much by watching them and I feel very lucky to work with them. They really are such fantastic actors.
And then, you finish up the year in December with "All We Had," based on the book of the same name. Tell fans about that one and what they can expect from your role.
All We Had is about a mother and daughter in seek of a new life and all they have is each other. They don't have a home, they don't have a lot of money, they don't have a lot of belongings. So. it's kind of them finding their way. It's a coming of age story for both Ruthie, played by me, and Rita, played by Katie Holmes. Katie directed the film and as well as acts in it, which is of course such an enormous achievement and I'm very proud to be part of that. That was one of the most amazing experiences, and Katie Holmes is truly amazing. She really treated me like her own daughter. It was just so special, really and truly very special.
How was it to watch Katie Holmes slip into the role of director since this is her directorial debut, and most people know her as an actress?
It was very amazing to watch because before we started filming, I was wondering how she was going to do both, but she just made it seem so easy and seamless, and she switched hats like it was nothing. It was really impressive, and she actually inspired me to want to do the same. I want to direct my own films and act in them, as well. So, she's a true role model.
With so many enormous projects on the way and having already worked with such big names and great talents, who else would you love to work with and what other roles would you love to play?
That's a hard one. There are so many people that I want to work with. I mean, as long as it's a great script then I'm totally interested. I always want to play a juicy character and challenge myself. But, if I really thought about it? I would love to work with Woody Allen. But, there are so many amazing people out there. Sally Field is definitely another one. They're both just so talented, so it would definitely be a dream to be able to do something with them.
And since it's certainly undeniable that LaVie Owen is the rising star to watch out for with three big projects coming out in the very near future, there's no doubt that the gifted young actress will be achieving all her dreams sooner rather than later.
Coming Through The Rye is now playing.
Chance is available on Wednesday, October 19th on Hulu.
All We Had will be in theaters December 9th.
Popular in the Community