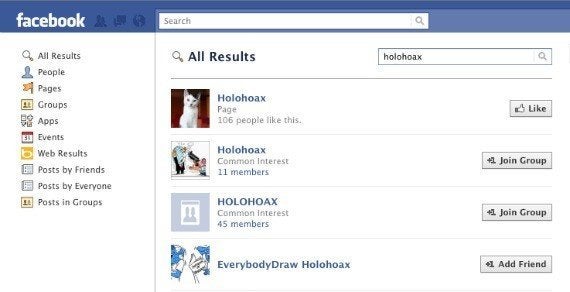 Earlier this month, 21 Holocaust survivors affiliated with the Simon Wiesenthal Center issued a plea to Facebook asking them to deny access to anyone promoting the idea that the Holocaust was a hoax reports the Jewish Chronicle Online.
We are writing to you to protest Facebook's policy that categorizes Holocaust denial as "free speech," rather than the shameless, cynical and hateful propaganda that it is.
Do not permit Holocaust denial any platform on Facebook to preach its inherent message of lies and hate. By allowing this hate propaganda on Facebook, you are exposing the public and, in particular, youth to the anti-Semitism which fueled the Holocaust.
Despite the plea from survivors, Facebook spokesman Andrew Noyes told MSNBC in an email, that one of the toughest questions they have to deal with is how to handle the sharing of controversial ideas and opinions. Noyes wrote that while Facebook finds these groups to be "repugnant and ignorant" after a considerable amount of time discussing issues of Holocaust denial, they concluded that "the mere statement of denying the Holocaust is not a violation of our terms."
Facebook has, however, removed pages in the past. CNN reported that in March the social networking site agreed to remove group page entitled the "Third Palestinian Intifada" that encouraged Palestinians to take up arms against Israel, after the Israeli government appealed to Facebook. The page, which garnered more than 350,000 "likes," was removed because it contained direct calls for violence, explained Facebook.
Support HuffPost
The Stakes Have Never Been Higher
Related
Popular in the Community