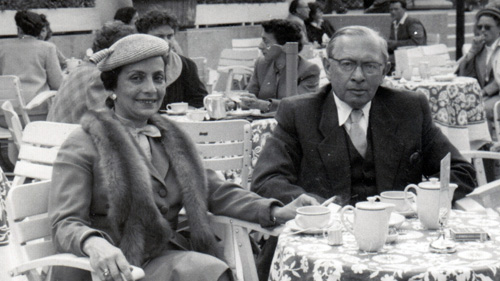 Kurt and Gerda Goldfinger, courtesy of Sundance Selects
Everyone has secrets. Many are lurking in our drawers and tucked away in the back of our closets but not all of us were consorting with ex-Nazis. It's one of those things that is hard to find the right time to bring up in conversation. Sometimes we let our survivors just stumble on these unsettling revelations.
Losing a dear friend, parent or relative can be devastating as well as a time of reflection, especially if you have to take part in cleaning out their home and sorting through boxes, drawers and closets full of memories. The prospect of this bittersweet chore enticed Israeli filmmaker Arnon Goldfinger to attempt to shoot a short film while he sorted through his recently deceased grandmother's apartment.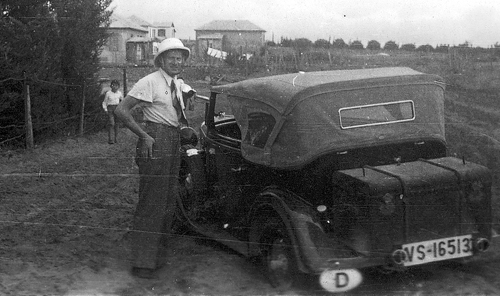 Kurt Goldfinger in Palestine, Courtesy of Sundance Selects
Gerda and his grandfather, Kurt, were Israeli pioneers who helped German Jews find safety prior to World War II and establish a haven in what later became Israel. They'd raised a family and were blessed with grandchildren as they helped to transform their refuge into a nation. This film would be a lovely project that the family would surely cherish for generations to come. What Goldfinger didn't bargain for was his discovery that his revered grandparents owed their survival to one of the chief supporters of the Holocaust, Leopold Itz von Mildenstein, a nobleman who wrote for Joseph Goebbels' newspaper Der Angriff, and was the patron of Adolf Eichmann. Not only had they traveled to Palestine with von Mildenstein and his wife before the War to help prepare for the immigration of Jewish families, but they resumed this friendship long after the War ended.
"I realized I've got to get the truth," said Goldfinger. The short film became a feature length documentary, The Flat, as he dug deeper through the papers left behind and started to piece together a story that had been buried behind a generational familial façade.
"The third generation is asking questions. The second generation didn't ask questions," explained Goldfinger. "This is a new way to connect to the past... my generation feels confident in that," he said.
He tells this story in the present tense as he unravels it step-by-step, document by document, and thread by thread, until it leads him to find the von Mildenstein's daughter who's living in Germany.
What to do, what to say and how to say it present a moral and cinematic crisis for Goldfinger. He could just telephone her, send a letter, visit and take her aside to talk to her before springing a camera on her, or just let it alone. He decides, "I must film it and be in the scene," he said. If it turned out to be the wrong choice there's always the edit room. "I could leave it out."
He leaves it in because her response was "as a human being, it's her father." Goldfinger isn't convinced she knew the complete story of her father's impact on the lives and fate of so many people including his relatives who were murdered in the concentration camps.
"We don't know enough about our parents. It's a very universal phenomenon," he said.
This insightful foray into the unknown is not without humor. Scenes of the cousins trying on their departed grandmother's fox stoles and acting silly as they vamp for the camera are truly touching and just lovely. The film is beautifully shot and Goldfinger weaves in images of cinematic poetry as blinds are closed, dusty bookshelves stand abandoned and a framed portrait of his grandfather is finally removed from the wall leaving an outline behind. The wall has faded around it but not underneath where the painting has kept watch over the family for two generations. When Goldfinger removes it, uncovering what's been hidden, he completes his journey of discovery.
"This film takes you to a place you've never been," he said, "but on the other hand it takes you a place you've always been, you're family."
The Flat runs 97 minutes and is in English, German and Hebrew with subtitles.
It opens in Los Angeles October 24 at the Landmark theaters in Pasadena and Encino. Also, it opens in Costa Mesa on November 2 and opened in New York on October 19.
Popular in the Community