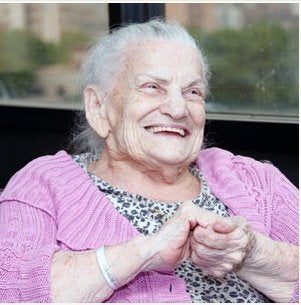 Produced by HuffPost Eyes&Ears Citizen Journalism Unit in collaboration with The Brooklyn Ink at the Columbia Journalism School.
Eta Eckstein's furniture sits haphazardly outside the apartment where she has lived for 40 years. The red notice on the door claims that the 92-year-old Holocaust survivor does not live there anymore, but her family is fighting to prove that her eviction was unlawful.
Eckstein was forced to leave her rent-stabilized apartment 18 months ago for the Shore View Rehabilitation Center in Brighton Beach, where she is a patient. Her son, Zvi Eckstein, went to check on the apartment Sun., Feb. 14. The landlord of her Bensonhurst apartment, Moshe Piller, served the eviction notice on Jan. 27, and the apartment was gutted for renovations.
He claims Eckstein hasn't lived in the apartment for almost two years. The family, however, says she has been unable to move back in, in part, because the apartment is in disrepair.
"Your client is flirting with danger," said Judge Candy Gonzales in Kings County Housing Court. "I'm astounded at the audacity. Your client stood here and told me the tenant was no longer in possession of the apartment, and accepted checks and continued to accept them."
Piller's original attorney was removed from the case this week, and has been replaced by the law firm of Wenig Saltiel. The judge adjourned the case until March 2 to give the new attorney time to prepare.
Piller's attorneys did not respond to multiple requests for comment.
The family also continued paying her rent. "My father has been paying the rent for 20 years," said Idan Eckstein in a phone interview. "[Piller's] been cashing our checks even after he was in court" trying to evict her.
In documents filed at the Kings County Housing Court, Zvi Eckstein submitted copies of the rent checks in the amount of $1,041 for each of the last four months.
The family took the case to housing court, but Monday, the case was postponed, in order to give Piller time to produce more evidence.
Neighbors say Moshe Piller has been telling them that Eckstein is dead. Superintendent Jesus Lopez told The Brooklyn Ink, "I haven't seen that lady for two-and-a-half, three years." But her next-door-neighbor disputes this: "She was sick and had to go to a nursing home," the thirty-year-resident, who asked only to be known as Ms. Dachman, said. "I haven't seen her in about eight or nine months. The landlord had two men come in to remove her furniture and they smashed some of it."
Some of Eckstein's personal belongings remain on the landing outside her apartment; others have been taken to the building's basement. Residents of the building at 8750 Bay Parkway claim Piller has told them he already has a new tenant for Eckstein's apartment.
Before the eviction, Eckstein's grandson, Idan, said the apartment was in serious disrepair. The ceiling in the bathroom fell in, clogging the plumbing, and he says there was a dangerous electrical fault in the living room.
The Eckstein family alerted Piller, as well as the superintendent of the building, about the need for repairs, but never received a reply, according to an affidavit by her son, Zvi Eckstein.
Piller first took Eckstein to court on Oct. 22, 2009. He said she had been subletting the apartment to "Jane and John Doe" and he sent her notice that he planned to seize the apartment. While the summons Piller mailed to Eckstein's apartment is part of the court record, according to Zvi the family never received it.
On Dec. 22, 2009 Judge Cherry Gonzales ruled in Piller's favor, though the Eckstein family was not in court. This led to the eviction notice, which was served in January this year. Although he could not comment on the specifics of this case, Mario Mazzoni, the lead organizer at the Metropolitan Council on Housing, said "certain landlords" often speciously claim the tenant no longer resides in the apartment. Unlike, for example, a dispute over rent, there is no document the tenant can use to disprove the claim.
Eckstein's son said Piller wanted to remove her from the apartment to find a tenant who would pay more than her stabilized $1,041 rent.
Piller has been sued in housing court 17 times since 1989 and neighbors say he's a problem landlord. "He's a beast, difficult to deal with," said Dachman. "He takes whatever he can get. I told him: She's been through hell. Think about what you're doing. She wants to come home."
Piller, who in previous articles written about him is often referred to as a "slumlord," was placed at the top of the New York Department of Housing Preservation and Development Major Problem Owner list in 2003. At that time, there were 7,313 open violations on his 29 properties.
As of this week, there are 114 open violations on the 76 units at Eckstein's building 8750 Bay Parkway. According to the HPD, Piller owes $12,200 in unpaid emergency repair charges. A department spokesperson said they are Class C or "serious" violations, including no heat or water in winter and lead paint in units with children under six.
The number of buildings Piller owns is difficult to determine because he registers them under the names of employees and family members. He has 278 open HPD violations, according to a search of the five buildings that are listed under his name.
Dachman said she couldn't have wished for a better neighbor than Eckstein. "She was a very, very nice old lady. She would do everything for anybody. There's nothing I can say that's bad about her. I hope that she does come back."
Calling all HuffPost superfans!
Sign up for membership to become a founding member and help shape HuffPost's next chapter