 Last month, the New York Times reported that the U.S. Holocaust Memorial Museum had catalogued a staggering 42,500 Nazi camps and ghettos, a far larger figure than previously estimated. The story's headline said it all: "The Holocaust just got more shocking." But I wasn't shocked. I'd had the rug pulled out from under me two years earlier, when I learned my mom was in one of those thousands of nameless, faceless camps. I was shocked then -- shocked to learn she had been a Holocaust survivor. My mother, who's been dead for almost 20 years, told me a fictionalized account of her childhood to edit this chapter entirely out of her narrative. When I tell this to people, the reaction always is: Didn't you see her tattoo? Well, no, I explain. My mother didn't have one. Only Auschwitz prisoners were tattooed. But I didn't know this until I went to her hometown in Poland three summers ago and began to put together the truth about her past.
Like many Americans, my sense of the Holocaust consisted of the Warsaw ghetto and Auschwitz, the notorious death camp where my grandmother was murdered along with practically her entire family and more than a million other Jews. Though I had seen a picture of my grandmother, I could never get past the specter of Auschwitz looming over her. When I looked into that sepia-tone portrait, I didn't see a person. I saw a number -- six million, a figure that's impossible to comprehend, that turns the Holocaust into something very abstract. Numbers are not people. That's exactly why Hitler assigned them. He tried to rob people like my mother and grandmother of their humanity. And he almost succeeded.
My mother had a number -- she was prisoner # 22853 -- only it wasn't tattooed on her arm. Hers was an invisible tattoo that left its mark under the skin. I never understood why she never could fall asleep at night or get up the next day to see us off to school. I never understood why she threatened to sell me off when I misbehaved as a little girl, or would become unhinged during my teenage years each time I announced I was going out with friends at night, insisting I sit down first and watch a Holocaust film or slide show with her. I found many of her parenting techniques incredibly stifling and paranoid. She told me to never trust anyone but family. She would intercept all my phone calls, often asking boys: "What is it that you want from my daughter?" (Imagine.) She opened all my mail and read my diary, which P.S., was addressed to "Kitty." Yes, I had read The Diary of Anne Frank when I was barely seven. She weaned me on such tomes.
Whenever I asked my mom about her childhood, the numbers didn't add up. The year she told me she was born made her too young to remember watching Nazis hack her grandfather's beard or bash her two-year-old cousin to death against the side of a brick wall -- things I found too horrible to be true when I was growing up. I grilled her often about how she, unlike her mother or rest of her family, escaped the clutches of the Nazis, but I got nowhere. "You won't be able to handle it," she'd often say. Before she died of colon cancer, I pressed her again. "It's too late now," she said, her once bright eyes sunken into the hollows of her gaunt face. I knew she died with secrets. I just had no idea of the quantity of them. She always told me: Never forget. But she wanted to forget. Why?
My quest to find the truth didn't win me any popularity points with my brothers or father, who believed I should respect my mom's right to privacy. But I pressed on, undeterred. As her only daughter, now a mother, too, I needed to make my peace with a woman whose love was often more thorn than rose. I also thought of the Holocaust deniers, who rear their ugly, insidious heads every few years, and quickly surmised my mom's privacy had to be sacrificed for a greater truth. Last month, the ceramicist Charles Krafft, whose Hitler teapot was donated to San Francisco's de Young Museum by the late Jewish collector Sandy Besser, came out as a white supremacist, calling the Holocaust a myth. When I attended Northwestern University in the '80s, there was a tenured assistant professor of electrical engineering called Arthur Butz, who had written a book called The Hoax of the Twentieth Century: The Case Against the Presumed Extermination of European Jewry. I demanded his tenure be revoked and that the University release a statement condemning his use of academia to advance his racist ideology. The book had been published years before I showed up, but the Neo Nazis had marched in Skokie a year earlier; there was a very active White Power Hotline in Chicago, and I thought the school should take a stand. My editorial in the Daily Northwestern garnered hate mail from Neo Nazi groups around the country. The most menacing one was from the head of the American Knights of the Ku Klux Klan in Southern California. It was sent to my dorm, not the school paper, in a manila envelope with a return address and name I didn't recognize. The letter was typed. It spewed racist vitriol and a series of threats. I stupidly told my mom, who panicked and insisted I come home immediately, re-enroll somewhere like Columbia, and change my name. I didn't.
I thought of this incident three summers ago when I got to the Civil Records Office in her hometown of Dabrowa-Gornicza, in Poland, and discovered that an alias was what she had been going by the whole time she was my mother. It was there in that cramped little government office, that I saw concrete proof of my mother's true identity. She wasn't born Tamar Fromer, as she told me. She was born Alta Hendla Hocherman, or Hela Hocherman, in 1926. After the prodding of Adam Szydlowski, the deputy city council for the district of Bedzin, near the region where she was from, a young clerk pulled out a dusty 100-year-old ledger that contained my mom's birth record and my grandmother's handwriting -- a slanted cursive, with letters tightly scrawled together, which didn't look so different than mine. That old leather-bound book also contained the address of my mom's childhood home, which was my next stop. It was a four-story walk-up, not so different from my first post-college walkup in the East Village. There weren't fire escapes outside the windows, but it, too, was built at the turn of the century with tile floors in the lobby and dark, dingy hallways. We searched the building's big iron doorways for mezuzah markings and found one on the second floor. Could it have been my mom's childhood apartment? I wanted to know that and so much more.
When I returned home to New York after that first trip, I contacted genealogist Jeff Cymbler
JRI-Poland Secretary and Town Leader for Bedzin, Sosnowiec and Dabrowa Gornicza, as well as the Vice President of the Fraternal Order of Bendin Sosnowicer, and Stanley Diamond, executive director of Jewish Records Indexing-Poland, who has been tirelessly collecting Jewish vital records from all over Poland to help people like me connect with a past that Hitler had hoped to wipe out. The two of them helped me trace my family tree back to the 1700s in Krakow and answer yet more questions about my mom's elusive other identity. They also put me in touch with Peter Lande, registrar volunteer at the U.S. Holocaust Memorial Museum who helped me navigate the International Tracing Service of the Red Cross, which kept records of every inmate of every camp during World War II and after, at various displaced persons camps throughout Europe. I didn't know that 30 million records had been locked up at their headquarters in Bad Arolsen, Germany, only to be made public three years before my search, in 2007. I gave Peter my mom's Yiddish birth name. He replied two days later while I was out for a run. "There is a Hela Tamar Hocherman/Fromer born 5/11/1926 in Sosnowtiz... She was sent to Gabersdorf in January 1941 and was freed in May 1945," his email read. I didn't know whether to jump up or cry. Instead, I stopped running and caught my breath. She had been in a camp for four and a half years, starting from the age of 15, when she should have been in high school.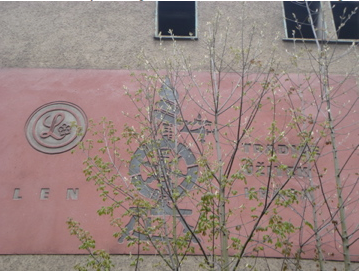 Jeff told me that Gabersdorf was a camp in the Czech Republic, where his aunt had been taken, and that a woman in Australia found her mom's Gabersdorf diary that also contained pages written by some 60 other girls. "Let me email her on the off-chance your mom was one of those girls," he said. "It's a long shot." The next day, I received another email. This time was it was a PDF file. I opened it and recognized the handwriting immediately. It was my mother's. "Let these foggy pages remind you of the awful tragic-comedy taking place within the gray camp walls..." she had written in Polish. "In memory of our shared misery -- Hela Behira Hocherman. November 27th, 1942." Yet another name I had never heard of "Behira," which means light in Hebrew. There was nothing abstract about this page. (Right: Gabersdorf)
Less than a year later, I found myself staring at those gray camp walls. They are still standing, in the foothills of snow-capped mountains in the Czech Republic, in a town called Libec, near Trutnov, site of another labor camp. It was May, close to the anniversary of Gabersdorf's liberation. I had a copy of a line drawing from a former inmate in my hand as we pulled up in front of its rusty iron gate. There was no plaque announcing that this barbed-wire compound had been a Nazi slave labor camp, just a "for sale" sign by the main entrance. I snuck in, making my way toward a massive red brick building with a logo of an old fashioned spinning wheel on it. I walked up its crumbling front steps, opened the creaky doors and found myself inside the main factory. The stink of decay was everywhere. There were mushrooms growing on the ceilings, water dripping in spots, floorboards threatening to collapse and hundreds of spools of thread and bundles of gray flax strewn in corners here and there. It had been a spinning factory, where my mother and 350 other girls turned flax into thread that was used to sew together Nazi uniforms.
When I showed the photos of that trip to my mom's long-lost camp friend, Fela Abelewicz, her response stunned me. But it also explained a lot. "When we were there, we thought it was hell," she said. "After we got out, we realized, we had been in heaven." In other words, how could their travails compare to gas chambers and crematoria? That's exactly why it's taken 70 years to catalogue these thousands of camps -- and exactly why it is time to consider showing a new set of images and to move from abstraction to more hard evidence. The Holocaust isn't just about tattoos and the dead. It is also the story of factories and flax, of historical records and hidden diaries, of the living, who not only had to survive the camps, but the rest of their lives, trapped with memories they wanted to forget. It is also my story, which I had to find, by facing places that are shocking -- shocking because of their pasts, shocking that they are still standing and shocking that no one knows about them. That's why this Yom Hashoah, I'm displaying the spools of thread I found, along with my Yarzeit candles. I hope this makes the Holocaust more shocking, so much so that the only ones who will be silenced will be Butz and Krafft, not people like my mom. "In memory of our shared misery," she wrote. Indeed.
Marisa Fox is a New York-based writer and editor whose work has appeared
in Elle, O, InStyle, Details, Marie Claire, Redbook, The New York Times, The New York Daily News and many other publications. She is currently working on a book and documentary about her mother's hidden life. Join her search on theinvisibletattoo.com and through Twitter @marisafox