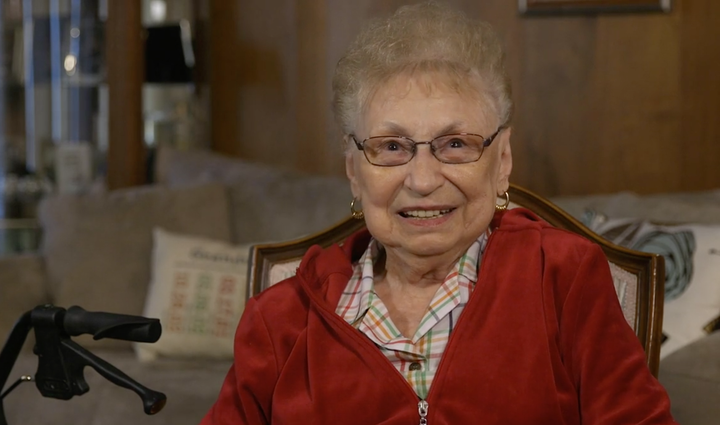 A Holocaust survivor who was separated from her family and a formal education at the age of 11 has been awarded a high school diploma, securing what became a lifelong dream.
The empowering moment was decades overdue, with Begam sharing how she was forced into Nazis work camps after the 1939 invasion of Poland by Germany started World War II. This followed her being separated from her parents, brother and sister.
"I can't tell you everything that was going on because you might cry with me," she said in a recent interview with Captivate Media Consulting, in which she recounted her harrowing life story.
Begam's longtime desire to receive her diploma was first shared in 2010, when she visited with students at Wayzata High School where her granddaughter worked as a secretary.
There, while speaking with students, one asked her what her biggest regret was.
"I expected her to say, I wish we would have run, I wish we would have hidden, I wish we would have saved pictures," teacher Candice Ledman recalled to KARE-TV. "She said, 'The one thing I regret is not getting my high school diploma.'"
Begam shared that her parents were both highly educated people, with her father, who was a rabbi, having served as a chaplain in the Polish army.
At the war's end, against her greatest hope, she learned that her family had perished at the Auschwitz concentration camp.
"You try not to remember everything but it's not easy," she said in her interview.
At the age of 17, she married another Holocaust survivor and moved to the U.S. Having never finished school, however, remained a sore spot in her heart. Upon hearing of her longing, Ledman said she asked the school's administrators if they could make Begam's dream a reality.
The request was initially turned down and not brought up again until a new principal came to the school, Scott Gengler. Once he heard the family's request, he granted almost immediate approval, Ledman said.
"It's 71 years overdue," Gengler told KARE-TV of the request.
Asked in her interview if she had any advice she'd give others, Begam answered:  "Just try to do your best. Try what you can do. Don't over do it."
Calling all HuffPost superfans!
Sign up for membership to become a founding member and help shape HuffPost's next chapter
BEFORE YOU GO