SKOKIE, Ill. ― The announcement last week of President Donald Trump's executive order banning refugees from entering the U.S. jerked Fritzie Fritzshall back to the most horrific time in her life.
"Hunger came back to me, that [refugees] are facing. The cold that they're facing, the immigration lines we face that we [couldn't] get out of. And this is what's happening here," the 88-year-old Holocaust survivor said as she walked through the Illinois Holocaust Museum and Education Center on Thursday.
Fritzshall, the museum's president, was among a group of about 20 Chicago-area Holocaust survivors who gathered urgently to speak out against the refugee ban on Thursday.
Though the museum is officially non-partisan, the survivors were plainspoken in their criticism of Trump's executive order and warned against letting the same thinking that once imperiled their own lives take hold again.
"For someone to say, 'Hey, we can't let these people in,' it's a sliding slope," said survivor and museum Vice President Aaron Elster. "Who will they stop next? Because that's how it starts."
The 84-year-old escaped the liquidation of the Polish ghettos before going into hiding in the Polish countryside; he ultimately made it to the U.S., but he was alone.
"My family would have been saved had this country opened its doors to them," Elster said. While he survived, his 6-year-old sister and his parents were all killed.
"If we don't speak out," he added, "it'll continue to happen and it'll only get worse."
Elster sharply recalls the feelings of marginalization: being hated by the Nazis and rejected by the Americans.
"First they dehumanize you," Elster said of anti-Jewish governments and their sympathizers. "Your citizenship is taken. And you're forced to live in a certain place — like the Japanese in WWII."
As mass protests took place in airports around the country last weekend, Trump's administration defended the travel ban as necessary for the interest of national security. It bans all refugees for 90 days and bans Syrian refugees indefinitely, while barring entry to visa holders from seven predominately Muslim countries.
The administration has also tried to fight accusations that the ban specifically ― and unconstitutionally ― targets Muslims. Critics point to Trump's own repeated campaign promise to order a "complete and total shutdown of Muslims entering the United States" and to the fact that he said his order will provide exemptions for religious minorities in the affected Muslim majority countries.
The Holocaust survivors found nothing conciliatory in Trump's executive order.
"Ninety days is a lifetime," Fritzshall said of the ban's defenders who argue it's not permanent. "Every day in the camp, we were taken out and sent to the gas chambers."
Ralph Rehbock, 83, said in a statement that while his family was able to flee Germany, once outside they had nowhere to go.
"We were shut out of the rest of the world. We need to find ways to expedite the vetting process and not repeat the mistakes of the past," Rehbock said.
Elster said now more than ever, it's crucial not to give in to fear and to make sure that refugees and all people feel included.
"You can't take a brush and sweep away all the people based on a small, tiny minority," Elster said. "We cannot exclude thousands and thousands of people based on what the terrorists have done."
Sign up for the HuffPost Must Reads newsletter. Each Sunday, we will bring you the best original reporting, long form writing and breaking news from The Huffington Post and around the web, plus behind-the-scenes looks at how it's all made. Click here to sign up!
Before You Go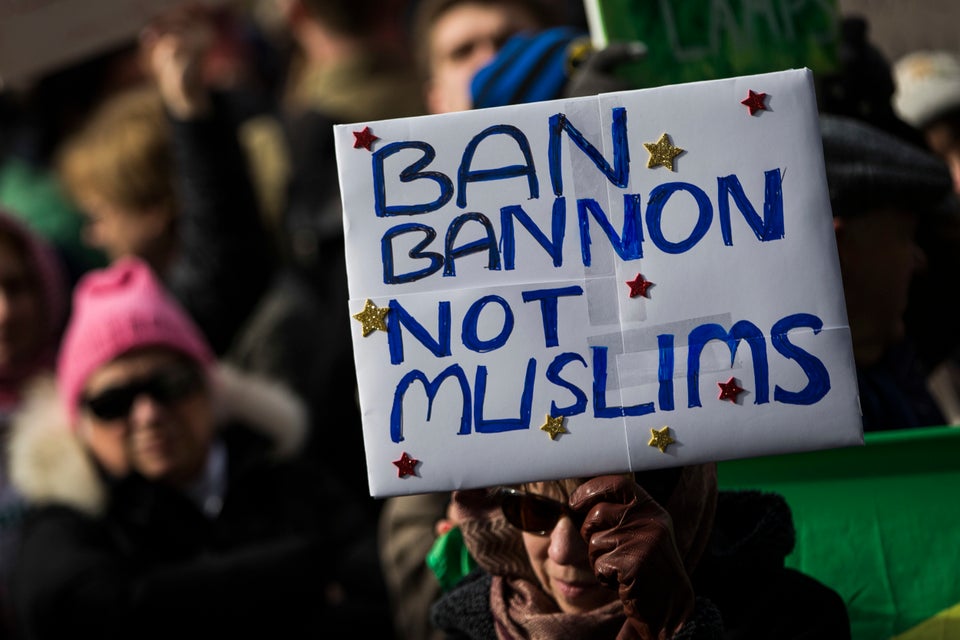 Nationwide Protests Against Trump's Executive Order
Popular in the Community