My daughter and I recently took a day trip to a bison farm on Long Island. That's right-- Long Island, New York! Just about an hour and a half drive from Manhattan, the North Quarter Farm is located in the historic town of Riverhead.
Ed Tuccio, the owner, graciously sat with me at the farm's Tweeds Restaurant and Buffalo Bar to tell me all about his lifelong romance with bison. On a ski trip in 1985, as Ed was "driving around Colorado, I came across these magnificent animals, a lost part of our great American history and instantly fell in love."
Ed, a passionate Long Island potato farmer and very successful real estate broker, ultimately purchased two pregnant bison from Custer State Park located in the Black Hills of South Dakota. Since his initial purchase, the North Quarter Farm now boasts over 300 bison on 250 acres of farmland. The farm's primary function is the breeding and careful culling of the bison for slaughter. At North Quarter Farm the average weight of a female is 1,200 pounds, while a male is about 2,200 pounds. The size of these animals, especially when seen up close, is simply magnificent. They are the largest land animals in North America. Once upon a time, 60 million bison roamed the plains of North America. Massive hunting of these animals nearly drove them to extinction. Thanks to Ed and many other passionate bison farmers across America, there are now over 650 thousand bison. This year, one of Ed's females produced an extremely rare black bison calf (the opposite of an albino).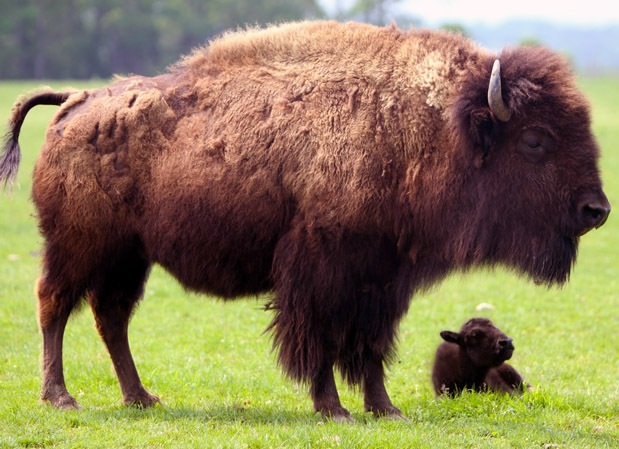 A great resurgence in the consumption of bison, ironically, has helped tremendously in increasing their numbers. Bison meat is a true delicacy and it's absolutely delicious--not gamy at all. In fact, bison has an almost sweet taste that is so succulent and tender that it has converted many a beef lover. Since it is low in cholesterol, fat, and calories, but high in protein and iron, bison is a heart-healthy red meat. On Ed's farm there is no use of steroids, growth hormones, or antibiotics. All organic is the name of the game.
If ever you find yourself out in Riverhead, make sure to stop by Tweed's Restaurant. Ed and his team prepare their menu using the abundant bounty of Eastern Long Island, along with numerous bison offerings. Don't forget to ask for Ed. You might be lucky enough to sit with him and learn about bison from the great story teller himself. Here's a tip: If he asks you to guess who once hunted down and owned the buffalo head hanging majestically over the bar in his restaurant, tell him it was Teddy Roosevelt. When he asks how you knew that...smile and say, Franco told me.
Popular in the Community