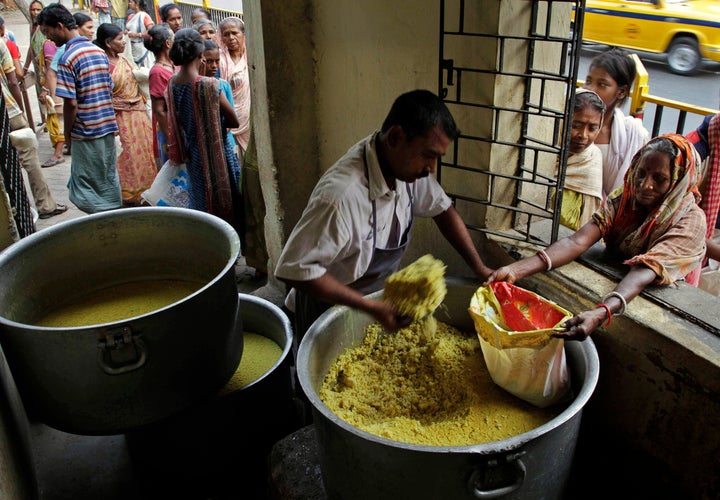 "Sharing food is the highest form of Karma." --Bhagavad Gita
In Hinduism, the sharing of food is an essential part of the human experience. When there is scarcity, this sharing can mean the difference between life and death. Civilization cannot exist without it. When we share food in a spiritual setting, we imbue it with a meaning that draws us closer to our creator and closer to one another. We affirm that we share in each other's destiny. A simple dish of lentils in this spiritual context becomes much more than sustenance. It becomes a spiritual experience that elevates our consciousness and celebrates the divinity within us. Sharing with others forces us to mutually recognize our humanity and creates a powerful bond between people. These bonds spread outward to create the shared identity we call community and it is within this community we find the true essence of our lives. Out true existence lies in our experience of family, friends and community; through these we indentify ourselves and our place in the world.
"Too many people are working at jobs they hate to buy things they don't particularly want to impress people they don't even care about." --Dr. Deepak Chopra
Every day of our lives we interact with others and often fail to perceive them as true members of our community, thereby failing to make these interactions as meaningful as they can be. It is entirely up to us to make this experience meaningful. Unfortunately, too many of us squander the opportunity and feel our lives to be hollow or lacking in substance. When we make meaningful connections with each other our lives are enriched and we feel that we have a higher purpose than merely acquiring more "stuff." Shaunaka Rishi Das directs the Centre for Hindu Studies at Oxford University. He finds in the stories of the Mahabharata and Bhagavad Gita the presence of a lively and impish boy named Krishna who steals butter and plays pranks. Lord Krishna manifests later as an artist, a musician, a politician, a poet and singer, a military leader and finally a king. Each of these manifestations is part of what Shaunaka calls "the wonderful Krishna," a fully approachable, divine intelligence that instructs through beautiful stories. Lord Krishna's combined humanity and divinity serves as an inspiration. The lessons he gives include those that inform how we are meant to share food with the clear understanding that such sharing creates ever more love and more abundance. Hinduism is a faith of deep compassion and love. This is the great meaning of our lives: that we make sure everyone matters.
"God comes to the poor in the form of food." --Mahatma Gandhi
Seva is one of the most important concepts in Hinduism. It means service. When we give of ourselves to the community we enrich our fellow human beings and share in abundance. Sharing food, according to the Bhagavad Gita, is the highest form of Karma. In practice, this means volunteering time and preparing meals that can be shared with those in need in temples in India and around the world. When Arun Gandhi, the Mahatma's grandson, speaks of God coming to the poor in the form of food, he is talking about the first obligation of believers in the path of Krishna. Until you feed someone who is poor and hungry, you have not recognized his humanity and he cannot entertain any spiritual aspirations. How can you talk to a man or woman about spiritual matters when they are hungry? When you feed someone with pure intentions you widen your community and add a real reason to feel good about your existence. In Gandhi's belief, it is Krishna's divinity that works through you to feed hungry people. In the western world, where the poor are struggling with obesity and the rich are slender, it can be difficult to find places to perform meaningful seva but it remains nonetheless essential in our lives. When you do something for other people, you affirm them in the most important way possible: you make them part of the human family.
"We have to help the hungry as best we can. We have to see that feeding the hungry is no less than the worship of God." --Amma (Mata Amritanandamayi Devi)
Through our friend, Anuttama Dasa, we discovered the Mid-day Meal Program. Anuttama is the director of the International Society for Krishna Consciousness' (ISKCON) international Food for Life Program, the world's largest humanitarian food relief organization. ISKCON's Mid-day Meal Program feeds many thousands of Indian children who are living on the streets. The only requirement for the children to be fed is that they must stay for lessons. The education they receive offers them a real chance at a future off the streets. It is as powerful an agent for change as there can be and it is work done as seva by the followers of Krishna. It takes an adamantly positive belief in humanity to work for this kind of change and it shows that there are many people who do not accept the status quo in India. People like Anuttama Dasa step in where governments fail all around the world.
Feeding people is an essential act of humanity, and, as such, every religion has beliefs and rituals associated with food. Vikas Khanna and I make our films to draw people to awareness of this commonality of the world's religious traditions and to illuminate their differences in a way that will engender mutual tolerance and respect. Taken together, the Holy Kitchens films are our offering to a conversation that is meant to create more peace and harmony in the world. Along the way we meet wonderful people who live the words of their holy books in their everyday actions and we are humbled by their generosity and grace.
The Holy Kitchens films explore, within the context of the world's major religions, the manifold spiritual meanings of the communal sharing of food in the hope that such an exploration can illuminate the source of the deep satisfaction universally found in such sharing. Our second film, Karma to Nirvana, premieres at the N.Y. Indian Film Festival on May 7. It follows the life of Krishna in the Hindu tradition.
REAL LIFE. REAL NEWS. REAL VOICES.
Help us tell more of the stories that matter from voices that too often remain unheard.