It's easy to stand out when you're wearing a leather jacket covered in googly eyes and have jewels glued to your scalp. But Holychild frontwoman Liz Nistico was unbothered by the wandering eyes -- googly or otherwise -- at a Lower East Side coffee shop. Louie Diller, the other half of Holychild, sat beside her, in an oversized gold jacket affixed with angel wings. They were deep in conversation about lofty plans to move from Los Angeles to Mexico City, where they want to write and record their second album. Never mind that Holychild's first full LP, "The Shape of Brat Pop To Come," has yet to debut.
Yet, Nistico and Diller are looking beyond all that, talking shop about Mexico City and why it's the next best place for what they call a "nomadic lifestyle."
"I really want to go someplace where I don't know anybody and can be made uncomfortable," Nistico said. "I like being made uncomfortable. I think the best art comes from being uncomfortable."
Due out June 2, "The Shape of Brat Pop To Come" is Holychild's shot at introducing the world to Brat Pop, the label they've given their music. "Brat Pop is essentially sarcastic pop music," Nistico explained. "It's really thick with social commentary. The things we're talking about are gender roles and expectations."
It's half-performance art, half-saccharine Top 40 drenched in obvious symbols about feminism, class discrepancies and social constructions. "Dye your hair! Tan your skin! Liposuction's really in! Adderall! Join the fall! Do it to be beautiful!" Nistico chants on the LP's second track, "Nasty Girls."
She writes most of the lyrics, while Diller heads up musical production. But together, they're trying to say something. "The lyrics are like diary entries," she said. "Just trying to make sense of this world we're put in and find some universal truth."
"I feel like our first EP, 'Mindspeak,' was feminist-driven," Diller said. "But the album has a broader scope in terms of everything Liz just said."
A few weeks later, Holychild took the stage at Brooklyn's newly renovated Kings Theater. Backed by Diller's brother on drums, multi-instrumentalist Sam Stewart (son of The Eurythmics' Dave Stewart) and two back-up singers, Nistico and Diller launched into an hour-long set,"bratty" as hell. But with a cavernous ceiling and seated ticketing, it's an awkward venue in which to introduce Brat Pop to the masses. Half the seats remained empty and only a small crowd huddled in front of the stage.
That didn't stop Holychild from trying to turn the venue into an all-out dance party with heavy percussion and electro-pop crescendos. But the reality was more talent show than warehouse rave. Halfway through the set, Nistico kicked off her shoes, commanded the crowd to clap and went full Gaga in her diva artistry. The thirst for pop stardom is real, and she's not embarrassed to have it.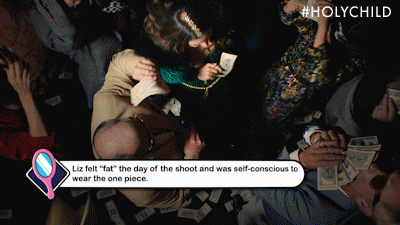 A GIF from the "Money All Around" music video
In it, Nistico and Diller try to tackle nearly every big issue, mentioning everything from disordered eating to plagiarism. The duo dines at an expensive restaurant in Los Angeles as text reminiscent of VH1's "Pop Up Video" plays throughout. Things like like "Liz felt 'fat' the day of the shoot and was self-conscious to wear the one-piece. She weighed 111 pounds" run across the screen. Rather than let fans figure out what exactly Holychild is trying to say, they hit you over the head with broad messages, leaving nothing open to interpretation.
"The meat on the table represents humans as lifeless objects," reads one pop-up. Another says, "Holychild wanted to use older actors doing sexual acts to provoke conversations on ageism." The video ends like a PSA on capitalism: "85 of the richest people in the world control $110 trillion or have as much wealth as the 3.5 billion poorest. Money is meant to provoke thought on truth."
"What we're trying to do is accessible art that's also not going to spoon feed you," Nistico explained. Their message, though, is scattered. Think. Just think about anything, they seem to say. "There's a really heavy lean in our music towards human equality and trying to figure out if that's possible, human equality between genders and sexual orientations and classes and ultimately racism."
"It's almost like the way children's shows are super fun and colorful," Nistico continued. "They're like, 'Today we're talking about sharing. Isn't sharing amazing?' These concepts can be fun. Pop jam 2015! But then it's also like, 'Fucking money!' We're trying to question the role of money in our culture. I feel like money doesn't exist. It's one of these weird ideas of a thing."
"It really doesn't," Diller added.
"It's around and somehow I'm eating food, so that's cool," Nistico said.
Holychild's "Running Behind" featured in the first Apple Watch commercial
But, the ironic notion of Holychild's hit single being used to sell Apple's latest high-profile product, which is, in a way, the absolute symbol of money and power, is not lost on the band. "I think that a lot of the reason why people are connecting with our music right now is because it says something," she said. "Apple using the song is a larger indicator of that. They were down with everything from hypocrisy in images to the feminist messages of Brat Pop. We're in a very precarious place as a culture where indicators like that show that we can move forward."
Holychild's first album, "The Shape of Brat Pop To Come," is due out June 2 via Glassnote Records.
Popular in the Community