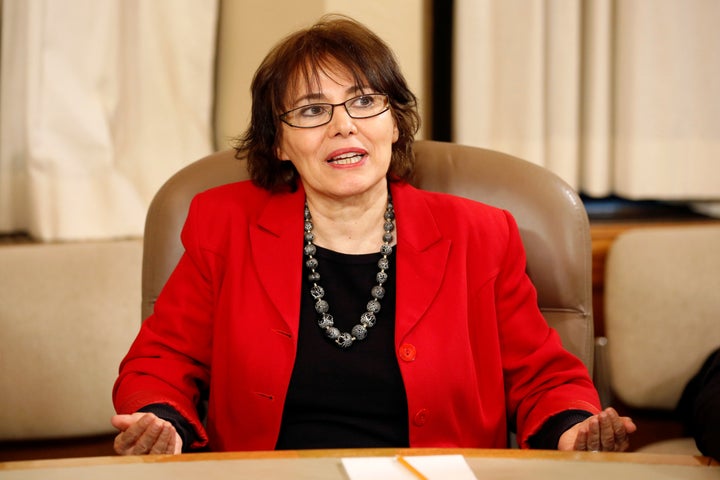 A Canadian professor jailed in Iran was recently hospitalized after spending months in the country's notorious Evin prison, according to her family and legal representative.
"She was very disoriented, severely weakened, and could hardly walk or talk" before being hospitalized reported an unnamed visitor, Hoodfar's family said in a statement provided to The WorldPost.
Homa Hoodfar, a renowned expert on gender studies and professor emerita at Montreal's Concordia University, was in Iran conducting academic work when Revolutionary Guard officers confiscated her passport in March. She was later arrested on June 6, and her family says she is being held in solitary confinement.
Hoodfar is charged with collaborating with a hostile government against national security and of propaganda against the state, while local media has accused her of "fomenting a feminist revolution." She was conducting historical research on women's involvement in Iranian elections at the time of her arrest, according to Amnesty International. Her family has called the charges "trumped up" and her arrest arbitrary.
As Hoodfar's health reportedly deteriorates, her family are now seeking greater public exposure for the case. They say the 65-year-old professor has a serious neurological condition, which she allegedly isn't receiving any treatment for while in prison. Iran has also denied Hoodfar's right to regularly consult her lawyer, according to her family.
Hoodfar's colleagues and numerous rights organizations are also campaigning for her release, condemning her imprisonment as unconstitutional. Amnesty has listed Hoodfar as a prisoner of conscience, and an open letter from a dozen Islamic scholars calls for the charges against her to be dismissed.
The Canadian government is working with Hoodfar's family on the case, including her niece Amanda Ghahremani who is acting as her legal representative in Canada.
"Privacy considerations and the fact this is an active case prevent the Department from discussing Government involvement in further detail, however rest assured that this case is a priority for us," Canada's foreign affairs department said in a statement provided to The WorldPost.
Canada has no formal diplomatic ties with Iran, complicating the proceedings. Hoodfar holds Canadian, Irish and Iranian passports, but Iran doesn't recognize dual citizenships.
Iran has, however, detained an increasing number of dual nationals this year on vague charges. In August, the U.S. State Department issued a travel warning specifically cautioning those with both American and Iranian citizenship on the risks of visiting Iran.
Related
Popular in the Community