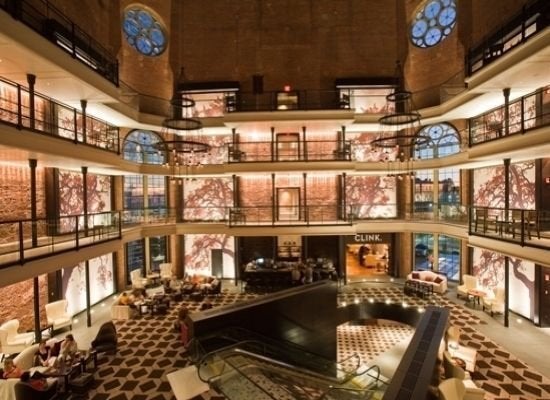 Being a travel writer gives a whole new meaning to the word "home." Our lives are spent up in the air, in hotel rooms, on trains, boats, camels, and just about anything else that can transport us. So there's something special about coming "home", wherever that is, but for a lucky few of us we find home on the road.
As a hotel reviewer, I've grown accustomed to the comforts of hotel rooms. I crave the feeling of a freshly made bed, crisp linens and the smell of bathroom potpourri. The concierge fast becomes my best friend and hotel room service often replaces a home-cooked meal (and is always better than anything I can whip up from my kitchen). Through the chaos of my travels, while often a storybook-like adventure, I've found comfort in the hotels that open their doors for me. As I prepare to embark on another trip that will take me away from home for the holidays, I wanted to pay respects to some of the places around the world that have welcomed me with open arms this year, and made me feel at home when I walk through their front doors.
Blantyre, Lenox, Massachusetts: Walking into the 19th century English-style Relais & Chateau country home was like stepping back in time. You could almost imagine Jay Gatsby throwing lavish parties in the hotel's backyard and serving champagne cocktails to ladies in big hats and lace dresses. The comfort, however, comes in the form of the hotel's owner, whose family has owned Blantyre since its establishment and who welcomes each guest, year over year, with a warm hug and huge smile.
Sonora Resort, Vancouver Island: The one luxury often lost among travel writers is sleep. We know no time zones, conform to jetlag and rely heavily on eye masks and ear plugs (when possible). The best sleep I had all year, however, was from a room overlooking the natural paradise of Vancouver. Because the resort is seasonal, and only has space for a handful of people at a time, you're instantly family when you arrive this little island. Even the animals are friendly.
The Ritz-Carlton Shanghai, Pudong: I'll never forget the moment I stepped foot into the hotel, which had yet to be opened when I visited. The General Manager handed me a glass of wine on the rooftop bar, offered up a toast and said with a smile, "I hope you'll always consider this hotel your home." And I do. Admittedly, it was hard to pick just one Ritz-Carlton - each are unique and special in their own way -- but the Shanghai hotel will hold a special place in my heart, not just for the beauty of the building, but for making my first visit to China so special.
The Eloise Suite, New York's The Plaza Hotel: Admittedly, this is a rather selfish pick. For a brief moment I was privileged to live out my childhood fantasies in one of the world's most luxurious hotels, and for that brief moment it felt like home.
Tucker's Point, Bermuda: The life of a travel writer, while exciting, also brings with it some lonely moments. I made it to Bermuda this summer to experience the pink sands, blue waters and, to my surprise, the luxury of solitude. Sitting on my balcony in Bermuda with a dark-n-stormy in my hand, I watched the sunset while couples and families went about their night. It was a moment of reflection, and an opportunity for me to count my blessings. While alone, I felt very much at home.
I've visited places as nearby as New Orleans and as far away as Sydney, Australia. Each time I land in a new destination, I'm grateful for the new friends I meet and the experiences I'm living.
This post was written on Thanksgiving, and one of the first years I'm not with my family for the holiday. What's more, I'm preparing to embark on another trip that will take me away from home for the holidays. In the middle of it all, I received a text message from my 15-year-old nephew that said simply, "Happy Thanksgiving, Mel. I love you."
The moral of this story: Even if you're not at home for the holidays, you can find peace in a home-away-from-home with something as simple as a text message or a phone call. No matter where your feet land around the world, find solace in the kindness of people and embrace the new experiences you're living. If all else fails, when you need a little comfort, close your eyes, click your heels three times and recite, "There's no place like home..." It worked for Dorothy and Toto, and their storybook adventure.