Whether you're a beginner at entertaining or have been hosting parties for years, a home bar is great to have. With just a few basic items you can mix up classic cocktails like a pro -- and we're here to help you stock up, whether you're a beginner, intermediate or advanced entertainer.
By no means do you have to be an expert or own a real bar -- keeping your drinks on a table or in a cupboard is totally fine. You'll find that the more you entertain, the better you'll become -- plus the more parties you throw, the more host/hostess gifts of liquor you'll receive!
If you've never had a home bar and are unfamiliar with drinks, the first thing to understand is the lingo. Two terms are often confused: liquor (lik-er) and liqueur (li-kur). Here's a breakdown of what you need to know:
Liquors are hard alcohols, a.k.a. spirits, such as gin, vodka, whiskey, or brandy. They are distilled from grains, fruits or vegetables and contain no sugar.
Liqueurs are alcohols flavored with herbs, fruits, nuts and/or spices and have sugar added. A liqueur can be enjoyed sipped as an aperitif (pre-dinner drink) or digestif (post-dinner drink) or mixed to make cocktails.
Bitters are a very concentrated form of liqueur (yet they don't taste sweet, but rather bitter as their name suggests) used in small amounts (a few dashes is all you need) in drinks and cocktails.
Mixers are non-alcoholic additions in mixed drinks and cocktails. They include sodas, such as tonic water, seltzer, lemon-lime soda, and juices such as cranberry, orange, lemon and lime.
Syrups are used to sweeten drinks and cocktails. The classic type is a simple syrup, made from equal amounts sugar and water heated to a simmer and then chilled. Simple syrups can further be infused with fruits, herbs or spices or they can be made from alternative sweeteners like honey or agave syrup.
Click through the slideshow to learn what you need to stock a complete bar for beginners, and then click through for recommendations as you become more advanced.
What liquors do you have in your home bar? Leave us a comment below.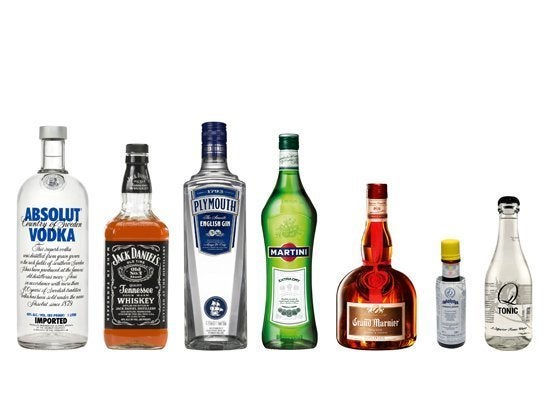 liquor bar at home
Related