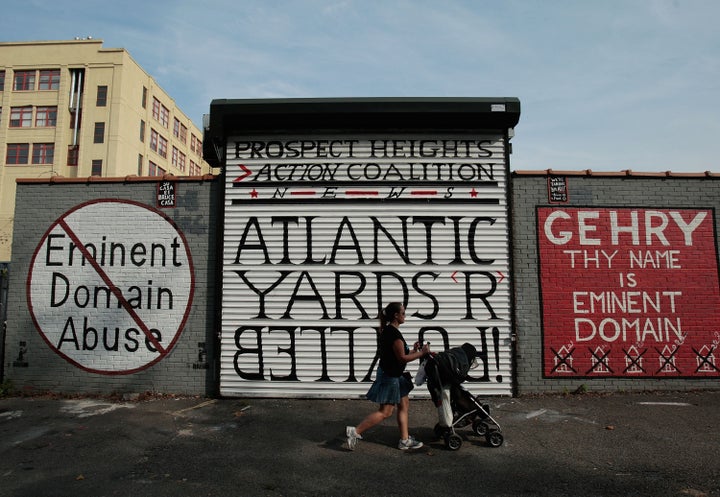 New York's Empire State Development Corporation is empowered, under the Urban Development Corporation Act, to acquire property by eminent domain for a "land use improvement project" if it finds that "the area in which the project is to be located is a substandard or insanitary area, or is in danger of becoming a substandard or insanitary area and tends to impair or arrest the sound growth and development of the municipality."
It is recognized that Kelo...did not concern an area characterized as "blighted." However, the blight designation in the instant case is mere sophistry. It was utilized by ESDC years after the scheme was hatched to justify the employment of eminent domain but this project has always primarily concerned a massive capital project for Columbia Forest City Ratner. Indeed, it is nothing more than economic redevelopment wearing a different face.

--Slightly edited Dec. 3rd majority opinion in Columbia eminent domain case Kaur vs.
New York Urban Development Corp (now ESDC)
When I was renting on 7th Street in Gowanus I started getting the idea in my head that I should pursue the American dream and own a home. Not a bad idea.
So I set about finding a real estate agent and I found one at Brooklyn Properties. We spent some time discussing what I was looking for, and I was open to compromising my needs and desires, as nothing is perfect.
But there was one thing I would not budge on. The apartment I wanted to buy, make my home, and start a family in had to be substandard or insanitary and it had to be in a substandard and insanitary neighborhood.
I wouldn't have it any other way. I could give up outdoor space, good views, good light, good transportation -- all of that I could give up.
But substandard and insanitary? That was a must!
I had carefully put my toe in the market. I asked friends what should I be looking for, and they all said the same thing, "You gotta find something in a substandard and insanitary neighborhood."
If you can imagine how stupid I was then, I asked, "But why?"
They all said the same thing, "There is no better place in the city to live or raise a child than a substandard or insanitary area. There your children can learn art from graffiti on state-owned land and discover the arcane language of zoning and density such as 'floor area ratio' or FAR. The kids can make a nosegay from an outcropping of weeds or play 'step on a sidewalk crack break your mama's back.' They can even become underutilizers if that is what they want to be! Nothing beats it."
It didn't take much convincing. I knew they were right.
I remember the first place my agent showed me. It was outrageous. It was sanitary! It was standard!
I fired her. Clearly we had different standards.
This agent called me one Sunday and said, "You've got to see this place. It's substandard, I saw a crack in the sidewalk and I think it's built out only to 60% of FAR."
"It sounds lovely," I told her, hung up the phone and rushed over to meet her at what sounded like a dream. As luck would have it I got there only to discover that another buyer had already made an all cash offer -- above the asking price!
But I did ask this guy and his wife how long they had been looking and what they had to say was not promising. They told me that they'd been looking for years because there just wasn't that much insanitary and substandard stuff out there, and most of the places were advertised as substandard, but turned out to be standard, while others claimed to be so insanitary as to be unsanitary, but upon viewing turned out to be downright hygienic.
I must have looked at 200 units over the next two years. Not one had that perfect combination I was looking for. The neighborhood was sanitary but the apartment substandard. Or the neighborhood substandard but the apartment sanitary. Or the apartment was substandard and insanitary (hallelujah!) but the neighborhood was standard and sanitary.
Until one day I found it. A substandard and insanitary apartment in a substandard and insanitary neighborhood.
I signed a contract on the spot. Wouldn't you?
I moved in. It was no surprise that so many others were so happy to live in this substandard and insanitary neighborhood.
The first neighbor I met was Berman V. Parker. He lived a few doors down. He was so envious because his place was substandard, but it was only a bit cluttered, not insanitary. I told him I'd come over some time and we could fix that.
We did. The best part was unleashing the Ebola virus, the plague and some fungus into his kitty litter box. We fixed his place, but good.
I've since had some great times in my apartment and neighborhood since then. The bar around the corner? So substandard and insanitary numerous publications have chosen it as one of the best bars in the country and in New York City.
We had everything we could ever want. Our slice of substandard heaven was the envy of the underutilized borough.
Until one day a very generous guy came around. Called himself a developer. Said he was going to standardize and sanitize. He was going to obliterate it to save it. Raze the neighborhood to fix the cracks, the patch of weeds, the touches of graffiti. In pursuit of that noble goal he would have to take my substandard and insanitary home along with the substandard and insanitary homes of my neighbors. He said he was going to take the whole glorious substandard and insanitary neighborhood.
Hey, I couldn't blame him. That's the type of neighborhood we all covet.
Popular in the Community