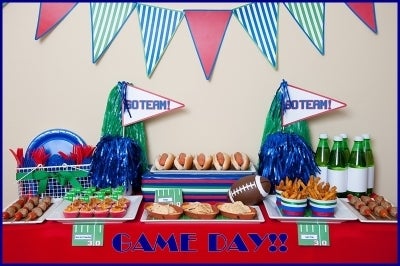 All eyes are on Houston. The Big Game occurs on February 5, 2017, and sports fans nationwide will watch the Falcons-Patriots showdown. If you're attending a game day party, consider these 10 tips for minding your manners. Be the best party guest and enjoy the match!
Do Read the Invitation & RSVP: Read the email or listen to the call carefully. RSVP with 48 hours and advise the host of dietary restrictions. Offer to bring BBQ.
Don't arrive empty-handed: Bring a host gift; maybe an adult beverage, or appetizer. If you're unsure, ask the host in advance.
Do Arrive On Time: Timing is everything! Arrive 10-15 minutes after the party starts and depart 30 minutes before ending time. Don't be the early bird or last to leave.
Do Be Gracious: Once you RSVP, show up and be gracious. Feeling down and out? Refocus and have fun.
Don't Binge at the Buffet: It's impolite to eat in line at the buffet. Serve yourself without overloading your plate. Take your napkin, plate and be seated. If you pick up or touch something on the buffet, it's yours. Avoid double-dipping; instead place the queso or dip on your own plate.
Don't Over-consume: Pace your alcohol consumption by drinking water between alcoholic beverages. When the bar closes, be courteous.
Respect: Stay on topic - football. Game day is sports related unless you move to a private area away from the TV. There's no excuse for offensive language. Be considerate of the host, other guests and children - win or lose.
Commercial Breaks. Super Bowl highlights include the commercials. So no chit chat or noisy phone apps. Move sideline conversations to another area during the commercials to respect folks who want to watch and enjoy.
Do Tidy Up: Be a good guest. Toss your trash in the garbage.
Do Show Gratitude: Send a handwritten thank-you note or email within 48 hours.
Sharon Schweitzer, J.D., is a cross-cultural trainer, an international protocol expert and the founder of Protocol & Etiquette Worldwide. In addition to her accreditation in intercultural management with the HOFSTEDE center, she serves as a Chinese Ceremonial and Banquet Dining Etiquette Specialist in the documentary series Confucius was a Foodie, on Nat Geo People and NTD Television Canada. She is the resident etiquette expert for popular morning lifestyle shows: ABC Tampa Bay's Morning Blend and CBS Austin's We Are Austin. She is regularly quoted by BBC Capital, Investor's Business Daily, Fortune, National Business Journal, Reader's Digest and Stylecaster. Her international award-winning, best-selling book Access to Asia: Your Multicultural Business Guide, now in its second printing, was named to Kirkus Reviews' Best Books of 2015. Sharon is the winner of the British Airways International Trade, Investment & Expansion Award at the 2016 Greater Austin Business Awards.
Support HuffPost
The Stakes Have Never Been Higher
Related
Popular in the Community