WASHINGTON -- In December of 2011, President Barack Obama stood at the White House alongside a group of home care workers and announced that his administration would extend minimum wage and overtime protections to them after decades of exclusion. The White House still has a video on its YouTube channel explaining the significance of the regulatory change, entitled "A Promise Kept."
But in reality, the president hasn't yet delivered on that promise. A year and a half after the fanfare, home care workers who tend to the elderly and disabled in their homes are still not covered under the Fair Labor Standards Act, the Depression-era statute that serves as a bedrock of U.S. labor law. The president's proposal remains under review at the White House, where industry players have lobbied to have it softened, if not scrapped.
The long delay for home care workers highlights one of the ironies of the administration's regulatory approach: Republicans continue to hammer the president for what they claim is unprecedented red tape for businesses, but in fact the White House is now finalizing federal rules at the slowest pace in two decades. Another significant workplace regulation proffered by the administration -- what experts describe as a life-saving proposal that would further restrict allowable amounts of crystalline silica, which leads to the debilitating lung disease silicosis -- has languished in regulatory limbo at the White House for more than two years.
Proponents of the regulatory change for home care workers this week expressed disappointment in the holdup, noting that Tuesday marks the 75th anniversary of the Fair Labor Standards Act, a landmark that some Democratic members of Congress celebrated.
"I think they're starting to stare at it too long," said David Ward, deputy director of the Direct Care Alliance, an advocacy group for home care workers. "Implementation is the critical next step. We've done some planning, but all we have now is a proposed rule and we don't know what it will look like. It's a somewhat abstract exercise."
John Booker, a home care worker from South Bend, Ind., was more blunt.
"I'm more than a little disappointed," said the 57-year-old Booker. "We consider this a profession. I don't know any other profession that doesn't offer [overtime protections]."
Advocates had hoped the rule would be finalized in the wake of the presidential election, since rulemaking always tends to slow before and during campaigns as incumbents avoid upsetting business interests. Now, the delay may owe in part to the fact that the White House's pick to lead the rule review process has not yet been confirmed. As a matter of policy, the White House generally does not comment on rules under review.
As HuffPost previously reported, home care workers like Booker have been excluded from minimum wage and overtime laws through the so-called "companionship exemption." In 1975, Congress amended labor law to include domestic workers in minimum wage and overtime provisions, but casual workers who provide "companionship," such as babysitters, were carved out. As a result, home care workers are still not covered under the law.
Legal rights aside, Booker bristles at the very term "companion," calling it a condescending way to describe what he considers a skilled job.
"It's a big slap in the face, for both the people we work for and ourselves," Booker said.
Worker advocates argue that Congress never intended to exclude actual workers like Booker through the exemption, only truly casual types like babysitters. Furthermore, they note, the health care system is much different now than it was in the 1970s. The aging of millions of baby boomers has helped create a massive workforce -- the Labor Department pegs the number of "home health and personal care aides" at nearly 1.9 million as of 2010 -- that doesn't enjoy the same basic rights as most other U.S. workers.
According to White House records, meetings to discuss the proposed rule have included industry players like Home Instead Senior Care, the National Association for Home Care and the International Franchise Association, as well as labor advocacy groups like the Direct Care Alliance, Interfaith Worker Justice and the Service Employees International Union.
According to a recent analysis published by the Center for Progressive Reform, federal rules have spent an average of 119 days under review at the White House this year, the longest duration since 1994. Last year's average of 79 days is the second-longest in that period. Despite the rhetoric from many Republicans, the number of rules produced by the Obama administration has been more or less on par with the numbers under the administrations of Bill Clinton and George W. Bush.
"We're getting very concerned with how long this is taking," said Myrla Baldonado, a home care worker from Chicago who has met with White House and Labor Department officials on the rule. "I just don't know where we stand in light of the strong lobby of the employers."
With the home care rule under review, the industry has argued that it can't withstand the minimum wage and overtime protections without raising prices on clients, possibly putting home care out of reach for people of modest means. Paul Hogan, CEO of Nebraska-based Home Instead, a national chain with 900 franchise offices, previously told HuffPost he was worried that home care operators would end up paying overtime on hours workers spend sleeping during overnights. "Our clients and their families do not want to pay for overtime, and they will go to alternatives," he said.
Booker earns $10 an hour working for a home care provider. He has three clients, including one who is paraplegic and another who is quadriplegic, and he spends on average 60 hours a week tending to them at their homes, he said. All of his earnings, however, come as "straight time," since he isn't eligible for overtime. If he were included under the Fair Labor Standards Act, he would be collecting time-and-a-half on the 20 hours he works above 40 -- a significant boost to his income.
"It's why I'm working two and three jobs," Booker said. "It's the economic work style of most direct care workers. You can barely get by with one job even if you're working a full eight hours. You have to have a supplemental job."
It's a reality that Obama himself would understand better than most. Back in 2007, Obama spent a day with Pauline Beck, an Oakland home care worker, as part of an event called "Walk a Day in My Shoes" during his first presidential campaign. The then-senator from Illinois visited an 86-year-old former cement mason and did the chores Beck would normally do, like prepare breakfast, make the client's bed and do his laundry.
"Heroic work, and hard work," Obama later described it in 2011. "I can tell you first-hand that these men and women work their tails off. They don't complain. They deserve to be treated fairly. They deserve to be paid fairly."
Before You Go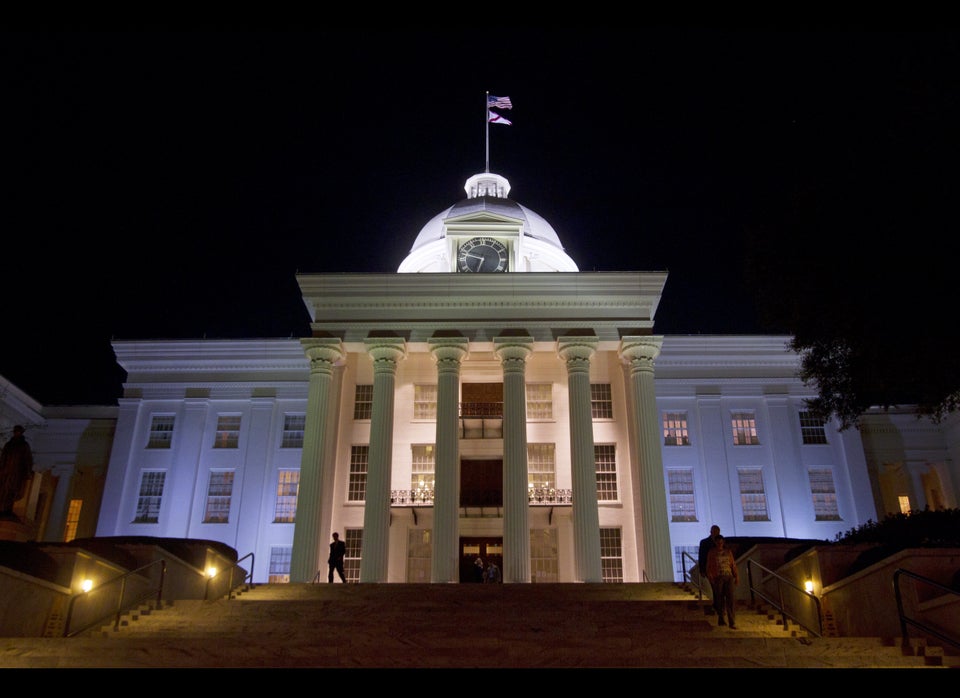 U.S. State Capitol Buildings
Popular in the Community