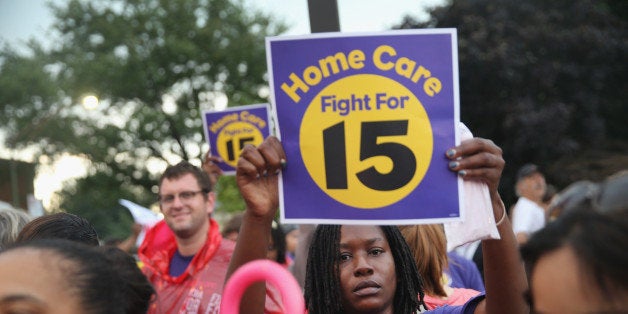 Most weekends, Marie Mdamu makes the equivalent of about $3 per hour.
As a home care worker in Atlanta, Marie reports to work on Friday evenings and leaves Sunday nights, taking home a total of $175 for the entire weekend. Working in home care pays so little that Marie relies on two other jobs to pay the bills -- babysitting on weekdays, and working as a fast-food delivery worker on weeknights.
And Marie is far from an outlier. Workers throughout the home care industry, unable to support themselves and their families, are starting to draw the line. This month, just one month after fast-food workers inspired them to join together for higher pay, Marie and other home care workers across the country launched their very own Fight for $15 per hour and a union.
In Atlanta, Marie joined home care workers at a protest outside the campaign headquarters of Republican Senate candidate David Purdue to demand that he support their fight for $15 per hour and a union. Home care workers led similar protests against GOP opponents of higher pay in closely-watched midterms states like Wisconsin, Michigan, Ohio, Virginia, and Colorado.
In each state, the demand is the same -- that candidates for office pledge their full support to help those who bathe, dress, and prepare meals for older Americans and people with disabilities to get the opportunity for a better life that $15 per hour and a union would help provide.
Today, the median hourly wage of home care workers remains stuck at just $9.87 per hour. Since those hourly rates are typically only for hours workers are actually caring for someone, the reality for workers is even harsher. The other hours a worker spends -- taking a bus between clients or in employer-mandated training, for instance -- aren't typically paid for at all. Plus, unpredictable and part-time hours reduce the earnings of home care workers even further -- as a result, the median take-home pay of home care workers in the U.S. equals just over $17,000 per year.
Black and Latina women bear the brunt of these low-paying jobs. According to the U.S. Census Bureau, women make up 91 percent of all home care workers in the country, and 56 percent of these workers are non-white. And with home care ranking as the fast-growing workforce in the U.S. economy today, candidates for office and elected officials cannot ignore the urgent need to raise pay for workers in this industry. Low pay is exacerbating the worker shortages that plague these programs just as our population is aging and the demand is rising. Fortunately, home care workers across the country have already proven that higher pay and a union are achievable in this industry.
In September, workers in Washington reached a tentative agreement with the state that would raise their average wage to more than $14 per hour. In August, nearly 27,000 home care workers in Minnesota took a decisive step and voted to form a union, uniting with the Service Employees International Union to band together to raise pay and win the dignity and respect they deserve. And in New York, home care workers funded by Medicaid have already won $14 per hour in wages and benefits, bringing a living wage closer to reality for thousands of workers across the state.
Taking the risk to demand decent pay and dignity on the job is never an easy choice to make. But as long as jobs throughout the U.S. leave millions of workers without a real shot at a middle class life, one thing appears certain: the fight for higher pay -- in home care, fast-food, and in low-paying sectors across the economy -- will only continue to grow.
Catherine Ruckelshaus works at the National Employment Law Project Action Fund.
REAL LIFE. REAL NEWS. REAL VOICES.
Help us tell more of the stories that matter from voices that too often remain unheard.