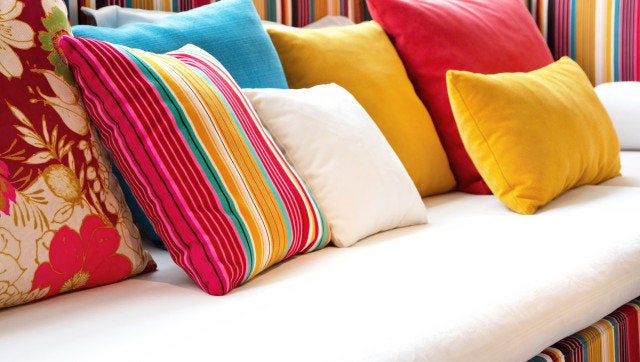 The Canadian newspaper The Globe And Mail recently published an article entitled "Obsessed with home decor? You may have self-image problems." The story identifies a connection between women and men with poor self-esteem and an unhealthy need to have a beautiful and perfectly styled home. It also explores how these home decor enthusiasts may be replacing a desire for the "perfect body" with the more attainable perfect lampshade.
To exemplify this, Sarah Dobbins, a contributor for the lifestyle site Apartment Therapy, reacts to negative comments on a photographs submitted by readers.
"Some readers may internalize the nasty comments they have seen online. They run the risk of thinking, 'If I have an ugly interior, I must be an ugly person,'" Dobbins said.
Naturally, this article had us at HuffPost Home searching within the depths of our souls (and our living rooms) and wondering if the hours we've spent looking for home decor isn't just due to our enthusiasm for design, but rather, our own insecurities.
Interestingly, just a few months ago I had written about how stressed I was while picking the perfect color for my bedroom. In fact, I actually developed what I called a "color commitment phobia." And when I eventually did choose a paint color, I needed approval from my boyfriend, my mother and my friends. And if they only said "it's nice" I would immediately assume they didn't really think so. I was looking for them to say the color was perfect, that my choice was perfect.
I have to admit, when someone says they love my decorating choices, it feels good. But why wouldn't it? It's a compliment regarding something I took the time to make beautiful. But I guess at the end of the day, just like with our appearances, we shouldn't really be seeking anyone's approval but our own.
It's hard to say whether my obsession with home decor is a sign that I have self-image problems, because purchasing a pretty vase or throw rug doesn't affect how I feel about the way I look, my intelligence or personality. But I do think our homes become an extension of our selves, much like another body part, to adorn and try to make beautiful, appealing and desired.
And although we at HuffPost Home love to follow the trends of design, we hope you allow your home to reflect your unique tastes and style no matter what anyone else may think. Decorating should be a fun creative outlet -- we really hope you never let a sofa bring you down.