Marcia Prentice is and interior designer and blogger for Style Illuminated Blog by LAMPS PLUS.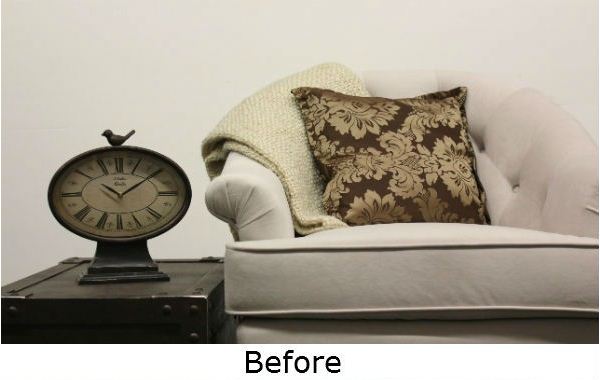 Image: Lamps Plus
Getting through the brunt of the winter months can be a big challenge. During the cold winters, depression sinks in for a few, as well as the longing for the Spring months to bring back the warm weather and bright green and yellow hues. I don't have any medical cures for cabin fever, but I do have a handful of easy and affordable decorating ideas to brighten your mood. Below are three easy changes (as seen in the before/after image) that you can make in your own home.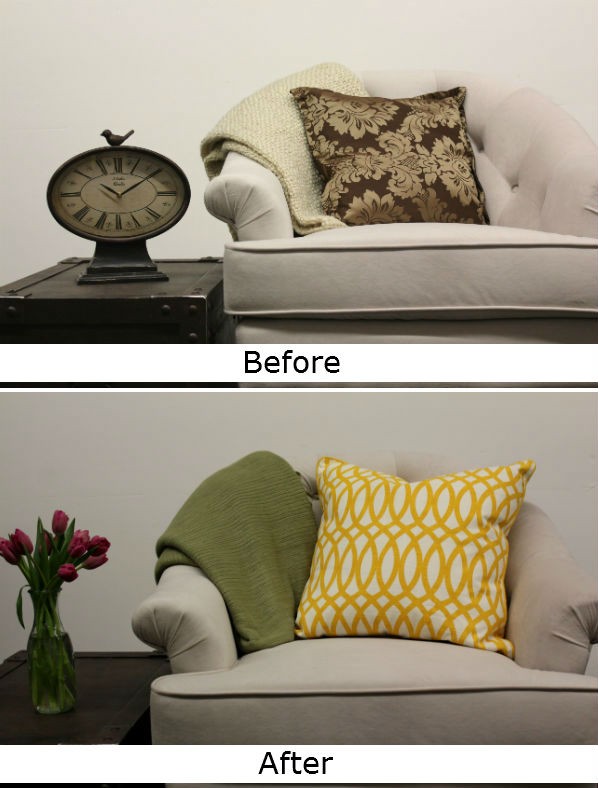 Image: Lamps Plus

•Lighter Throw Blankets: In the winter months, we love to cuddle up in our thick winter throw blankets. As Spring approaches (it can't come fast enough) switch out your heavy winter blankets for lighter more colorful throw blankets.

•Decorative Pillows: Switching out decorative pillows with the change of season is a quick fix to add some color and life to your side chair, sofa, or bed.
•Fresh Flowers: You don't need a special occasion to purchase fresh flowers! If you live in the northern states, most of your plant life is nonexistent during the cold months. It is nice to incorporate a fresh bouquet of flowers into your décor. If fresh isn't possible, a designer faux flower arrangement or plant can bring the outdoor life in as well.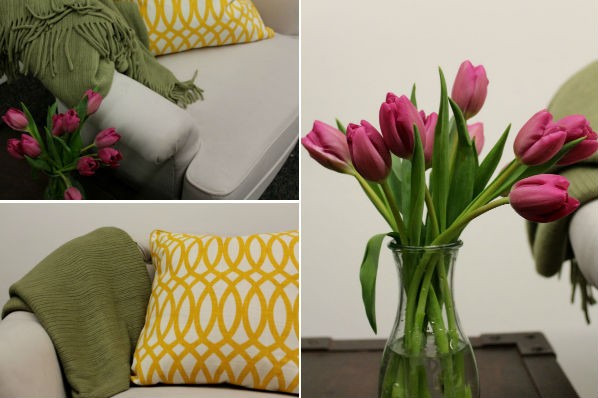 Image: Lamps Plus
More ideas to freshen up your home and cure your winter blues...
•Fresh Fruit in the Kitchen: Do you miss attending the local farmer's market in the summer? You can still display fresh fruit from the store in one of your favorite bowls. It is an easy way to add color to the kitchen (and help you keep your 2012 resolution to eat healthy).

•Start Baking: The smell of sweet delicables cooking in the oven excites your senses more than any candle.

•Small Decorative Accessories: Pick up a few small decorative accessories to add color to your decor. You would be surprised how much small accessories can impact the aesthetic.

•Decorative Lamp Shades: Want to update the look of an old lamp? Replacing the lamp shade with something more contemporary and bright will definitely add a fresh look to the space.
•Add light!: Winter means less hours of sunlight. To make up for the lack of sunlight, add additional light into your home with table lamps and floor lamps.
•DIY Project from Pinterest: Have you jumped on the Pinterest craze? I have been spending so much time and having fun building our Pinterest boards and repining my favorite DIY projects for the home. Add a personal element to your home with a DIY project. You will find many fun DIY home projects on Pinterest!
•Fresh linens/towels for the kitchen or bathroom: I like to replace my towels whenever the colors get dull or the white towels are no longer a pure white. Having fresh linens or towels in the home definitely makes a difference and will help brighten your mood.
Related