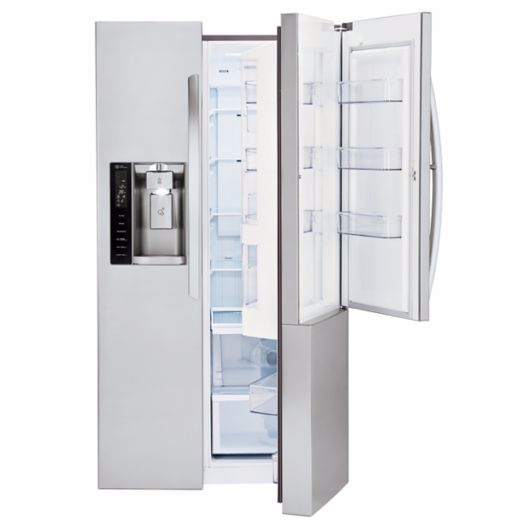 Today I had a great idea, buy a new refrigerator and take advantage of the Black Friday deals out there. There are a lot! I ended up on HH Gregg's website where I found an LG refrigerator that looked great; it was the new door-in-door model. It was discounted and with their current 15% off Black Friday deal, it was an extra $225 off and free delivery! How can you beat that? Two years interest free too! One problem...I am a loyal Home Depot customer. Loyal counts for something right? Well, to me it does, so I went to the Home Depot website, clicked chat and asked if they would match the price. They said yes, no problem. My loyalty kicked in yet again; why not call the local store and give them the business? I made a +$20,000 purchase not so long ago and they earned my loyalty. So I called, spoke to Maria and she took down all the info. She said she would call back and never did. I waited, impatiently, and called the store a couple of hours later. I asked for Maria but got Romero, who I explained everything to. He put me on hold for 10 minutes and then came back on the line and said "we can't do it".
Romero explained that the manager would not price match HH Gregg. I didn't even know that refusing to price match was even an option! I asked to speak to the manager and was transferred to the voicemail of a department called expedites. Whatever that is...i called back and got the run around, but no manager.
Home Depot says NOBODY BEATS OUR PRICES but apparently, HH Gregg does. So I reached out to Brandy, at Home Depot corporate who was terrific, as always. She is the one who earned by loyalty for Home Depot years ago. She spent hours trying to help me. She spoke to the store and together we spoke to sales at the 1-800 number. Unfortunately, they said they couldn't help though, unless the store approved; they called the store and the store refused.
I was ready to just call HH Gregg and be done with this but Brandy didn't give up. She asked me to give her until Friday and I agreed. But I'm not going to buy the refrigerator from Home Depot now, not for $1,299 anyway because that ship has sailed. I have wasted a lot of time today and more importantly, misplaced by loyalty with a company whose local staff are disingenuous and unprofessional.
I will wait to hear from Brandy on Friday, but I am not willing to pay a dollar more than $999 now because my time, my loyalty and my patronage are valuable, although the Davie Florida Home Depot may not agree...