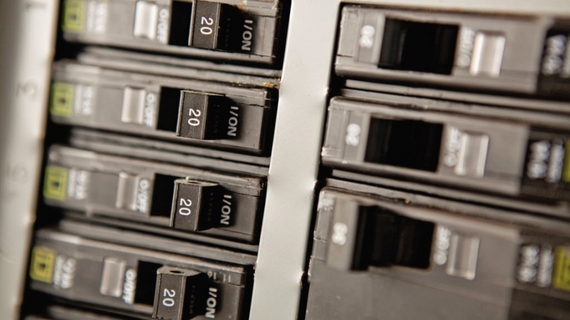 (Photo by Brandon Smith)
When you call an electrician into your house, you're trusting them to know what they're doing. Check out our tips on avoiding expensive upgrades you don't need.
Member Charles Hertel of Indianapolis says he needed an electrical repair on the main breaker powering his house, and Ashpaugh Electric of Westfield, Indiana, made a good impression when they didn't try to convince him that he needed a more expensive repair.
Hertel says he solicited bids from three companies, and two of them tried to persuade him to replace the entire thing. "One of them tried to sell me something I didn't need to the tune of $2,500," he says.
Ashpaugh's electricians told him they could repair the main breaker at a much lower cost, and they also recommended installing a surge protector since his home, situated near Butler University's campus, frequently experienced brownouts and power surges.
"Nobody high-pressured anything," Hertel says. "They just said, 'Hey, here's something else that may help your situation.'" The entire job, he says, cost $800, including both the surge protector and repair.
Since electricity problems often require a licensed professional to fix, unscrupulous contractors can prey on a homeowner's lack of knowledge. "It's hard to know what you really need with an invisible force like electricity, so you need to hire someone you can trust," Ashpaugh Electric owner Brian Ashpaugh says. "If that still, small voice inside you says you need to get a second opinion, then go get one."
Ashpaugh says he frequently finds electrical problems that homeowners may not be aware of, and makes recommendations. "We don't do high pressure," he says. "We just make them aware. If someone is trying to sell you a service and insists you need it that day, you should be suspicious."
If you find yourself needing an electrical repair, here are some of the most common services rendered -- including an average price gathered from Indianapolis-area service providers -- and some unforeseen issues that might increase the overall cost:

Whole-house surge protection
Cost: About $625, according to Ashpaugh.
Surprise! Your home isn't protected from power surges, which can enter through electrical, phone or cable lines and seriously damage appliances and equipment.
Pro or con? Ashpaugh minces no words: "Literally, every house can use a surge protector," he says. "Your house is being constantly barraged with utility surges, sometimes a millisecond long, a few dozen times a day. You want to be able to protect your home at the points of entry when there's a cascading effect with the utilities that can damage your appliances."
GFCI outlet
Cost: About $50 to $60 per outlet, experts say.
Surprise! Jim Carpenter, president of highly rated Aaron's Electric in Noblesville, Indiana, says he frequently encounters homes with inadequate GFCI protection. "I run into a lot of older homes that don't have this kind of protection, which is required by code for any room that's close to a water source," he says.
Pro or con? GFCI outlets present an important defense against electrocution, as they cause the circuit breaker to trip in the event of an electrical shock. "In the remote chance you were shocked, a normal outlet would just keep on shocking you," says Jason Swan, owner of highly rated Swan Electrical Systems in Noblesville. "But with a GFCI outlet, sometimes you don't even feel a shock before the breaker trips. It's essential to proper safety..." (continued here)
To read more about under-powered outlets, bad circuits and breaker box replacement read the original article Home Electrical Upgrades and Cost here. This article originally ran on Angie's List and is part of a series on the topic of Electricians. The series aims to educate readers about emerging home electrical trends. For more information about Angie's List, visit AngiesList.com.
Related