 Last month my daughter, Michele, left our home in San Diego for jolly ole' Oxford, England where she'll participate in a semester abroad program for the next three months. I was a wreck. I mean, I'm her mom. I've known her for 21 years; I'm going to miss having her around! She's a peach of a daughter and actually likes hanging out with me. I dreaded her move for weeks. When we'd get a manicure together I'd think, "This is the last time we'll get a manicure." When we'd go to a yoga class I'd meditate, "This is the last yoga class." I drove myself crazy with these kinds of thoughts!
Occasionally, tears would surface, but I'd push them down. I didn't want Michele to see me cry. Because then she'd cry. She's always done that, cry when I cry. Her feelings of empathy are deep. Way deep.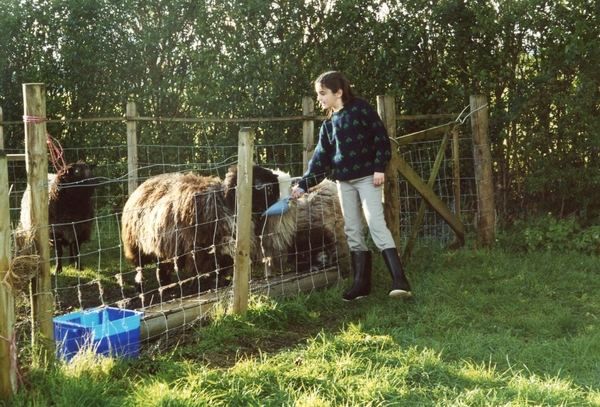 Windsor, England 2000 - Michele feeding the sheep at our first home exchange. She's wearing a pair of Wellington boots we borrowed from our home exchange partners.
As we did the last bit of rushing around; purchasing a warm coat, digging through my dresser drawer looking for an electronic adapter and driving to the dentist, I couldn't help but reflect on all that my husband and I have taught her about travel. This is one parenting area that I feel really good about. Michele has experienced the world because of home exchange. Starting in 2000 when she was only 8 years old, we swapped our home in San Diego with five different families who lived in five different countries: England, Ireland, Germany, France and Italy. In 2006 we did a home exchange in Hong Kong. And when Michele graduated from high school in 2010 we returned to Germany and Italy for two more home swaps. My daughter views the world as a friendly place. A place with an "open" sign in the window.
Home exchange accessibilized the world for our family.
Our home swap in Windsor, England twelve years ago helped prepare Michele for this semester abroad adventure. Before she flew across the pond last month she shared with me her memories of England: the London Underground and the voice on the loud speaker that announced, "Mind the gap." She remembered the rain and how she borrowed rubber Wellington boots from our home exchange partners. She reminisced about seeing Agatha Christie's who-done-it play, "The Mousetrap."
All good memories. So then why was I uneasy about her departure? Perhaps part of the reason was because when Michele was young she would cling to me. When we'd be jumping onto trains or boarding planes or stepping into boats she would grip my hand with the strength of an arm wrestler. Fearful of being left alone on the train platform or boat dock, she would attach herself to me. She couldn't relax until the entire family had boarded; only then would her anxious expression melt into its usual smile.
To this day, Michele still carries a bit of that anxiety with her. So, you see, it was a big deal for her to take off on that airplane last month. Even if she does see the world as friendly, she had to move outside her comfort zone into that sometimes scary place called the unknown. Her current expedition is one she's taking without the comfort of her parents and older brother.
This is not only a journey to England, but also a journey to independence.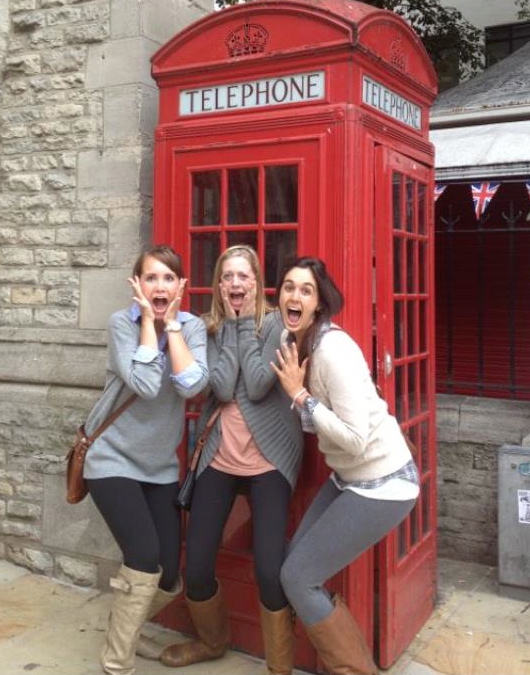 Oxford, England 2012 - All the roommates arrived safely to England: Georgie, Meagan and Michele. My daughter is on her own journey now.
Jonas Salk said, "Good parents give their children roots and wings. Roots to know where home is, wings to fly away and exercise what's been taught them."
As I move about my day now, I think about Salk's quote. Michele clearly knows where her home is; she always felt safe and loved here. Last month she flew away and is doing what she's been taught. She's an adventurer.
Home swap has enriched my family's life, it can do the same for yours. If you want to learn more about home swap have a peek my blog at Home Exchange Expert or follow along on Facebook.