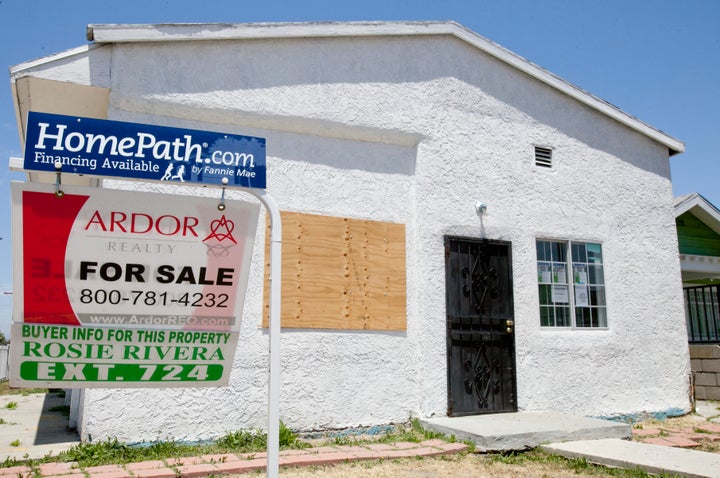 It takes much longer to process home foreclosures than it used to.
In May, according to the real estate data firm RealtyTrac, one in every 605 homes in America received a foreclosure filing. That's 214,927 foreclosures.
This is a 33 percent drop from the previous May, and it represents a 42-month low overall. But RealtyTrac senior vice president Rick Sharga says the number should be much higher.
"There's about 4 million seriously delinquent borrowers out there, many of whom would already be in foreclosure except for processing delays," Sharga said in June.
It's a point Sharga, and others, have made elsewhere. Nationwide, the average processing time has more than doubled to about 400 days since 2007, The Washington Post reports this week. In many states, it's tripled.
There are a number of factors contributing to the foreclosure drag. Last fall, many banks paused the entire filing process while they tried to get on top of the robo-signing scandal.
The systemic nature of the robo-signing problem led homeowners and judges to begin looking at subsequent foreclosure cases much more carefully -- which added to the delays. Mediation programs, in use from Nevada to Pennsylvania, are making it easier for some people to keep their homes, but also contribute to the processing bottleneck.
With fewer buyers on the market, banks may not have as much incentive to work through existing foreclosures, though according to Forbes, the banks themselves say that's not the case.
For homeowners in foreclosure, the nationwide backlog isn't necessarily a bad thing. The New York Times recently reported that evictions and repossessions have slowed down, giving many foreclosed homeowners a chance to save money and fight the cases against them.
Still, the more foreclosures pile up, the longer it will take for the housing market to hit bottom and begin recovering, say commentators like The Atlantic's Daniel Indiviglio. And a drop in foreclosures now doesn't preclude a spike down the road. In May, Douglas McIntyre at 24/7 Wall St. predicted that even though figures were at a several-year low, it's likely "there will be a flood of foreclosures later this year or next."
Calling all HuffPost superfans!
Sign up for membership to become a founding member and help shape HuffPost's next chapter