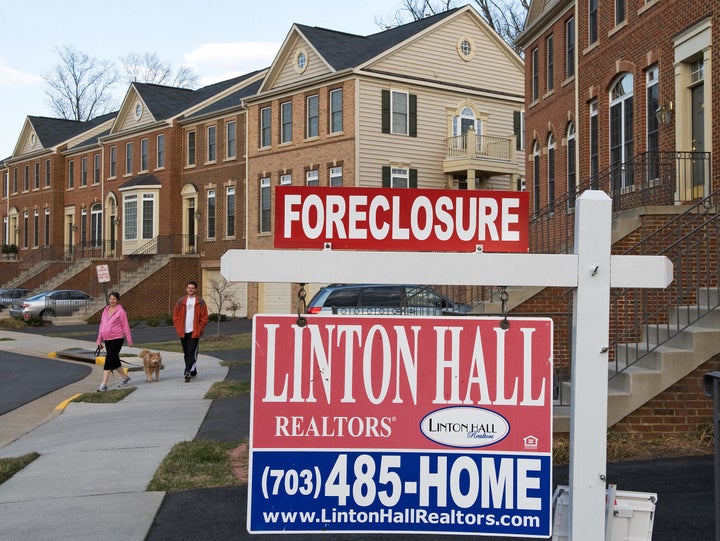 Home foreclosures, after slowing to a crawl over the past year, seem to be gaining momentum again, a sign that heralds both pain and perhaps eventual relief for the housing market.
The number of mortgage-default notices filed by banks climbed 33 percent between July and August -- the biggest single-month increase in four years, according to the data provider RealtyTrac. Default notices are the first step in the foreclosure process, and the uptick in August may mean that lenders are beginning to clear the logjam that has held up home foreclosures since 2010.
Last year's discovery of the widespread practice of "robo-signing" -- mortgage paperwork that had been authorized with forged signatures, or signed by people who hadn't read the documents in question -- set back the foreclosure process on a national scale, as lenders were forced to go back and re-examine thousands of filings.
The damage wrought by robo-signing is still evident in RealtyTrac's figures for August 2011. Although default notices were up sharply for the month, they were still down 18 percent from a year ago, suggesting the process hasn't gotten back up to full speed. Meanwhile, the actual number of repossessions was down 4 percent from July to a six-month low.
A return to delay-free foreclosures is expected to bring grief to the housing market, as banks process hundreds of thousands of foreclosed homes and put them up for sale. This massive influx of houses is likely to saturate the market, forcing prices down and suppressing construction activity.
A measure in President Obama's jobs bill, which is being considered in Congress this week, could relieve some of the downward pressure on the housing market caused by the abundance of foreclosures. The measure, known as Project Rebuild, calls for $15 billion to be set aside for refurbishing foreclosed and vacant properties, including residential buildings.
However, analysts emphasize that Project Rebuild will only be effective in the context of a broader economic recovery, since national employment is closely tied to the health of the housing market.
Related
Popular in the Community