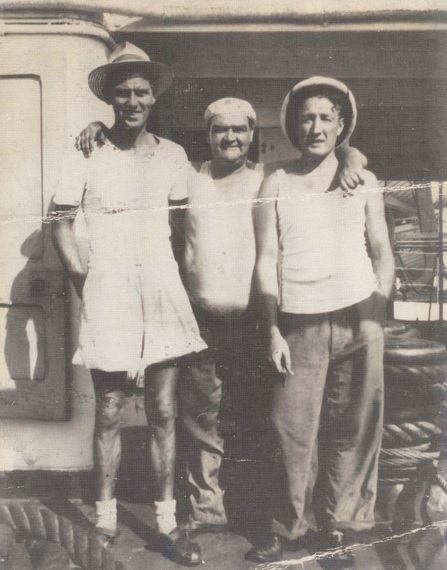 My father is on the left in the photo.

At a party years ago my father found himself sitting beside a rather austere young woman who haughtily announced that she was from Ohio and a long line of physicians.
"I had a friend in Ohio once," my father rejoined.
"Oh, was he a physician?" she sniffed.
"No," said my dad straight-faced. "I think he was a crook."
My father's sense of humor was such a large part of who he was.
He was also a singularly private man, James Quentin McCallum, not comfortable with praise, and would no doubt have been embarrassed by this. (When he was born his father was fighting in the First World War in Saint Quentin, France.) I can just see him reading this and saying, "Ach, get on wi 'it, lassie. Gi'e us a wee song instead."
But he can't stop me now.
Few people knew much about his life before he came to Canada but to know him was to know Father's passion for the sea. When World War II started, he was excluded from service because of a serious injury to his arm as a boy. Wanting to serve as all of his brothers did, he instead joined the Merchant Navy. Come the war, he worked on troop ships carrying soldiers from America to Britain and back again, and ferrying supplies for the fight where they were needed.
Father crewed the boat that carried the British contingent of soldiers to the first exchange of prisoners of war with Germany. During a six-month posting in Iceland he fueled Allied shipping for their runs to Murmansk, a Russian seaport accessible to the Allies. Shortly before he died, Merchant Marines were finally recognized as veterans and father was so very proud to hear it. After the war, Father stayed at sea and travelled the world -- Melbourne, New York, Bombay, Rio, Durban. In the latter port he spent six months in jail after a barroom brawl: The man was not an angel.
During my stint as a flight attendant I tried in vain to visit someplace he hadn't been. Returning from a trip to Singapore, I raved on to him about an enchanting old hotel I'd visited there called Raffles. "Aye," he nodded. "Raffles. Did they ever fix the ceiling fan in the bar downstairs?"
The sea was his life, or so he had intended, until that fateful night on leave in Glasgow when he met my mother, a redheaded spitfire of a lassie named Cathy. He said his Cathy was the only thing that could have torn him away from the sea.
For 45 years they remained as one. He outlived my mother by a year and a half and in that time soldiered on without his best friend, remaining devoted to his children and grandchildren, and taking delight in the world around him despite the unspeakable grief he felt at her loss. Although in his later years he was plagued with a chronic illness, none of us ever recall him lamenting the demands it surely made on him. He handled it in his own way, with a grace and dignity that made us proud.
In the 1950s, shortly after we immigrated to Canada, Father tried to rescue a drowning child on a chill November day. Our apartment windows looked on to a large bay and, spotting a commotion, father ran to the dock and jumped in fully clothed to try and save the boy who had fallen into the chilly water.
He brought the boy to the surface but it was too late. As a result of going straight to work with no time for changing out of his wet clothes, Father was later stricken with double lung pneumonia and came perilously close to death himself. Whenever we asked him about that day he claimed he couldn't recall the details. But we knew differently: He never thought of himself as any kind of hero.
His vibrant intelligence kept him interested in the world and the future. He was a great proponent of space exploration and forward thinking and felt he'd been born too soon, that he'd have loved working with computers -- they spoke to his strong sense of logic.
James loved heated debate, shot from the shoulder, and had unwavering confidence in his own opinions. As a father of four, he had high expectations of us all, brooked no nonsense, challenged our intellect, and along the way instilled in each of his children a keen sense of personal responsibility, an appreciation of the remarkable power of humor, and the ability to give and receive love.
The summer I turned 8 I worked on perfecting a jackknife dive from the high board at the community pool. I was a passionate swimmer and spent all of my youthful summers soaking wet. When I was ready to unveil my progress, I asked my dad to come up and watch me after he finished work. He arrived at dusk and as the night wore on he stood there in the twilight behind the wire fence, watching dive after dive, in turn offering pointers and words of praise.
With each dive I honed my technique further. I remember being poised on the very edge of that board, shivering in the night air, knowing he was watching, wondering if I would ever feel so completely happy or so proud of myself again.
When we emigrated from Scotland Dad drove fuel tankers for B/A (British American Oil Co.). As a young girl I longed to ride alongside him, just once, in the cab up front. I beseeched him relentlessly until he finally succumbed, but there were provisions. No passengers were allowed for insurance reasons, he counseled, so discretion would be called for. He warned me the cabs had minimal heating, no radio and scant comfort. But nothing could dissuade me. I longed for the open road, eighteen wheels beneath us, my dad at the wheel.
Finally it was all set. I was to be waiting for him at precisely the prescribed time on the highway outside of town. He would alert me of his truck's approach by flashing the headlights twice.
Come that night I was at my post a full hour ahead of time, dressed all in black. Even then I had a heightened sense of occasion and, obviously, subterfuge.
I finally saw the lights of his big rig flashing. He pulled off on the shoulder ahead and with my heart racing I ran like mad to reach him. I remember him climbing down from the lofty driver's perch and coming over in the darkness to hoist me up into the cab. I noticed he had brought two pillows for the passenger seat to allow me to see out the windows.
Off we went. He let me shift gears. All 10 of them. It was a complex gear box, but after a couple of hundred miles I got pretty good at it. We drove through the night, snacking on the lunch my mother had sent for us, and chatting about this and that. I was in heaven. B/A drivers wore smart uniforms and hats in those days and I thought he looked especially handsome that night.
He dropped me off at our same spot as the sun was coming up the next morning, our fuel deliveries made, and I floated home, hooked, irreversibly, on adventure.
My father died suddenly, and far too young, after accidentally falling and striking his head. At the end it is his hands I remember most: elegant, soulful hands with long, square-tipped fingers. I remember as a little girl sitting idly on his lap with his arms around me, tracing the outline of each of his fingers in turn.
Sitting with him in his final moments it was his hands I held: even then they seemed strong enough to hold up the world.
This expands on an essay Tricia included in her first poetry collection, Nothing Gold Can Stay: A Mother and Father Remembered. 2012
http://www.triciamccallum.com