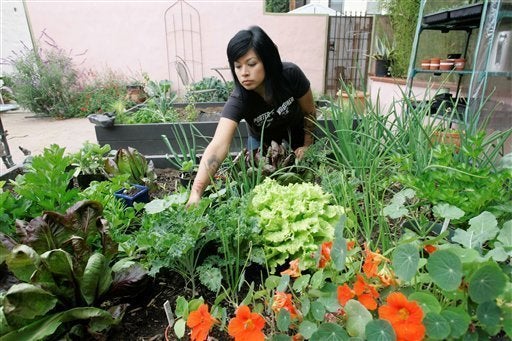 One of the latest trends in gardening is to grow ornamental or edible plants vertically up a wall of a building or a backyard fence. Horizontal, low gardening on the ground, is so 20 minutes ago! If you want to be with the horticultural trendsetters you gotta get high.
Patrick Blanc, the French artist and botanist is often credited as the father of "living walls." He's been designing them throughout Europe for decades after noticing that complex layers of plants in rainforests often grew on inhospitable surfaces like rocks, cliffs and tree trunks. The idea has taken off recently in the United States;look around and you'll start noticing more and more plants growing vertically in public parks, on school fences, restaurant walls and business complexes both interior and exterior. To the home gardener, growing vertically may seem complicated and unachievable for a novice brown thumb but fear not! There are now affordable growing systems that home gardeners can purchase to grow a simple vertical garden on their own backyard fence.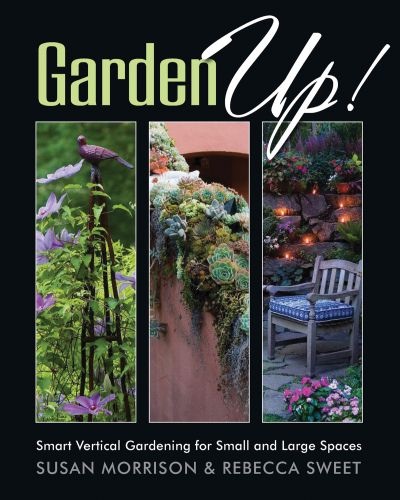 (Photo courtesy of Cool Springs Press)
In their fabulous new book entitled Garden Up! (Cool Springs Press), California authors and landscape designers Susan Morrison and Rebecca Sweet share a plethora of tips for home gardeners on how and what to grow vertically in their yards. Filled with dazzling garden photographs that make you want to dash straight out to the nursery, the book covers topics such as what to plant on arbors and trellises, which edibles can grow up a wall, growing in the city, and what to plant in that skinny space on the side of the house that always looks so pitiful. There's also a final chapter with a list of recommended plants along with color pictures and a good resource section where you can find the necessary containers and irrigation to build a vertical system at home.
One of the containers I learned about as I drooled through my copy of Garden Up! is a fabric-hanging system called Woolly Pocket. I was in luck. The founder of the company, Miguel Nelson, happened to be at a local nursery doing a demonstration that week. I met with the warm, passionate, plant-loving owner and artist. When he said, "The path to a better world isn't through pavers but via plants" and "I think we were put on earth to garden," I was sold! I told him that I would try one of his Woolly Pocketty-things, and if I liked it, I would write about my vertical gardening experience. I was given a Wally Three but there is also Wally One and Wally Five, depending on how many pockets of fabric it has. It's been two months now since I hung up the Wally Three on the wooden fence of my deck and planted a kitchen herb garden. Like it? I LOVE IT! And I'm not just saying that to get a free 5-pocket model. Boy, how I would enjoy a Wally Five ... Just sayin'.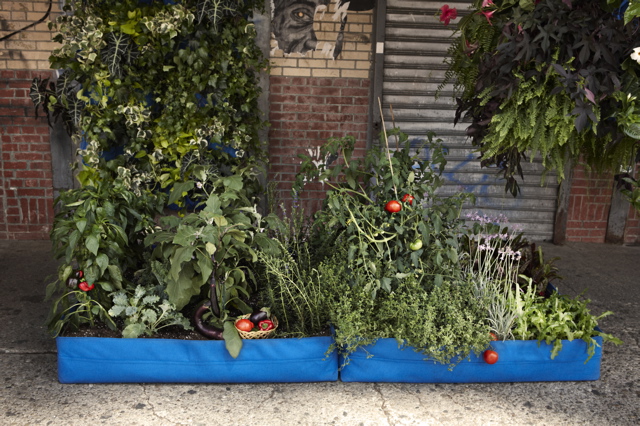 (Photo courtesy of Woolly Pocket)
Woolly Pockets are not only fun and easy-peasy but they're made right here in the U.S. from recycled bottles. Nelson and his wife came up with the idea when they were converting a 1920s automobile showroom into an event space. "We wanted to cover up the old walls with plants so we stitched up some pockets from fabric," says Miguel Nelson. "Lo and behold, it worked! Agaves, grasses, succulents all thrived. We then called up my brother who is a scientist and together we refined this simple idea into a high performance vertical growing system." Because the fabric has the ability to breathe, the soil can aerate naturally. This breathability means less water pools in the pockets while draining, thereby reducing the chances of a plant's death due to root rot. "Unlike other systems, whose small compartments limit the type of plants that can be grown successfully, just about any plant will work in a pocket system," write Morrison and Sweet.
When growing vertically, you can add a dripline to it or not. I don't have one on mine, yet. So far it hasn't been an issue. I just water the wick (back of the fabric) once a week, and it is thriving. Make sure you use an organic potting soil mix when growing vertically and not garden soil which is too dense. I also mixed in a cupful of compost at the beginning and once a month after, to keep the soil full of microbial life. That way I have no need to purchase any chemical fertilizer and any edibles I grow are grown safely without pesticides. As Stephen Andrews, soil scientist at UC Berkeley always says, "Get off the chemicals! Your garden mantra should be compost, compost, compost."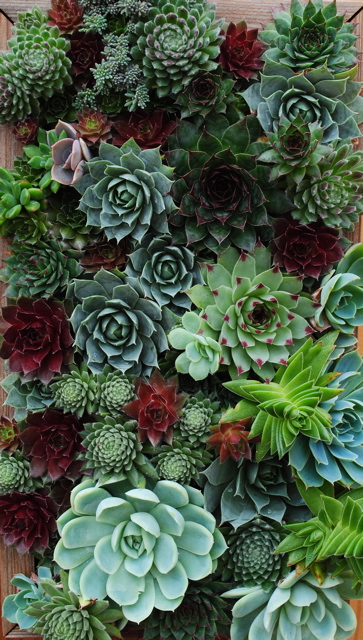 (Photo courtesy of Rebecca Sweet)
If you don't have time to pamper your plants, designers Morrison and Sweet suggest growing succulents. "Succulents have taken the gardening world by storm, and for good reason! Available in many colors, shapes, forms and sizes, these plants are a favorite amongst gardeners," they write. Some of the hardiest, drought tolerant varieties they place on their 'Superstar Performer List' are Sempervivum, Echeveria, Crassula and Sedum.
The Woolly Pocket School Garden Program

Why do I heart school gardens?

Because just like the junk food and videogame industries aim to do get kids addicted with their cradle-to-grave marketing campaigns, I want to persuade (or brainwash in a flower-pattern) young kids into becoming organic gardeners, soil lovers and plantaholics for life. Imagine children addicted to doing something good that won't kill brain cells, clog arteries or make them sick, obese, angry and clueless? "So much can be learned through gardening; math, science, language, history, nutrition, politics. Woolly Pockets makes it fun to learn and affordable for schools because they don't have to give up any land, " says Nelson. To learn more about the school garden program or to donate generously to it, go to www.woollyschoolgarden.org.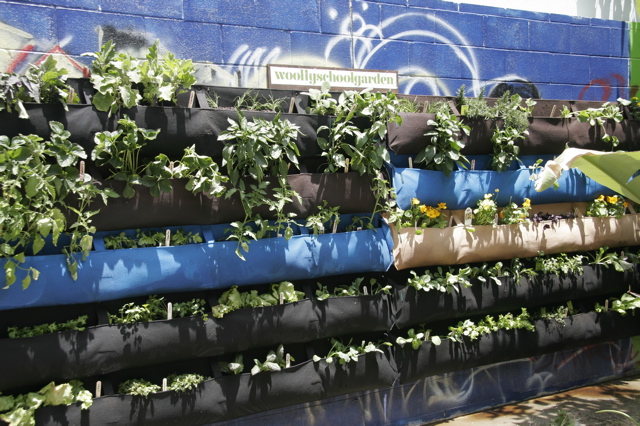 (Photo courtesy of Miguel Nelson)
Calling all HuffPost superfans!
Sign up for membership to become a founding member and help shape HuffPost's next chapter