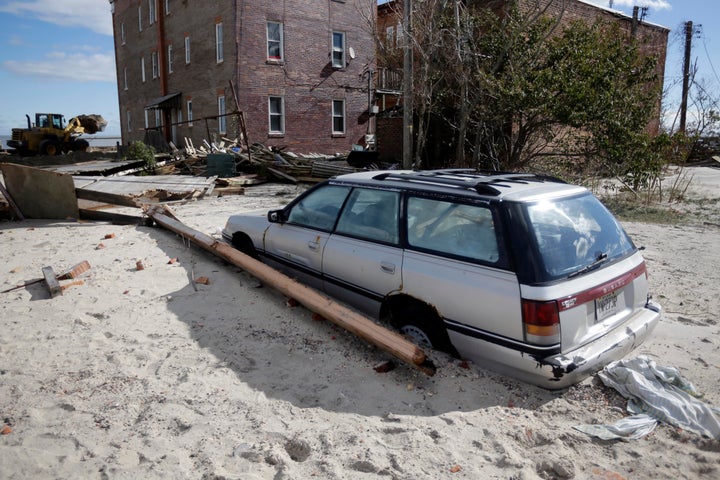 Hurricane Sandy wreaked havoc in parts of the East Coast, and those of us who survived it, with homes and families intact, have a lot to be thankful for this November 22nd. However, the loss of power and heat affected many of us on a relatively more minor scale, yet a significant one. As a parent of young children who occasionally use a nebulizer, I was in agreement with my neighbors who, after more than a week sans power said, "Time to buy a generator."
I decided to research generators because there are dangers -- carbon monoxide-related and electrical in nature -- associated with the portable variety. According to the Electrical Safety Foundation International (ESFI), 481 carbon monoxide deaths associated with portable generators were reported to the Consumer Product Safety Commission (CPSC) in the years from 1999-2008. In addition, over 80 percent of carbon monoxide deaths related to portable generators occur in the home, often resulting from operation of a portable generator within the living space of the home, including the basement, closets and doorways.
Hearing that folks were going out to the popular chain stores to buy their own generator sounded a little too blasᅢᄅ for me, so I decided to research generators.
Automatic standby generators are worth the extra $$
As Hurricane Sandy proved, severe storms can significantly disrupt your life. Heat, air conditioning, lighting and electrical appliances stop working and, after a couple of days, battery backups for sump pumps and alarms may fail, leading to sewer and drain backups, fire and even burglary (one of my Long Island friends found the latter out the hard way).
According to Gary Raphael, SVP and national director of risk consulting for ACE Private Risk Services:
To minimize the disruption and potential damage to your home from a severe storm coupled with an extended power outage, consider installing an automatic standby generator. Fueled by natural gas or liquid propane, these generators automatically kick in within seconds when the utility power fails. You can decide if you want the generator to power only the critical systems of your home (as you work with a licensed electrician), such as heating or air conditioning, alarms, sump pumps, refrigeration and a few lights. Or, you can choose a generator large enough to power the entire home. If you have a basement prone to flooding and a fine art or wine collection sensitive to heat and humidity extremes, an automatic standby generator can help prevent significant damage and financial loss.

Installing an automatic standby generator usually takes one to two months, so don't wait until the next storm is approaching to act by contacting an authorized generator dealer. The cost can vary depending on the home's size and the complexity of the systems supported by the generator. A permanently installed generator for a moderately sized family home could cost about $5,000, while top-of-the-line generators with significant electrical capacity could reach $20,000. Portable generators are less expensive, about $1,000, and also have lower capacity. If you choose a portable generator, make sure the unit is placed in a well-ventilated location outdoors and away from the house. Keep extra gasoline on hand, and be especially mindful of stray wires, extension cords and pooling water.
Adds Art Aiello, a spokesman for Generac:
These permanently installed units run on the house's existing natural gas or liquid propane fuel supply and start up automatically in an outage. They have automatic transfer switches that automatically transfer power from the generator to your home's electrical system. Because they run on natural gas or liquid propane, they have very long running times, and do not need to be refueled, as portable generators do every six to eight hours.
Aiello knows of home backup generators that were running for customers on the East Coast for eight days.
However, portable generators can be installed quicker and cost less.
Portable generators are very common, particularly in the wake of a severe storm with long-term power outages; this is because they are readily available, less expensive than the automatic standby variety and easy to use. But they must always be installed with caution, and it is wisest to have a licensed electrician doing the work.
They must always be used outside at least five feet away from windows and doors, to keep carbon monoxide from entering the home. Then extension cords can be run from the generator into the home to power the appliances that they need to run. To backup those items that are hardwired into the home's electrical system, a manual transfer switch can be used with a portable generator. The manual transfer switch serves as an interface between the generator and the home's electrical panel. With a manual transfer switch, the generator only needs one special cord to connect it to a junction box outside the home, which then delivers power to the home's electrical panel. In this way, you can back up your most important circuits (not the entire home) with a portable generator, but not have to run extension cords, and be able to back up items that are hardwired into the home.
He emphasizes that a manual transfer switch is not a DIY project.
Brett Brenner, president of ESFI adds:
An average of 75 people die in the U.S. each year from generator-related carbon monoxide poisoning, and these deaths could easily be avoided by following safe installation and operation practices. Because portable generators are often employed during a stressful time, it is critical that people understand the hazards involved before they operate them.
... And, in anticipation of when gas is hard to get:
Joe Atkin of Goal Zero recommends a solar generator if you are going the portable route. That way, you don't have to rely on gas, especially when it is being rationed by license plate numbers -- something we never would have anticipated! The advantage of a solar energy generator, besides the fact that you wouldn't need gas, is that solar energy is a completely renewable resource. Of course, you might be at a disadvantage on a cloudy day or at night, and with a solar energy generator, on some days you may still need to rely on oil to power your home. All in all, however, little maintenance is required to keep solar cells running, and solar energy lasts and is generally stored for a long time, so this is an option to consider. According to Dave Fink, product development engineer at Solutions From Science: "Solar-powered generators do not produce dangerous fumes, they require no gasoline, they are quiet and they are a clean, renewable source of energy."
You can check out solar power generators at Goal Zero's website and contact the company to speak with a licensed electrician about your home.
Types of portable generators recommended by an expert:
According to David Bakke, editor of Money Crashers -- Personal Finance:
It is important to get a generator that is powerful enough in terms of both voltage and wattage to power your items -- your best bet is to consult a salesperson who can point you in the right direction. Since gasoline remains high in price, you may want to consider getting a propane-fueled generator. Also, when choosing a generator, be sure to get a quality model, and make sure it is housed by aluminum or solid steel. Although you don't want to be cheap, you should still remain on the lookout for price gouging. New Jersey businesses are limited to a 10 percent price markup, and if you think your generator is priced too high, you can report the business to your state's Attorney General Office.
Bakke offers this list of popular generators:
For heavy use, you want a generator with lots of wattage:
• Generac Series GP7500E. This generator comes with 7,500 watts of power, which should be enough to power your most-needed appliances. The outlets are protected by circuit breakers, which eliminates the risk of overuse. It runs fairly quiet as well. It lists for $999. (Disclaimer: I heard conflicting thoughts on this brand while conducting my research, but overall, it was recommended by most electricians)
• Briggs & Stratton 2100 Series. This has a full 10,000 watts, and its key start mechanism makes for easy ignition. The seven-gallon tank means this can run for as long as nine hours at a time. The lowest price I found was $1,261.07 at Ace Hardware.
If you don't have as many items to power, there's no sense in overspending. Here are a couple cheaper generators with less wattage:
• Briggs & Stratton 30466. This generator has 4,375 watts and has outlets for both 120 and 240 volts. It has a four-gallon tank and can run for up to eight hours at a time. It sells for $469 at Home Depot.
• Champion Power Equipment 46561. This has 4,000 watts of power and even comes with a remote control. It offers a good run-time of up to 12 hours. This generator retails for $499.99.
If you need a propane generator, here are two options:
• Sportsman GEN7000LP. This generator has 7,000 watts of power, four 120-volt outlets, a 120/240-volt outlet and a 12-volt DC outlet. It can run for as long as eight hours at a time. It retails for $799 at Home Depot.
• Sportsman GEN2000LP. For lighter usage, consider this propane generator with 2,000 watts of power, one 120-volt outlet and one 12-volt DC outlet. It can run for as long as 12 hours on one tank of propane.
* According to Brendan Atwood, manager for power tools and equipment at Wayfair.com, portable generators are great for just getting your lights back on, and typically carry 4000-6000 Watts. Those typically range from $350 to $700.
* People who are looking for a larger generator, to power multiple rooms and large appliances, like a refrigerator, would want to consider a generator in the 6000 to 9000 watt range. Generators of this size would be in the $750 to $1000 price range.
* To power an entire house, a generator would need to be at least 10,000 watts. These are typically over $1,000. An automatic standby generator typically costs between $7,000 to $20,000 depending on the size of the house and including installation fee, always using a properly licensed electrician.
* When using a generator, it is important that it is used safely, and reading manufacturers operating and safety instructions is crucial.
*Power manage, says Gary Marowske of Flame Heating, Cooling, Plumbing and Electrical, stressing that one should work with an electrician to prioritize which areas will get power in the event of
an outage. "Lights will dim if the generator can't keep up," he explains, "Turn some things off."
* Generators should never be used inside, as they emit carbon monoxide.
* Position a generator away from any open windows, vents in your house, or doors.
* Generators have powerful voltage, so do not operate under wet conditions. Take the proper precautions to protect generators from snow and rain.
Installation safety tips from ESFI:
* ESFI strongly recommends that a licensed electrician install home generators to ensure they meet all local electrical codes.
* Do not connect generators directly to the household wiring without an appropriate transfer switch installed. Power from generators connected directly to household wiring can back feed along power lines and electrocute anyone coming in contact with them, including utility line workers making repairs.
* Make sure your generator is properly grounded.
* Use a ground fault circuit interrupter (GFCI) to prevent electrocutions and electrical shock injuries. Portable GFCIs require no tools to install and are available at prices ranging from $12 to $30.
* Make sure extension cords used with generators are rated for the load, and are free of cuts, worn insulation and have three-pronged plugs.
Using your generator safely (also from ESFI):
* Never operate a generator inside your home or in other enclosed or partially-enclosed spaces. Generators can very quickly produce high levels of carbon monoxide, which can be deadly.
* Opening doors and windows or operating fans to attempt to ventilate a generator will not prevent carbon monoxide build-up in the home. Even with a working CO alarm, you should never use a gasoline-powered generator inside your home or in a garage.
* Keep children away from portable generators at all times.
* Get to fresh air right away if you feel dizzy or weak.
* A generator is a temporary power source. Use a generator only when necessary to power essential equipment or appliances.
* Do not overload the generator.
* Plug appliances directly into the generator.
* Turn off all appliances powered by the generator before shutting down the generator.
* Make sure fuel for the generator is stored safely, away from living areas, in properly labeled containers, and away from fuel-burning appliances. Before re-fueling, always turn the generator off and let it cool down.