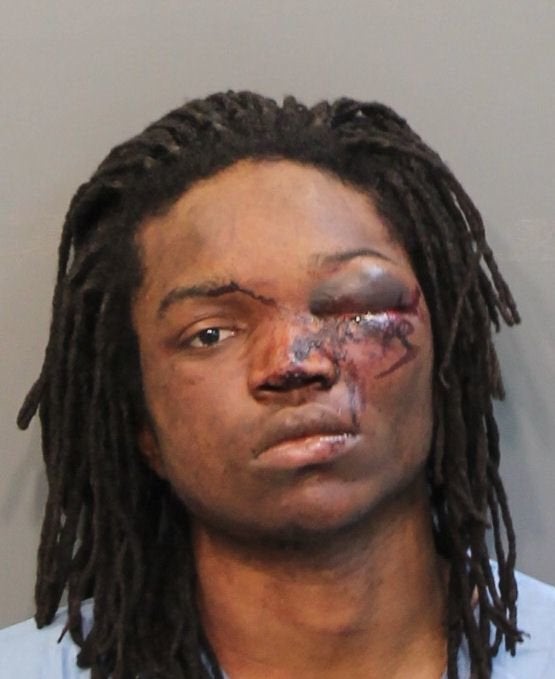 This home invasion suspect picked the wrong people to mess with.
A group of friends was able to turn the tables on a suspected armed intruder after he allegedly broke into their Tennessee apartment late Sunday night, only to be subdued and beaten by a man inside.
The alleged victims, speaking to WRCB, said they had never met 22-year-old Calvin Carter III before he knocked on their Chattanooga front door around 11:30 p.m. and demanded to be let inside. 
"It sounded like he was messing with a gun," 19-year-old Shane Feeney told the local news station. "So I came back and I was like, 'I don't know if he is, but it sounds like he's messing with a gun. I'm going to call the cops.'"
As the men waited for police to arrive, one man tried to make a run for it out a back window. Carter got wind of the attempted escape, however, and forced the man back inside at gunpoint, according to a police press release obtained by HuffPost.
Once inside, Carter allegedly demanded one of the men's cellphones. In the process, he was jumped by two people inside the home, who disarmed him and held him until police arrived.
"He kept wrestling with me," Tucker Williams, who helped hold Carter down, told WRCB. "I was like, 'You have one more chance, please stop.' He wouldn't stop and that's when I punched him in the eye twice."
During the struggle, police said Feeney was shot in his leg. He was transported to a local hospital for treatment and later released.
Police, reached by HuffPost on Monday, declined to provide further details on the case, including Carter's facial injuries, saying the incident remains under investigation. "We do not release details until the case is closed and a conviction is obtained," the police said.
Carter was arrested on charges of first-degree attempted murder, aggravated assault, felony reckless endangerment and "especially aggravated battery." Tennessee law defines the latter charge as felony that occurs when someone enters a building with the intent of committing a crime and that "results in any person lawfully on the premises suffering serious bodily injury."
He's being held on $1,750,000 bond with a court date scheduled for June 27, according to the Hamilton County Sheriff's Office. He is not listed as having an attorney.
REAL LIFE. REAL NEWS. REAL VOICES.
Help us tell more of the stories that matter from voices that too often remain unheard.
BEFORE YOU GO