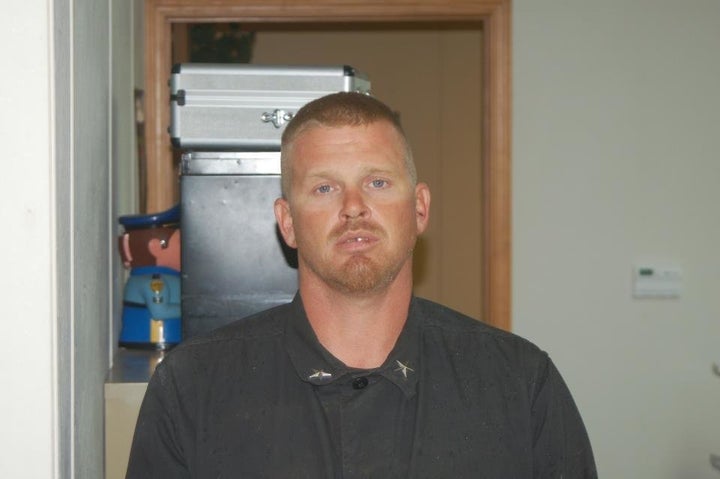 Police investigating a Mississippi home invasion have broken up what they say is a paramilitary group that trained its members in "hand to hand combat skills, paramilitary training and scriptures."
Officers with the Gautier Police department were already familiar with the self-styled vigilante group, dubbed "The Savior Unit" or "Tactical Search Unit," when they took a call about a home invasion and kidnapping on Dec. 6.
Minutes after receiving the alert, police apprehended the group's alleged "commander," 32-year-old Michael Shaun Schaffran, and its "captain," 18-year-old Cody Jacob Rogers. The pair are accused of kicking in the door of a residence while wearing bullet-proof vests and military clothing, dragging out three victims including a 70-year-old man, and assaulting them, according to police press release published on the department's Facebook page.
Shaffran and Rogers were each hit with three charges of kidnapping and burglary of an occupied residence.
Officers became aware of "The Savior Unit" as they investigated a recent surge in burglaries in south Gautier, though the group has not been formally linked to the crimes, police told The Sun Herald.
The two suspects are believed to have lead a group of four teens. They allegedly trained them in combat skills and religion in a wooded area for the past six weeks.
An operation manual recovered by police describes the group as more of a community service organization than a criminal organization, at least according to an excerpt published by The Mississippi Press:
T.S.U. is a tactical search team that is faith based. Our purpose is to promote Christ. Obtain offenders who are a danger to society, do community service work for churches and halfway houses, and do security for different functions. Our training is a recon and infiltration, apprehension and retrieval. All team members are taught hand to hand combat skills, para military training and scriptures. [SIC]
Local investigators have reportedly contacted the FBI to determine whether the group is a larger threat.
"You can use your imagination and speculate where was this headed, what could have happened, what might have happened," Gautier Police Captain Kenny McMellon told The Mississippi Press.
But Schaffran's wife, Tisha Schaffran, told The Hattiesburg American that her husband was merely helping neighborhood youth.
"He's not this monster they're making him out to be," she told the paper.
Tisha Schaffran says her husband -- who has previous convictions for theft, aggravated assault and forgery-- might have entered the residence. But he wouldn't have gone there to harm anyone.
"It's just a bunch of kids, mostly," she said. "It was just to get together and give them something to do other than get in trouble. They would have exercises out in the yard in the woods on Mondays, Wednesdays and Fridays. Sometimes they go out into the woods. It might have been military style, but it wasn't like they were trying to be the military or the police, either."