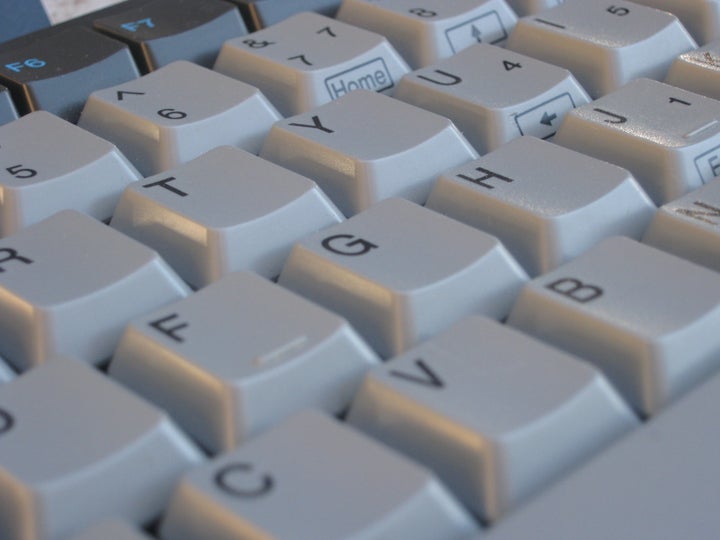 Once upon a time, people hit the morning commute and went to an office for their work. Today, while they still go to an office, for many people that trip may be no further than from their bed to their desk five feet away. Creating a home office is pretty standard for writers these days, and for a large part of the workforce, as well. Over the course of these "Writers Workbench" columns, the focus is generally to help create a good, work environment -though that work can take place anywhere: at home, on the road, or in a fluorescent-lit cubicle, coffee-break not included. This month however we look specifically at some of the details (large and even the small) that help fill out that home office space.
•Logitech C920 Pro HD Webcam
•Sony ICF-CS15IP Speaker Dock
•SanDisk Memory Vault
•ZAGG invisibleSHIELD
•Aviiq Ready Clips
•Griffin Mini Cable Kit
•Archos 35 Home Connect
•IK Multimedia iRig Mic Cast
Particularly since most notebooks include a built-in webcam and services like Skype, Facetime (and more) available on cell phones have been video chatting second nature, having a webcam on one's desktop is becoming borderline standard these days, as well. Very basic models are available in the $20-25 range, but for not a great deal more, you can hit much higher standards today.
Logitech has an impressive entry, it's C920 which is the first webcam that allows video calls in 1080p quality (as long as you upgrade to the current version of Skype). Adding to the video quality, the camera uses high-end Carl Zeiss optics and 20-step AutoFocus for very smooth imaging. Further, the devices takes 15 megapixal photos, and can upload its HD videos to Facebook, Twitter and YouTube using built-in H.264 compression.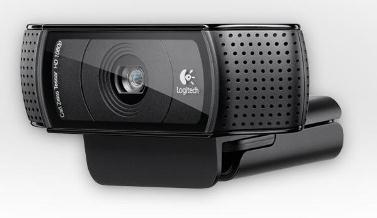 (In English - H.264 is the standard mode for compressing video. When you use a service like Skype, the video stream is usually sent by the camera to your system, where its then compressed. Particularly if you have a mid-range computer, your system may not be able to handle this well. By accomplishing the compression built-into the device, there's no resource drain on your computer, and it's done faster. This makes for a smoother image.)
By the way, know that to get the full 1080p quality, there are basic standards you system has to meet. The minimum is a 2.4 GHz Intel Core 2 Duo process with 2 GB of RAM. Also, you need to have an Internet connection of 2 MBps.
The C920 comes with a high quality dual mic for stereo audio. If you want to take the webcam on the road, it also has a tripod-ready base.
One of the things I most appreciated about the C920 is how easy it installed. For instance, when you plug the device into a USB port, it downloads the Webcam software automatically, rather than requiring you to go online and get it. An install wizard loads and worked as easily as I've seen any wizard do its job, outside of Gandalf in "Lord of the Rings." It detected Skype on my system and created a link to the software. It also offered to download Vid HD - this is Logitech's own version of a Skype-like program. It's particularly easy to use, though it requires the person you're calling have the same program. A few more options are run through, and you're done. Incredibly easy. And it hang easily on the top of your monitor with a convenient attachment.
You don't necessarily need the Webcam software, and can probably run the C920 with the default drivers on your Windows system, especially if you have Window 7. However, there are some features in the software which are nice to have, so it's worth using. For instance, the Webcam software has a Controller lets you maneuver the webcam from the keyboard - pan and tilt, brightness and sound, and so on.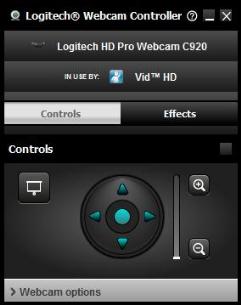 You can take pictures and video, as well as share them with others via email or social media, with a few simple clicks. There are other options for adjusting the image and video, as well. In fact, it can also be used as a motion detection device. It's all well-designed and simple to use.
Overall, I was generally quite impressed with the C920. The image is great, the installation a breeze, and the ability to control it from the desktop very helpful. The biggest disappointment was that I didn't think the audio quality was up to the standard of everything else. Of course, you won't have to hear the sound yourself, but the people on the other end told me it was just fair. It improved greatly when I moved close to the microphone, but not only was that an awkward position to sit in, it looked idiotic to the viewers on the other end.
It's also best-suited for use on your desktop rather than taking it on the road with you, despite having a tripod mount. That's because some other webcams fold up nicely for traveling, while the C920 doesn't. But it's so small, it's not at all a problem for traveling. Some other models swivel left and right, which the C920 won't - but keep in mind that the Webcam software lets your pan the camera lens.
If your needs are basic, you'll probably do fine with a less expensive model. But the C920 isn't all that much more, for such top features. It retails for $100, but can be found online at the time of writing for $76. And especially if you have higher-end needs than just an occasional video call, the Logitech C920 offers a lot of fine, quality features. Hopefully the next upgrade will include a mic that is at the same level as the rest of the device. But even as is, there's much here to offer.
I admit it - I love devices that multi-task. This is particularly important in a home office where space can be limited. It can be even more important if a home office itself "multi-tasks" as a bedroom, which is common, and where space is even more limited.
The Sony ICF-CS15IP Speaker Dock serves as a speaker with remote control for your iPhone/iPod or iPad, if you want music in the office. But it also doubles as an alarm clock and radio. It may not be the hottest new device from Sony, but it's a gem.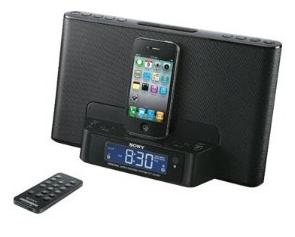 You shouldn't expect home theater sound from any speaker other than a high end unit. But the Speaker Dock is impressive for a small unit - and seriously impressive for a clock radio. Rich and booming, with respectable bass and crisp treble. So, if you only used this as a speaker, it would be extremely satisfying. That you get sound this good out of a clock radio should make waking up in the morning more palatable than it would be otherwise. (There is a "Sound" button that lets you adjust the quality a bit for MegaBass or Xpand sound.)
As a clock radio, it's one of the better I've come across, and I tend to be picky in that arena. There are two separate alarms that can be individually set for radio, iPhone-iPad, or buzzer. (And you can select alarms for either 7, 5 or 2 days - meaning one alarm can be set to wake you to the radio during the week, and the other alarm can wake you to your iPod on the weekends.) Further, when setting an alarm, you can independently set the volume, which is a nice touch. In addition, there are 20 station presets, which should be plenty for most people.
The clock display has four levels of brightness, including the all-important "all dark." The FM antenna is strong enough to bring in a good signal, something not always common with clock radios. A back-up battery keeps everything running in case of a power failure.
For the most part, setting the alarm - as well as most features - is fairly intuitive. Tapping a button scrolls you through the variety of on-screen options.
Not everything with the CS15IP is as intuitive as ideal, and you'll likely have to check the manual to help you through a few features. Once described, though, it's pretty clear and easy to remember. Also, there are a few disappointments with button placement. For instance, the button to manually tune stations is in the back of the unit. Also, there is no pad on the remote control to access the station presets - it seems largely meant for using with your iPhone/iPad. (In fact, an app is available to download for additional usability.)
Over all, this is a terrific multi-tasking iPhone/iPod/iPad speaker and clock radio. Well-designed and very good sound. All for $100 retail at the time of writing. It could be found online for $80.
(Note: at the time of writing, Apple had not yet released the iPhone 5 which has a different connector. This radio uses the previous 30-pin connector. It will likely work with Apple's adapter, but that hasn't been tested. However, there are many of millions of iPhones and iPods out in the world with the 30-pin connector, and this will of course continue to work with those.)
As much as digital photography has overwhelmed the technology to the extent that using film for taking snapshots has become a thing of the past - it doesn't come without risks. Though old photographs can and do fade, they nonetheless have a long shelf-life. And even a faded photo can still be appreciated.
Digital photograph, however, are a matter electronics. And not only is there uncertainty with that, there is an added uncertainty of the life of the media such data is kept on - be it hard disks, flash memory or CD/DVDs. If a hard disk crashes, for instance (and we all know they do), all the material on them will likely be lost. There's an even bigger question with CD/DVDs, as the question of degradation has yet to be established. Will a disk last five years? Twenty years? And is even that enough for priceless material? (Which goes beyond photos, and can include documents, scanned material, audio recordings, anything digital.)
That's why it's important to make backups (and as many backups as reasonable) - but even those have a shelf life, and are at risk.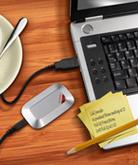 And so SanDisk has come up with its fascinating solution. One that if it works as the company claims is beyond the scope here to test. The company has developed what they call Chronolock™ technology with a propriety controller and non-volatile memory, all of which was engineered and physically designed especially for durability to preserve data long term. And by long term, they mean...long term. SanDisk says that material on their Memory Vault will last for 100 years. That's right, 100 years. Copy-and-paste your material to the Memory Vault like you would any external drive (connected via USB), and check back on it in a century.
Now, the reality is that SanDisk hasn't yet tested that in full either - which is, in part, probably why they don't guarantee the product for that long. And it has then been tested for data retention using algorithms and accelerated temperature cycling, along with "the Arrhenius acceleration factor" (no, I don't know what that is either...), to simulate the effects to data retention over such lengthy periods of time. (If you're interested, the science can be found here.)
Will it preserve your data that long? Is it necessary to? The answer to both questions is "Who knows?" - though the latter answer is probably. The good news is that the device is very small and can be kept out of the way...or even taken with you (Just don't lose it!) - but it's also reasonably priced and worth checking out, therefore. After all, if SanDisk's science is only half correct, that's a half century of protection. And to be fair, the company has a good reputation on its products. The 8 GB model retails at the time of writing at $50. The 16 GB unit retails for $90. That will hold a lot of data. I have over 2,000 photos, which take up 2.2 GB. And all my 4,000 documents take up less than 1 GB.
One tiny quibble. There is a flimsy plastic tab that covers the micro-USB port. This will not last 100 years. So, since it's not especially necessary, they should have just left it off, because everything else about the device is so solid and gives a sense of permanence.
I've never been a big fan of plastic screen protectors for cell phones (or now, also, tablets). They've seemed limited in function. Yes, they likely protect your screen against scratches, but most glass today is made to withstand simple scratches. And anything bigger - a thin sheet of plastic isn't going to protect much. In fairness, that kind of thinking might be totally offbase, but I've always felt that if you really want to truly protect your screen, get a carrying care that actually has a cover.
That said, I recently tested the ZAGG invisibleSHIELD, and it's the first one I've used where I got the sense it was really, truly protecting the glass. The company gives the usual "mumbo jumbo" techo-description - how it uses "Military grade patented material made with Nano-Memory technology." But after applying it to my screen...you can sense a tactile, almost rubbery layer with "give" that is covering your device.
I didn't do the full test that the company insists works - dropping bolts and screws on the screen, and even scratching it with keys and an engraver. (I'm dedicated, but not crazy.) But then, even their representative admitted he didn't dare try it on his devices either. However, a video on the ZAGG website is pretty compelling.
The website also provides a helpful installation video. The demo suggests that the plastic will stick on at installation, but spraying the included liquid solution made it slide all over. This made it difficult to use the enclosed squeegee to smooth out bubbles - but on the plus side, there were almost no bubbles to smooth out. And the "sliding around" also made it much easier to align properly.
The ZAGG invisibleSHIELD feels very durable, and comes with free lifetime replacement warranty for the life of your device. The screen cover, though clear, should also reduce glare a bit. There is a bit of a drag grip to it, when using your touchscreen - this gives you more control, though some people might prefer the way their fingers glide across non-covered glass. (To be clear, the drag is very minor.) Installation was reasonably easy. Know that, because of the spray solution, they recommend setting your device aside for 12 hours to dry.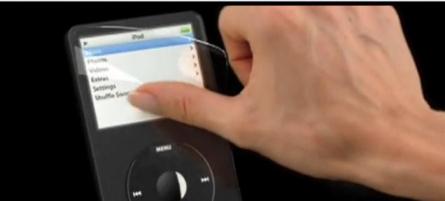 ZAGG makes protective cover for a vast range of products. Their website lists what's available. The iPod touch model I tested cost $15 for screen or front coverage. They also provide "full body maximum coverage" for $25 - but even the company says that this is an "over-the-top solution for for extreme geeks and protection nerds." Or as the video say, "If you're OCD." But if you fall into that category, it will cover everything.
As the variety of portable devices expands, one of the great burdens that comes with that is the equally expanding variety of cables needed for all those devices. The issue is compounded by the reality of people tossing the cables into a drawer, having them get tangled, and near-impossible to quickly grab to use.
Aviiq is a company that makes high-quality, well-designed accessories for portable devices. Its Ready Clips appreciatively take all the twisting and turning out of the cable world. Instead, these are solidly-made clips of 5.5" (which the company notes is about the length of a standard pen) that can easily be stashed away for simple retrieval. No tangling required. The clips come with either mini-USB, micro-USB or Apple-connector plugs. It's hard to image a cable being stylish, but these actually are, about a half-inch wide and made of thick rubber, and color-coded. The cables have a handy clip on one end, again not unlike a pen, so they can be carried easily in a pocket - though honestly, as nice a touch as this is, it's hard to imagine anyone but the proudest tech nerds having any interest in carrying their cables clipped to their pocket.
These are wonderfully made and extremely convenient, albeit with a few small caveats...and one very odd, big one. The clips are bendable, but being of such solid rubber, they only twist very slightly. This shouldn't be an issue most of the time, though with the Apple plug I noticed that when connecting an iPhone or iPod to a charger, one of the devices will have to be upside down. Also, since the clips are short, there may be times when you'll need something longer - but for the most part it shouldn't be a problem. There's a very easy workaround: just get a single USB extension cord which can be used with any of the clips. While this slightly defeats the purpose of the Ready Clips, one extension cord won't tangle itself with anything.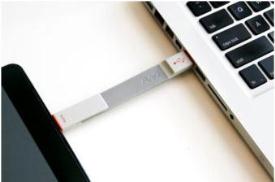 The larger issue concerns, strangely enough, pricing. While Ready Clips are slightly more expensive than some of the competition, they're of very high quality, so the value is reasonable. The issue is that, for reasons I can't quite figure out, Aviiq only sells them on their website in pairs - so if you want to buy one of each three, you have to purchase two "bundles." This not only raises the cost, but may also give some people extra clips they might not need. (That said, you can buy single clips on Amazon, but individually that will cost more than when bundled, even if purchased on Amazon). At the time of writing, the bundled-pair price on the Aviiq website ranges from $20-30, depending on the clips. (Apple connectors cost more.) At Amazon, single clips range from $13 to $16. The Ready Clips are terrific, the bundling and pricing is very odd and disappointing.
(Note: as mentioned above, also at the time of writing, Apple hadn't yet released the new IPhone 5 with its changed connector. The Apple-connector on the Ready Clip plug here is the standard 30-pin, not the new "Lightning". That said, there are many millions of people still in need of using this 30-pin style of plug.)
Griffin Technology makes excellent accessories, as well, generally for Apple products, though not exclusively. They too offer short cables that eliminate the problem with tangling. And they come in USB-mini, USB-micro, and Apple-connector plugs, as well. They're quite short, only 4" long, and not as substantive or wide as the Aviiq - however, they're surprisingly sturdy and thicker than most basic cables. Being so short, it's possible there could be rare times when you need something longer, though again an extension cable would easily resolve this. Also, they have the same, aforementioned issue of an iPod, iPhone or charger having to be upside down when connected. However, since the cables are quite flexible, they're easy to twist and get things rightside-up.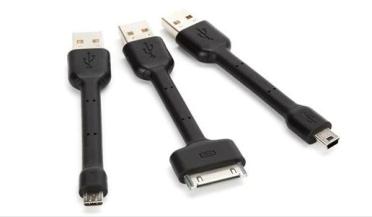 As to the matter of pricing though, these come bundled in a pack of three. So, there's no problem with getting one of each. However, there's no way to get one individually. But pricing is less of an issue: while the kit retails for $25 at the time of writing, it could be found on Amazon for only $10.50.
(Note: Again, the same Apple-connector situation relates to the Mini Cable Kit here.)
Over the past few years, web radios have gone through a range of intriguing changes, and the Archos 35 Home Connect offers some very nice features - along with some "howevers..." At heart, it serves as a strong "clock radio" that allows you wake up to web radio, MP3's, nature sounds and a buzzer. The sound comes out of two high-def speakers, and is quite good.
But in this world of multi-tasking, there's much more, offering many basic features you'd find on a tablet. There's a 3.5" TFT touchscreen, and the device is powered by Android, though only version 2.2, so its applications are limited. (Though, of course, this isn't intended to be a tablet.) However, you do have access to a small library of apps. With its Wi-Fi connection, you have access to news, weather, real-time traffic maps and social networks. There's also email and even a web browser.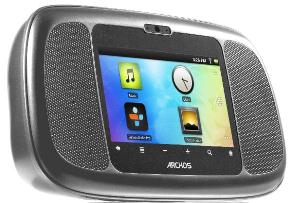 The device is quite light and portable, and comes with a power adapter, as well as international plugs, allowing you to use Home Connect overseas. It has 4 GB internal storage, with up to 16 GB available with a microSD card. Therefore, it can be used as a music player, photo player, and will also play HD video. The quality of the latter was impressively good. There's also a frontfacing webcam and microphone which allows for video chatting. And with the proper app, you can listen to ebooks.
Then there's the "however." For all the features offered - and there are many - it seemed as if most were a challenge to access. The display is fairly small, but most notably is that the touchscreen is not especially responsive with acceptable, but not great resolution. For people used to the quick access of Smartphones and tablets, this is pretty sluggish, most particularly when scrolling - it was quite slow, and you had to be careful not to access the links when you pressed. Also, the screen was a bit bright as something to be used as a clock radio.
So, it seemed that the multi-functions of the Archos 35 are far better served by other devices - but it's nonetheless worth noting that it's a pretty nice alarm clock webradio. The clock is extremely configurable (especially if you download a higher-end Alarm Clock Plus from the app market), able to access 50,000 Internet stations, podcasts and more. And as noted, the sound is quite good. The only quibble here to remember is its brightness.
The Archos 35 Home Connect retails for $150 at the time of writing, but can be found for $119. That's a bit high if you're mainly using it for a clock webradio, but if that's your need (especially one that's highly portable for international traveling) it has advantages. Most of the additional functions though are better served today with other devices.
IK Multimedia is a company that focuses on products for musicians. But a new device offers much greater capabilities and focusing it only on music is far too limiting. The iRig Mic Cast (a convoluted name that doesn't do the product justice) is a plug-in microphone that turns an iPod touch, iPhone or iPad into a digital recorder. Combined with two free pieces of software, its use is expanded further. Though its marketed for singers and musicians (and much of the software benefits come from that), the reality is that it makes for a very good personal recorder for anyone.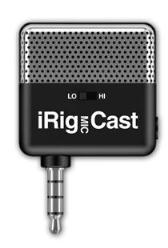 There are other small, plug-in microphones on the market - and the Phone and some iPods have a built-in microphone. But the Mic Cast nonetheless offers some important benefits (and some iPods can't record on their own). Most notably, because it plugs into an audio jack - not the Apple connector - you can plug earphones into and do real-time monitoring. Additionally, because it's not attached via the Apple connector, you can swivel the microphone 360-degrees to pick up the audio whatever direction its coming from, while still being able to look at your iPod/iPhone. Also, the iRig Mic Cast is unidirectional, so it offers improved clarity over more general, omnidirectional mics. Further, it comes bundled with several extremely good recording apps (more on that in a moment).
The sound quality is quite good, and you can set it for high/low recording sensitivity, depending on if the sound is close up (like an interview) or distant (like a conference or lecture). You can even set the main software to filter out background noise. The mic, as noted, is uni-directional, though its picks up sound from behind, albeit just passably. The package also included a tabletop stand, for hands-free recording, for instance if you're making a podcast.
You can use any recording app to work with the iRig Mic Cast (Apple's iOS has a pretty good one built in, and there are others available), but the aforementioned real-time monitoring only works with this app (or an app that supports this feature. Most don't.)
That brings us to the main piece of free software that you download from iTunes, iRig Recorder. It provides a wealth of features - many of which you'll never use, but several that are quite valuable.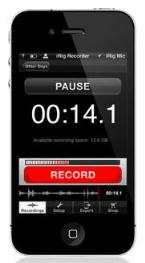 The Editing tools are powerful. What's especially nice is that when you make your edits, it will save the new recording as a separate file, leaving the original intact. You can trim the ends off a recording, or cut out material from within. You can also optimize the tone of recordings, clean up background sound (as mentioned, and smooth out a voice or brighten its clarifying. And the software lets you preview the changes before you apply them. One of the most useful is the ability to change the speed of a recording yet without changing the pitch of the voice. (So, for instance, if you want to transcribe an interview, you can slow it way down, yet the voice won't sound like a deep basso profundo.)
You can also export and share compressed .m4a recordings by either email, Wi-Fi, the free SoundCloud service, or with file sharing via iTunes. Better still, you also have the option to export a files an an uncompressed .wav file. (This file will be significantly larger, but the quality is far better.)
I had problems exporting via Wi-Fi, but it turned out that the software has some issues (at the time of writing) with Firefox, which the company says it expects to fix soon. Other browsers were problem-free - I tried the Wi-Fi feature using Internet Explorer, and it worked. Also, all the other exporting options worked fine. The only other quibble is that, oddly, the graphic interface of iRig Recorder is very uninteresting - odd, because all of its other software apps are impressively vibrant. This includes the other free software, VocaLive, a professional vocal processing, effects and recording app.
If you do much singing or play an instrument, VocalLive had a very impressive interface and features, though won't be of much use to the non-musical. One nice feature, though, that some might enjoy - you can import a song from your iPod/iPhone and then "cancel" out the center pan section (this is where most vocals are placed in a mix) - and then record your own singing over it. In essence, you can make your own professionally-backed recording. For all recordings, notably those using VocaLive, you can of course use the built-in mic from the iRig Mic Cast - or instead get another product instead from IK Multimedia, its iRig Mic (not fully tested for this review). This is a "real" microphone that's connected to a dongle which plugs into your iPod/iPhone. It has three levels of sensitivity, and though its marketed mainly for singing, if someone does a lot of interviewing, they might like to use a handheld microphone. It too offers real-time live monitoring. (A very cursory check of the iRig Mic showed it most effective for either very loud sounds, or especially quiet and distant sound. It seemed less effective than the small, iRig Mic Cast for normal, mid-range talking, although the flexibility of a handheld microphone was convenient.)
Overall, the iRig Mic Cast is a terrific small microphone, most particularly when combined with the iRig Recording software. At the time of writing, the device retails for $40, but could be found for $34.
Related
Popular in the Community