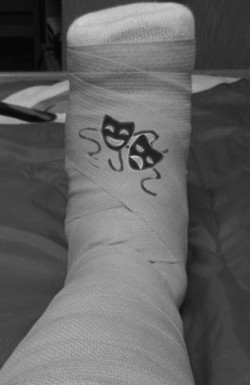 Theatre rescued me from my own insecurities which developed after one traumatic moment, one week before starting second grade. My family was traveling to Connecticut for a short vacation. I sprinted down the staircase of my apartment and made a beeline towards the car when something struck me. Stunned, I looked from side to side, not comprehending that the yellow cab that hit me was still speeding down the street. Then I looked down and saw my foot hanging limply from my leg. Suddenly, the shock left my body and I began to feel all the pain, like a million knives stabbing my ankle. A large group of people began to gather around me, as I cried out in confusion. When the ambulance arrived, I could only think of the searing pain in my leg.
In the back of the ambulance I felt every bump and turn we made, until I blacked out. I awoke to white walls and doctors, and a massive cast swallowing my entire leg. The doctors told me I would be confined to a wheelchair for up to six months. As the physical pain subsided, I did not have any idea of the emotional impact of this accident on my life.
My limited friendship circle grew even smaller. Instead of my trekking down the stairs to the cafeteria every lunch period, a security guard would bring me food. I ate alone in the classroom. My inability to walk confined me to that chair for the better part of a year. When I got out of the chair, I weighed twice as much. I was in no condition to play sports. My isolation made me insecure, which explained why I was so scared to go to summer camp for the first time at the end of third grade.
I am glad I lost the battle with my parents, who refused to grant my wish to avoid camp. I found my passion for theatre at Camp Waziyatah. The play was Grease: I was cast as Sonny. I was the only non-teenager to get a lead role in the play-something that had never happened at the camp. It did not stop there. For the next seven years, I played the lead in the camp plays; my characters ranged from Tony in West Side Story to Simba in The Lion King. Throughout those seven years, I did not just grow as a performer, but as a person. Acting is not only my safe haven, but also the catalyst that helped eliminate my self-doubt. I not only accepted myself, but began to appreciate who I am. I finally welcomed the music that always played in my head and the rhythm that my feet could never shake.
Now I see the world as my stage, literally-even beyond my roles as Lysander or The King of Hearts. Two years ago, a fellow thespian and I decided to dress up as characters once a month. We have been everything from pirates to farmers to hipsters to circus freaks. Our exercise comes with the realization that life is a performance and one does not have to leave the energy and vibrancy of life on stage. Acting is more than an art form: it is the way I live. I live to act. I act to live.
Schuyler Van Amson, a 2013 graduate of the Trevor Day School, is a freshman at Columbia University.
Related
Popular in the Community