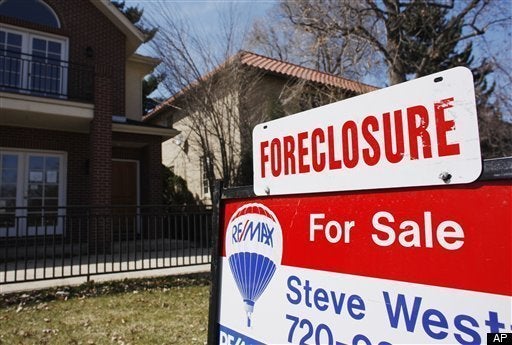 Plunging home prices hammered household finances in the third quarter, eroding homeowners' wealth and making them more vulnerable to foreclosure. As prices are expected to continue falling, the economic recovery could face a major stall.
Millions of homeowners saw their most valuable asset decay between July and September, according to recently released data from the Federal Reserve, as they lost a portion of the stake they can claim in their homes. A series of new reports reflects home prices are continuing to decline, increasing the pressure on America's tepid housing market. Until the market finds a bottom, the foreclosure epidemic will feed upon itself, analysts say, as foreclosed properties drive home values down. With the unemployment rate hovering near 10 percent, and with companies showing historic reluctance to hire, the housing drag poses a significant impediment to an economic recovery.
By the end of this year home prices will have dropped $1.7 trillion, or about 7 percent, according to Zillow.com, a real estate data provider. This decline has accelerated: Since August, home prices have fallen 7.9 percent, data from Clear Capital, a Truckee, Calif.-based real estate research firm, show. It is the steepest decline in home values since the height of the financial crisis in 2008, said Clear Capital senior statistician Alex Villacorta.
Worse, home prices are forecast to drop an additional 10 percent next year, according to a recent report from Fitch Ratings, a major credit ratings agency.
Americans' grasp on their homes is weakening.
Homeowners' equity, or the stake they can claim in their homes, dropped two percentage points to 38.8 percent in the third quarter, according to the new Fed data. The drop ended five quarters of steady growth since the figure hit its all-time low of 36.3 percent in the first quarter of 2009.
"There continues, of course, to be a backlog of foreclosed properties, or properties on their way to foreclosure," said Dean Baker, co-director of the Center for Economic and Policy Research, a Washington research group. "We're not about to see the end of foreclosures anytime soon."
The major problem, at this point, is the glut (and future glut) of distressed houses that haven't yet hit the market. When lenders repossess properties and put them up for sale, the influx of inventory on the market tends to drive prices down further, which in turn makes other properties more vulnerable to foreclosure. With repossessed or soon-to-be repossessed properties waiting in the wings, this "shadow inventory" will continue to depress the recovery, economists and housing experts say.
As home prices continue to fall, more homeowners will see the value of their home drop below the value of their mortgage, plunging them "underwater."
Making matters worse, the Federal government's response to this crisis is widely considered to be a failure. The Obama administration's program, designed to help struggling homeowners, has, in some cases, done the exact opposite. After 1.5 million homeowners were invited to try the program last year, 40 percent were later kicked out. Complicated rules requiring a homeowner to be in default before getting a mortgage modification can actually cause a property to enter foreclosure.
"There's just this dogmatic resistance to think seriously about it, on the part of the government," Baker said of the foreclosure prevention program. "It's crazy. Is the point to give money to banks, or are you trying to help homeowners?"
The pain isn't spread evenly. Some areas of the nation, such as California and Florida, have been hit especially hard.
"Probably four or five states will account for more than half of the decline," said Stuart Hoffman, chief economist at PNC Financial Services Group. "A lot of that pain or loss will be concentrated in the same states where we've seen the decline up till now."
Leading economists, including former Federal Reserve Chairman Alan Greenspan, say a so-called "double-dip" recession -- a situation in which the economy shrinks again before resuming growth -- is possible if home prices significantly slide.
As the nation grapples with an unemployment rate of 9.8 percent, some homeowners simply don't have the means to pay down their debt. Even among Americans with good credit scores going into the financial crisis, one in seven reported that they weren't able to pay their bills, often because of a job loss.
"It takes two things to cause a foreclosure or a default," said Celia Chen, an economist at Moody's Analytics. "It's both the loss of a job, or not enough income, and being underwater."
The bleak jobs situation isn't helped by cash-hoarding companies. The Federal Reserve reported that corporations increased their cash holdings 7.3 percent last quarter compared to the previous three-month period, setting a new record with $1.9 trillion in liquid assets. Their caution, experts say, is reflected in the lack of hiring: Businesses hired 50,000 workers last month, the slowest pace since June, according to Labor Department data.
"They realize things could go bad relatively quickly, so they feel they have to protect themselves," said Gregory Daco, U.S. senior economist at IHS Global Insight, an economics forecasting firm. "That's in pair with not hiring."
Relative to their short-term liabilities, U.S. corporations haven't been this flush since 1956. By that same measure, their balance sheets are twice as strong as they were just nine years ago.
While families struggle nationwide, corporations and large banks appear to be in full-fledged recovery. Last quarter, corporate profits reached an all-time high of $1.66 trillion on an annual basis, according to the Commerce Department.
Low bond yields, fat profits and flush corporate balance sheets have helped drive up the stock market, making household balance sheets appear to be on the mend.
Despite the tanking housing market, household net worth rose 2.2 percent last quarter thanks to the rising value of stock portfolios. The Dow Jones Industrial Average increased 9.3 percent during that time.
The Dow "is right around where it was just before the big crash in September of '08," said Edward Friedman, an economist at Moody's Analytics. "Housing prices haven't really done anything, and those are the two major contributors to household wealth."
This improvement has made Daco, of IHS, optimistic about the state of the economy. Although he acknowledged that "the housing sector is still in a relatively dire situation," he said "the stock market gains are reflecting a general improvement in the U.S. economy."
Daco predicted a sustainable, but uneven, recovery. Corporations will likely continue to hoard cash and home prices will continue to slide, but not enough to induce another recession, he said.
"I don't think we can talk of a major risk of back-to-back recessions," he said. "I don't see that coming any time soon, given the sort of momentum we've been building up."
Related
Popular in the Community