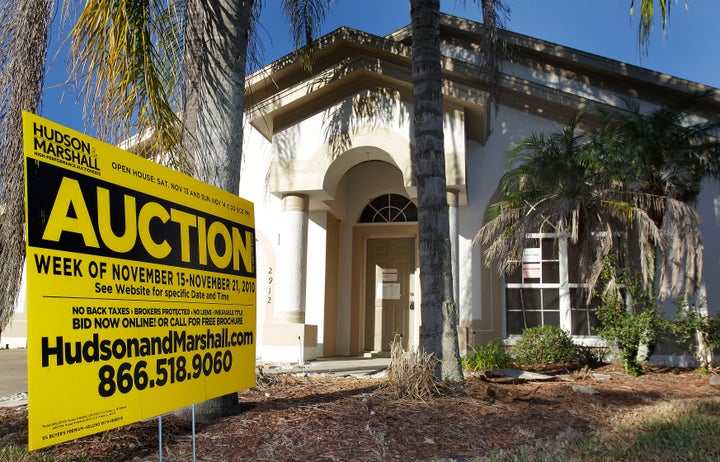 Almost five years after home prices peaked, they're still moving in the wrong direction.
Home values fell 3 percent during the first three months of this year, for the biggest quarterly drop since 2008, according to a new report from data provider Zillow. Even as the stock market climbs to three-year highs, and as payrolls tentatively expand, housing continues to fall in almost every U.S. metro area. Prices won't find a bottom until 2012 at the soonest, Zillow predicts, meaning American homeowners could be in for at least another year of pain.
"Home value declines are currently equal to those we experienced during the darkest days of the housing recession," Zillow chief economist Stan Humphries said in a statement. "With accelerating declines during the first quarter, it is unreasonable to expect home values to return to stability by the end of 2011."
Even though the recession officially ended in June 2009, the real estate market has yet to hit bottom. Since the peak in 2006, home values nationally are down 29.5 percent, Zillow says. Compared to this time last year, prices are down 8.2 percent nationally.
That translates into lost wealth for homeowners. When home values decline, the values of mortgages often don't. Homeowners lose some of their equity, or the stake they have in their home. When equity becomes negative, or when the value of a mortgage exceeds the value of the property, homeowners become especially vulnerable to default and foreclosure.
This condition became even more prevalent last quarter, as 28.4 percent of all single-family homes with mortgages are now "underwater," according to Zillow.
Falling home prices can create a vicious cycle. When a property falls into foreclosure, it tends to depress the values of properties around it, making those homes more likely to experience a similar fate.
Last year, nearly 2.9 million homes received a foreclosure filing, and more than 2.8 million homes got one in 2009, according to data provider RealtyTrac.
The housing market has been plagued by scandal in recent months, as homeowners and investors have filed numerous lawsuits alleging that big banks misplaced or even faked crucial mortgage documents. After it was revealed that companies that processed foreclosures signed thousands of documents daily without even reading them, potentially violating the law, some of the biggest banks temporarily halted their foreclosure proceedings last fall.
The mess has not yet been resolved, as all 50 state attorneys general are working with the Obama administration to negotiate a settlement with the nation's five biggest mortgage companies. Fines could reach up to $30 billion, The Huffington Post reported.
Related
Popular in the Community