The chart is from the Federal Housing Finance Agency monthly home prices report for activity October into November 2015. We can see that there were three Census Divisions with lower house prices, but the drops were minimal. Their changes over a 12-month period were far more dramatic. All were positive, with the Mountain Census Division topping the list with a 10.0% increase year over year.
The difference in these market conditions and pre-crash markets is that these price increases are driven much more by lack of supply than by increasing demand. The first time home buyers are still shunning the market. The young buyers are living at home with parents longer, busy retiring student loan debt, and saving for down payments. They are still shy about investing with doubts after the housing crash and less than stellar employment prospects.
Some market analysts point to the Baby Boomer generation as a factor in the low supply situation. The older American isn't feeling a lot of pressure to sell their current homes, especially now that their equity is reaching or exceeding pre-crash levels. They expect more increases, but also do not see a lot of available suitable housing for their lifestyles. Downsizing isn't possible either for many, as their children are staying in the home longer or returning while they work on their finances.
Much of the upward pressure on prices in the past five years or so has come from cash buyers, a lot of real estate investment activity. When a large percentage of all sales are cash investor purchases, this skews price studies, as they're not really representative of across-the-board buying pressure. As foreclosures have been slowing, investors have been experiencing more competition, so prices go up. But, the broad demand groups of the past are still not excited about buying. None of this is particularly bad news, but a major market break to the upside isn't going to happen until the more traditional buyers return to the market.
Mortgage Rates Rising - Kind Of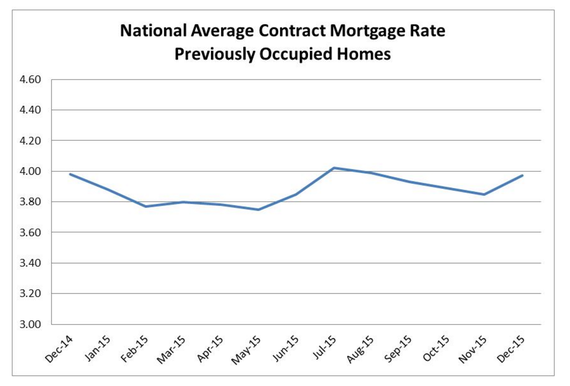 Yes, the same agency, the FHFA, reports this month that mortgage rates rose too. But, their chart from the report shows that ups and downs are still confined mostly to levels at or below 4%. If you were of home buying age during the many years when rates were between 7% and 9%, and the really tough double-digit years, this is still a really great situation.
The only really less-than-happy thing about the current market is that even these low mortgage rates aren't spurring more buying pressure. I think that many people expect rates to start rising again, so you would think more of them would be trying to get into the market now, before that happens. Unfortunately, there still does not seem to be enough positive sentiment about owning a home to drag a wide swath of buyer types back into the market.
The one thing that could do that would be a return to more normal inventory levels. Should that happen soon, I think prices will stop rising in many areas, even dropping in some. A combination of more homes from which to choose and lower prices could jump-start buying.
Calling all HuffPost superfans!
Sign up for membership to become a founding member and help shape HuffPost's next chapter