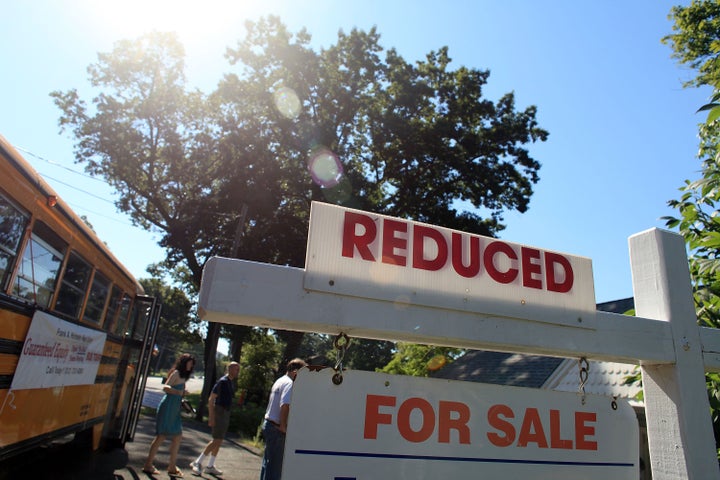 If a turnaround in the housing market actually is a necessary precondition to a broader recovery, the recovery could be on hold for some time.
With the housing market still struggling to recover from the financial crisis, home prices have risen modestly in nearly 100 regional markets, but remain low at the national level, according to a report released Monday from the real estate company Zillow.
A number of forces are delaying a recovery in the housing market, including high unemployment, a glut of foreclosures, and tight credit standards for borrowers. Market pressures have kept home prices low, which damages homeowner wealth in turn.
Prices rose a bit in the second quarter of 2011, according to Zillow, but only in 94 of the 154 regional markets that Zillow tracks. Some of the country's largest markets experienced appreciation, including Chicago, Dallas, Detroit and Washington, D.C. But prices slipped in a number of other major markets, including New York, Los Angeles and Phoenix.
Overall, the market hasn't touched bottom yet, Zillow chief economist Stan Humphries told The Huffington Post.
"We're probably going to see some weakness in the back half of this year, once the strong spring and summer homebuying season ends," said Humphries. But, he said, "we think that these numbers make it much more likely that we're going to see a definitive bottom in 2012."
At the national level, home prices are down 0.4 percent for the quarter and 6.2 percent from the same time last year. The drop of 0.4 percent is the smallest quarterly decline in four years, says Zillow. But that's coming off the first quarter of 2011, when home prices fell to their lowest levels since 2008.
The big plunge in the first quarter happened because the market was adjusting to the expiration of the Federal Homebuyer Tax Credit, said Humphries. Now, in the markets where home prices are moving up, they're doing so without the help of the tax-credit stimulus. That means we're seeing "organic demand" in those markets, he said.
Zillow's numbers broadly match those recently released by the firms CoreLogic and Case-Shiller, which show that home prices increased slightly in spring and early summer but remain significantly lower than a year ago.
While the second-quarter price rises are encouraging, Humphries pointed out that recent events -- including the Washington gridlock over the debt ceiling, Standard & Poor's downgrade of the mortgage giants Fannie Mae and Freddie Mac, and Monday's stock sell-off that caused the Dow to drop more than 600 points -- are likely to take their toll on housing down the line.
"In cases of economic turmoil, people's first reaction generally is to hunker down," he said. "Consumer confidence will undoubtedly take a hit as well. Lower consumer confidence means that people are going to be less likely to go out and buy homes."
Popular in the Community