In July 2011, my husband and I hired a general contractor and an interior designer to renovate our summer home in East Hampton, New York. Our plan was to get rid of all of our furniture and fixtures, and then completely redecorate every room from floors to windows to walls. We would also gut the outdated kitchen and bathrooms. After several weeks of discussing our design ideas we handed the key to the contractor and left for our place in San Francisco. Nine months, 1,000 emails and 50 phone calls later, we came back to our beautifully transformed house.
We were thrilled with the results, even though there were still items on the punch list to be completed. It was amazing to see all the things we had chosen -- the furniture, fixtures, paint colors and rugs -- together in a room, rather than in my mind as I had imagined them.
It was also a learning experience to see which of my design choices were practical, and which were not. I would say that I absolutely love 95 percent of what we did, but after living with my choices for the past month, there are a few things I would have done differently.
1) I would not have chosen Carrera marble for my bathroom, or any room for that matter. Everybody has Carrera so I said yes when my decorator suggested it. Carrera is white with some gray lines, and is very clean looking. I learned after the fact that marble is more porous than granite (which means that it more easily absorbs water and other liquids), and white marble will show any stains. Marble is sealed which is supposed to protect it, but that seal can be broken the moment someone wipes it down with Windex, spills perfume or or even gets hand soap on it. The unfortunate result is grey spotting. So now I have a white marble counter top with grey spotty stains all over it which makes me crazy to look at. If I were to do it again, I would choose granite with some color or pattern in it to help disguise any blemishes.
2) Blackout shades can be more important than fabulous window treatments. I chose woven wood roman shades and white wood blinds for the house since they have such a beachy feel. In reality, they don't prevent the sun from shining through. In a living or dining room this doesn't matter, but I do wish that I had gone with blackout shades in my son's bedroom and our master bedroom -- we would all be getting a lot more sleep.
3) I would not have hired the cheapest interior decorator in town, because the old adage is true: You get what you pay for. She had amazing taste and the cheapest design fee around, so I thought I had found a hidden gem. Boy, was I wrong. She turned out to be the slowest-moving professional on the planet. I had to send her multiple daily email reminders and I ended up researching and buying much of the furnishings on my own. I hired her last July and now, 11 months later, I am still waiting for the three final pieces to arrive.
4) White bath rugs and towels are challenging. They are pretty and fresh, but I need to bleach them weekly. They are much more high maintenance than I would have imagined. I still love the way they look so I am on the fence as to whether I would have done that differently, but, if you're considering it, be warned.
5) Don't use a carpet guy for window treatments, instead, go right to the window treatment source. Many custom carpet retailers do windows on the side, and they don't know the products very well. They also take longer to receive and install the shades.
6) My slip-covered sofa is always a mess. The idea sounds good (I can remove it and wash it!) and it looks good in a magazine. But in reality it always looks so sloppy. The fabric moves around and I am constantly having to tighten in up.
7) My husband's one piece of input on what we should have done differently: Budget better. Make sure that your designer is aware of your budget, and have her price out the whole house in advance. This gives you the ability to make tweaks based on where and how you want to spend your money.
8) Don't underestimate the surround sound system. We installed built-in speakers in our living room and outdoor deck and hooked them up to a Sonos music system. We love that we can play an iPod and stream music at the touch of an iPad or iPhone. We wish we had put speakers in every room.
9) I would have used more wallpaper. Paint is less expensive and a great color offers tremendous bang for its buck, but I am so in love with all of the rooms we wallpapered. It adds such fabulous color and dimension and it is easier to keep clean than a painted wall. I notice new little marks and knicks on my painted walls everyday but my wallpaper still looks spotless and beautiful. The pattern disguises any marks and the slick texture makes is easy to wipe down.
10) The one thing I would absolutely do again: Hire my contractor. Like any woman, I like to be prioritized and paid attention to -- and was I ever. My contractor stayed in constant communication, he jumped whenever I called, he kept the project organized and efficient, and he delivered on time. Every dollar I paid him was an utter pleasure. I think I was lucky, but I also talked to former clients of his before I hired him and got a sense of how amazing he was.
This design process taught me so much about the tricks of the design trade and all of the thousands of design options that are out there. I can't wait to share all of my favorite home furnishing stores and manufacturers that I discovered... check out the slideshow of photos of the renovation below and stay tuned for more.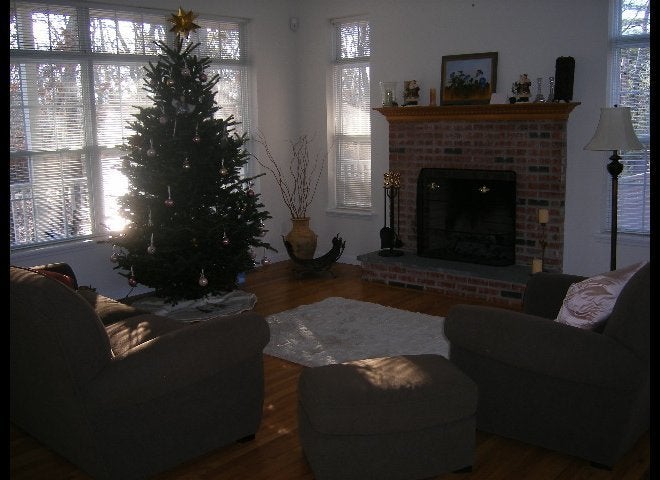 10 Things I Learned From Renovating
Related