When Houston-native Nathan Hoang moved to New York City, he was struck with homesickness.
To cope with missing his home state, Hoang made a list of everything he missed about Texas, then formatted his list into the shape of the state itself.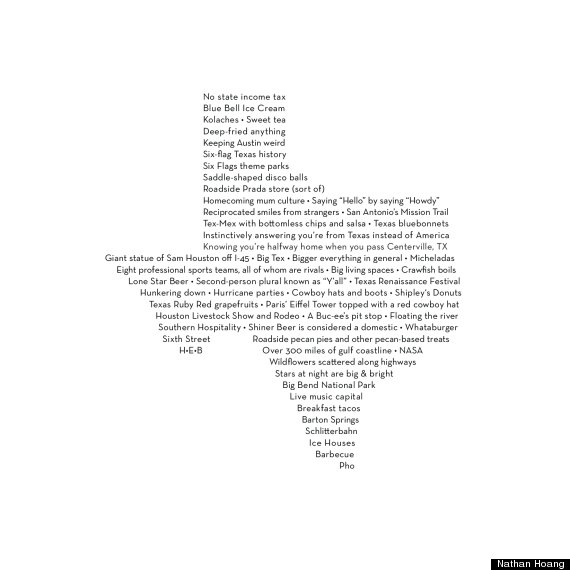 The map of words was a success, and before long, Hoang was receiving requests from others who wanted their states mapped with their memories and favorite things. The maps inspired a project he titled "HOME."
"I want to fill all 50 states (plus DC) with things that make it special and makes locals call it 'Home,' " Hoang says on the project's website.
Hoang's goal is to travel to all 50 states and Washington, D.C., to speak with locals and create genuine lists of reasons people love each state. Those lists will then be organized into state "maps" and ultimately compiled into a book, along with photographs taken along the way.
Personalized maps have become a popular trend among those looking to pay homage to their home states in a distinctive way.
Websites such as Etsy feature posters, stationary and artwork of customized state maps.
Click through the slideshow below to view custom state maps: