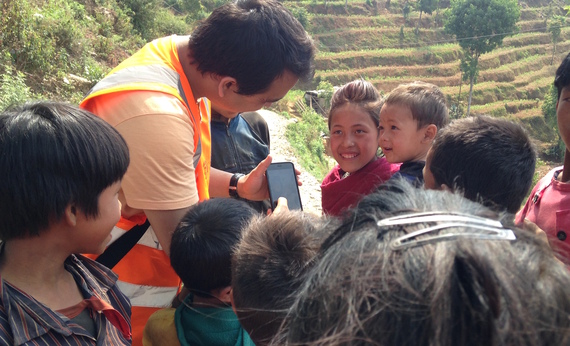 A house to be a home requires a lot of significant things. On August, 2014 while my visit back home, I went to see the house that built me, on a small rural town of Gulmi in Nepal. It had an ominous feel to it, it was just concrete, and did not feel like home.
Previously, I had gone there before I embarked on an extensive journey to the USA. It was the year 2010. That was my beautiful home, my safety net. Nothing in this world could be as beautiful as my home. My father's happiness knew no bounds when he saw me there. My father prepared tea for me early the next morning. There was only love in that house, and in abundance. The best years of my childhood etched in every wall of the house.
It was always my precious father who made breakfast for me; from my nascent school days till the time I was a college graduate. I used to feel very special, and because of this I always believed I was the most beloved member of the family. When I first started working as a newsreader on a radio station in Rolpa district of Nepal, my father was ecstatic. To hear my voice loud and clear, and to make the whole village hear my voice just as loud and clear, my father had bought extra long aerial transmission wires. And when I started working with a reputed radio station in Palpa district of Nepal, the very radio station was the only thing that played every day and night in our household.
Later when I stepped into television as a newscaster, my father would call me everytime after the news program was over, just to let me know how proud he was to be my father. On the phone, my father used to always be the first to speak to me, and then my mother. My mother, according to me was the most beautiful and loving being on this planet. When I first came to America in 2010, a phone call every weekend was a regime that we religiously followed - my parents and me. My father always motivated me and always insisted me to do better in life. He persistently said to me, "You just focus on being successful in your ventures and not have a constant worry about us. If we could raise you up so well, we can take care of ourselves too. We are proud of you. Stay humble."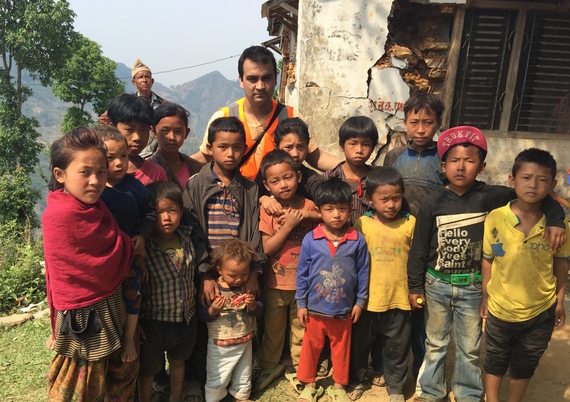 The plan was to follow the voice instilled inside my head by my father. I was determined to do him proud. So I started working really hard to come up with my own television show in America, and I wanted my father to be the first person to see it. In the midst of an intensive promotional shoot of the show, I got a phone call from home. My brother-in-law had called. After a long eerie silence, my brother-in-law informed me of my father's passing away. It felt like a dream. Just two days before that, I had a long chat with my father on the phone. He had said everything was fine and I need not worry about a single thing. How could he just leave me without saying goodbye?
I wanted to wake up from that nightmare, but it was a harsh reality. We pray for depressing incidents in our lives to be just dreams, but they haunt us being the excruciating truth. We wish for beautiful happenings to be our everyday reality, but they limit themselves by just being mere dreams that we dream of. It is but a human nature. Lord knows I had wished so hard for my father's death to be just a nightmare that was going to be over soon as I wake up. My father's demise was a peaceful one; he was in a deep sleep when his soul left his body for good. The final rites had already been performed before the phone call I had got from my brother-in-law.
After his death, it felt like somebody had punched a huge hole in my heart. It was unbearable. I used to wait for his phone call every weekend. But I never got a call, not even after the first telecast of my show. And it suddenly hit me like a lightning bolt that I was fatherless. Nothing in this world could fill the void. Coming to terms with this ruthless reality was a painstaking task. It took me years to accept it. During this ordeal, I realized that the value of a lost good is so much higher than what we have with us. I missed my father's presence in my life the most after his death.
August 2014, when I went back home to Nepal, my mother was in Bhairahawa. Bhairahawa, a small city in Nepal, was also a home to us. My father owned a house there too. Truth be told, the house in Bhairahawa never felt like home. Neither my parents nor I had spent much of our years in this house. For a house to be a home, there has to be sentiments and memories attached to it. The sole reason I went to my sister's house directly was the lack of emotional attachment I felt for our Bhairahawa house (After earthquake we sold that house). My mother knew these too as she was eagerly waiting for me at my sister's place.
I understood that home is where your parents are. It doesn't matter if you own the house or you are just a tenant there. When I met my mother after a four year long hiatus, the resplendent beauty of my mother had faded away. She had grown older than she should have. She seemed weak, her eyes lost. The numerous laughter lines on her face told stories of anything but laughter. My mother always garbed in red and ravishingly so, now looked pale and dull in white. It is a tragic custom in Nepal that a widow must wear white. "I am fatherless, mommy", I broke down. Once again, the slowly recovering hole in my heart got bigger.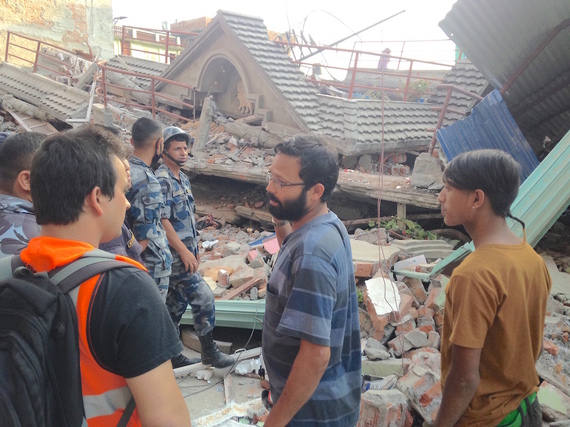 A few days later, I went to the house that I was born in, the house that had built me. But alas, the house that built me looked jaded instead. It just didn't feel like home to me. This was the house that had priceless memories of my childhood embedded in every nook and corner. And this was the same house where I didn't find the father who loved me more than his life. I didn't find the father who served breakfast and tea in bed for me every morning. The housed looked dreadfully old after my father's death. Silence had taken over the courtyard that my father used to playfully walk around. The weed around the house had grown taller than they should have. The aerial transmission wires that my father had bought were nowhere to be seen. My father's favorite coat that always hung so proudly on one of the doors wasn't there. On the doorway, my father had fixed a nail to hang his mobile pouch. That was not there either. Nothing was there. All this 'nothingness' made me realize for the first time in my life that for a house to be home takes a lot of small quintessential things to live in harmony.
August end, 2014, my mother decided to fly back to the USA with me. Even after all the tribulations and the sufferings of her heart, my mother put up a face that said she is okay. Grey hair, a few lost teeth, wrinkled cheeks; still she easily looked like the most precious open book in the world. I kept reading the open book till we reached America - the land of dreams. But mothers are really vast books, you can never be able to completely read them or experience their experiences. Although you can never decipher the meaning of the vast books that mothers are, there is an obvious insatiable feeling of continuing to read the book no matter the degree of difficulty. In almost six months of my mother's stay with me in New York, I got to learn and unlearn so many things from a different perspective. From a mother's perspective, I understood many things about life. I am still learning.
Within three months of my mother's return to her beloved country, a massive earthquake hit Nepal. Thousands of Nepalese were left without a family. Millions of Nepalese lost their homes. My sister and her children who were in Kathmandu during the time of the earthquake found refuge under a tarpaulin for a couple of days. After incessantly trying to call everyone back home, I heaved a huge sigh of relief knowing everybody was fine. But to see Nepal look the way it looked, my heart broke into pieces. In this travesty, I just could not bring myself to stay calmly in America. I had to do something for my homeland even if it means putting my life at risk. So I got myself a ticket to Nepal. As soon as I landed, the catastrophe I saw was overwhelming. I couldn't contain myself from going to the severely affected areas directly from the airport itself. Didn't pay a single heed to how drained physically and emotionally I was.
Once I reached Nepal, I also got to know about my house in Gulmi, the house that was home when we had a father, had turned to debris because of the earthquake. The funny thing is I was in the middle of providing temporary shelters to the affected while I got the news of my own house turning to rubble. My brother and his family had been staying on the nearby ground because his house had got a red sticker after the first quake of April 25th. And that very house gave up on them completely after the second massive quake of May 12th. My brother sounded extremely sad on the phone when he said, "After a two weeks' long wait, Red Cross has finally provided us with a tarp."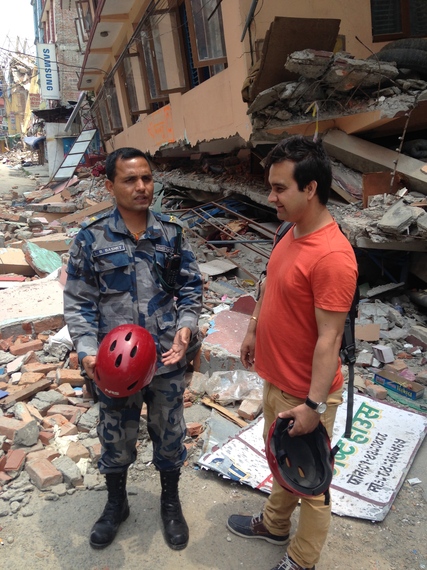 At a crisis of this magnitude, at a time when my nation was broken down, it was only natural for me to care more about my country than my family. I told my brother, "Nepal, the whole of Nepal is broken. We have to mend our country before it is too late. You are still young and capable; you can still take care of yourself and your family. Please let me reach out to those who are a thousand times deeply affected than we are." He showed no signs of objection.
Well, to be honest, I understood why my brother was severely unhappy. Our ancestral home was so much more than a mere house. It was a shrine to our family. It had saved us from all the sunny days, the rains and the cold. When I had earlier stepped in that house, I could still hear the echoes of our happy laughter, could still see the choicest memories and that instantly sparked up my eyes. That house was all that our family once had, that house was a book of stories of our beautiful past - to put it simply, that house built us strong enough for us to be able to make a glorious future. But that very house unfortunately was in pieces because of the earthquake. The gravity of the situation was too painful and I didn't want to understand it at all. When I had gone to my house on August, 2014 to revisit my childhood memories, I didn't have my father to welcome me with a warm hug, my father's coat wasn't there, but there still was the nail that my father used to hang his coat on. My father wasn't there, he didn't make tea for me, but at least my bed and my room were intact. Now, after the quake, all that was left was nothing. No house, not a single thing that had once been touched by my father. I held on to the book of memories that was forever safe in my heart. Everything else had vanished just like that. Hence, I could not muster up the courage to go and see the rubble that was left of my house. I went to Bhairahawa just meet my mother, and then returned back to Kathmandu motivated to provide relief to as many as I can.
I wish this earthquake had just destroyed my house. But it forgave absolutely no one. Millions of houses were gone in matters of seconds. Human beings find themselves safe and sound under the shelter of a house, regardless of it being a huge mansion or a small hut. Human beings feel the warmth under the blankets on their beds, regardless of the blankets made of the most expensive quill or it being a torn one. We appreciate the food that's cooked inside our kitchen even though it might not have a five star taste to it. A home is not made with just cements and stones. It is so much more than that. It is an amalgamation of sweat, hardwork, love, affection and memories. It is a pristine feeling. A home is a book of never ending chapters that has the haunting memories of the past and a promise of beautiful future. A home goes down in posterity, so do the memories. The ruthless earthquake tore so many such books.
During my three weeks stay in Nepal, the people I bumped into, the people I met with, they were heartbroken not because they lost the roofs above them but it was all their sweat and devotion, it was all they had. All those memories and attachment could never be replaced with a new house. One can only try.
I saw an old lady crying in front of your house determined to not let them tear down her house. My eyes welled up, because I completely understood why she was doing what she was doing. To her, that house was her childhood, her whole life. She wouldn't let anyone take that away from her easily.She was married at an early age, even before she was a teenager.
In Khokana, Lalitpur, many houses were given red cards because they were too dangerous to be still standing on the ground. I happened to be there when the demolition was going on full swing. I saw an old lady crying in front of your house determined to not let them tear down her house. My eyes welled up, because I completely understood why she was doing what she was doing. To her, that house was her childhood, her whole life. She wouldn't let anyone take that away from her easily.She was married at an early age, even before she was a teenager. She had a million memories in that house. The sweet caresses of her husband, the bittersweet struggles they both faced together in life and bringing up their children. The sweetness of being a mother to their children, the strain of instilling good values in her children, everything happened inside that house.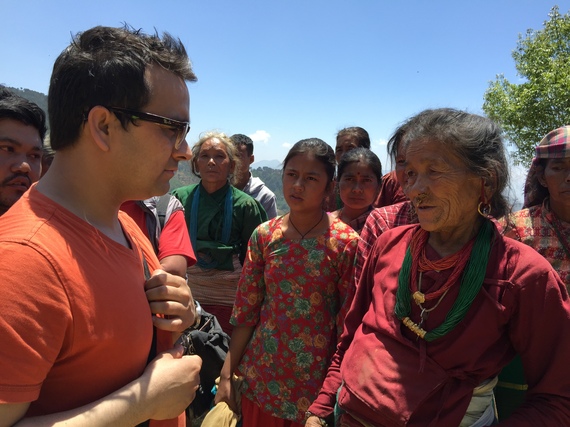 When people grow old, the only thing they hold onto is their memories. Therefore they never enjoy being away from home, even though they are given all the luxuries of the world. They never are completely happy, they never can move on. The only reason I know is my mother. She was happy but not as happy as I thought she would be while she was with me in the states. She missed home, a real home. A house can be a thousand years old, but the memories make it worthwhile to breathe and live and be happy. Blessing or a curse, but I was able to feel the pain that everyone felt because of the earthquake.
A devastated Nepal, and millions of broken hearts, I was leaving them all behind as I stepped into the aircraft that would take me to a better place, a place that most desire to go, America. As I was getting inside the plane, I got a call from my brother. "The remains of our home have been cleared as well", he said wearily. My heart sank. With a sad face, and sadder heart, I found my seat and prayed for the departed souls, the brave living ones and for a brighter, better and united Nepal. "The broken houses will slowly be mended, but please restore the faith in the broken hearts to be able to mend their broken homes."