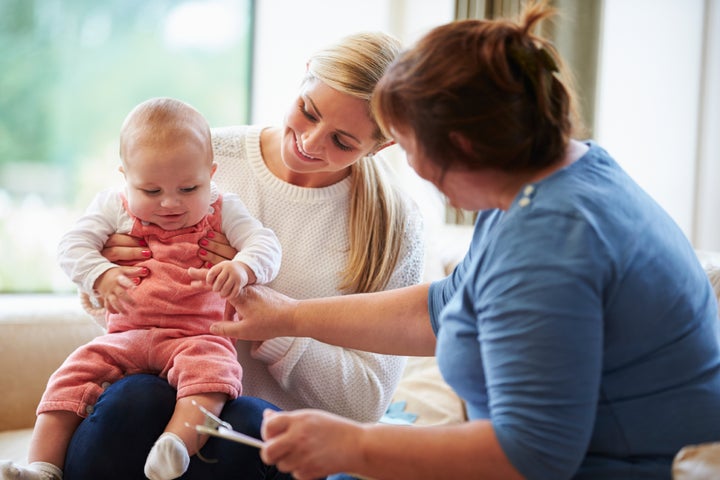 When Stefani Nazario and her husband, Luis, had their first child, they didn't have family to turn to for guidance and support. Stefani spent her high school years moving from family to family in the Phoenix, Arizona foster care system, and Luis' family was in Mexico. So, in raising their precious new baby, they only knew what they didn't want to do as parents. When Casper was born with many significant allergies, Stefani and Luis struggled to navigate the care he needed and find a supportive voice within the health care system. The Nazarios desperately needed a trusted source of information, advice, and support.
Fortunately, Stefani and Luis found a lifeline: a home visiting program through Southwest Human Development. Each week a trained expert, using the Healthy Families home visiting model, came to the Nazario home to provide information and support for the job of parenting, and techniques and activities beneficial to their new baby's development. Early on, Casper struggled with fine motor skills. With the help of his home visitor, he was thriving by 21-months and had mastered drawing, eating with a fork and spoon, and taking off his shoes and socks. While these milestones may seem basic, they are actually stepping stones to school readiness. For Casper and his family, they indicate on-track development and learning and lay the groundwork for his future success.
Home visiting programs equip hundreds of thousands of new parents across the country with the support, tools and resources necessary to support their child's healthy development. If parents like Stefani and Luis are to continue to benefit from these services, Congress needs to act soon. The Maternal, Infant, and Early Childhood Home Visiting Program (MIECHV) is set to expire at the end of the month. MIECHV is the federal program that supports states in implementing evidence-based home visiting programs for at-risk families. Without action from Congress, funding for MIECHV will cease, and nearly 150,000 families will be left without this vital support.
Home visiting programs supported through MIECHV vary in goals and content of services. In general, they combine parenting and health care education, child abuse prevention, early intervention and education services for families with young children. The programs take a two-generation approach to serving families, with the understanding that healthy and happy parents can raise healthier and happier kids.
Many of these families face serious obstacles—from poverty to unemployment to single parenthood. But research has shown significant positive outcomes for vulnerable families enrolled in home visiting, including improved maternal, newborn, and infant health, better educational attainment for moms, improved school readiness, and reduced child abuse. There is also a significant return on investment from home visiting programs—up to $6,200 per child over his or her lifetime.
Quality home visiting programs also create more economically self-sufficient families. Nearly one in four young children lives in poverty, which negatively impacts physical, social, and emotional development and can impede ability to learn. By helping parents enroll in educational and training programs and pursue employment, home visiting programs help counteract the negative consequences of economic insecurity and encourage success both at home, and also in school and at work. Studies have found that parents in home visiting programs are more likely to be working, participating in education or training, and have higher monthly incomes. That adds up to a savings for states and a boon for the economy. It is also a tremendous boost in the quality of life for many families that haven't previously had access to supportive networks and resources.
If Members of Congress are truly committed to helping families, they will continue to support proven programs like MIECHV. It's a no-brainer when hundreds of thousands of families like the Nazarios will continue to get the critical support and services they need to succeed—as students, parents, workers, mentors, leaders, or in any other role they pursue.
Related
Popular in the Community